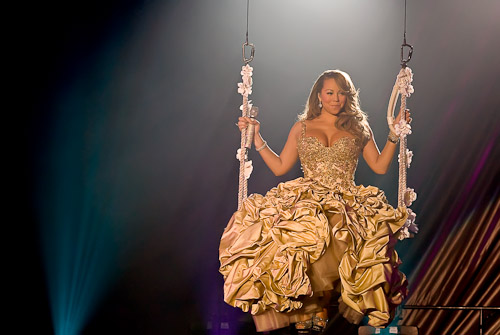 Diva and multi-platinum pop-star Mariah Carey sang Wednesday night February 17th at the Verizon Wireless Theater in Houston Texas. The sold out 2400 seat theater was filed with fans and admirers who brought in signs and flowers to show their support, including a flamboyant pink sign which read "Gay Me Mariah", I'm not sure what that means, but I will ponder that slogan for a while. The Houston show was one of her last shows of her six weeks Angles Advocate tour which will end with a concert at Ceasar's Palace in Las Vegas February 27th.
If any one knows how to make a stage entrance it certainly is Mariah Carey, and once again she did not disappoint her fans. As the silk purple stage curtain opened, Mariah slowly came down from high above the stage on a beautifully decorated swing. Her gold embroidered gown sparkled in the bright stage lights as she sang to her loudly cheering and clapping fans. It was almost a fairy tale like scene. The band and backup singers were perched high on top of the second level of the stage, giving all attention to Mariah and her six male dancers dressed in fashionable suits giving the stage a 1930's Chicago club atmosphere. Her voice sounds as good as ever, no need for lip-synching for her concert!
It is no wonder that Mariah Carey has sold over 175 million albums and videos world wide, making her the top-selling female recording artist in history.