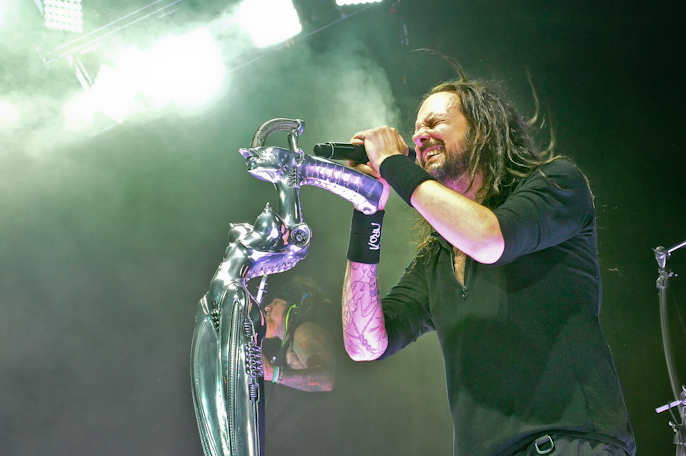 The Woodlands, TX – August 10, 2014. Situated in the studio-apartment sized backstage dressing room, Korn's unassuming drummer since 2008, Ray Luzier, invites a gaggle of press in.  Luzier played drums for David Lee Roth, has filled in on some Stone Temple Pilots dates, kept the beat for progressive rock fusion trio The Hideous Sun Demons, and was in Army of Anyone with Fliter's lead-singer, Robert Patrick serving as the frontman.  There's not a time signature on the audible earth he hasn't played.
"Yes! We have to keep creating, we're lifers..mentally it's food for our soul" said Luzier when I asked him if perpetually side-projects-engaging Korn band members had plans after this tour.
Luzier then went on to talk about his side-project that started at his son's first birthday party.  George Lynch from Lynch Mob fame and King's X's Doug Pinnick–to which Luzier added is the most underrated rock band ever–sat in his studio and formed KXM.  "Last thing I want to do after getting off the road is to go right back on it, but they're going to do a couple of dates we'll(KXM) do for sure" he added.
I then asked if Korn had ever planned on doing an album anniversary tour, to which he very coyly stated "Definitely. There's something in the works, but I don't want to spoil it right now.  (Grinning) In about a week we're going to announce a major tour."
If I was a gambling man, I would put money on the band hitting the road to play their self-titled debut album, which turns 20 years old October eleventh.  Stay tuned Korn kids.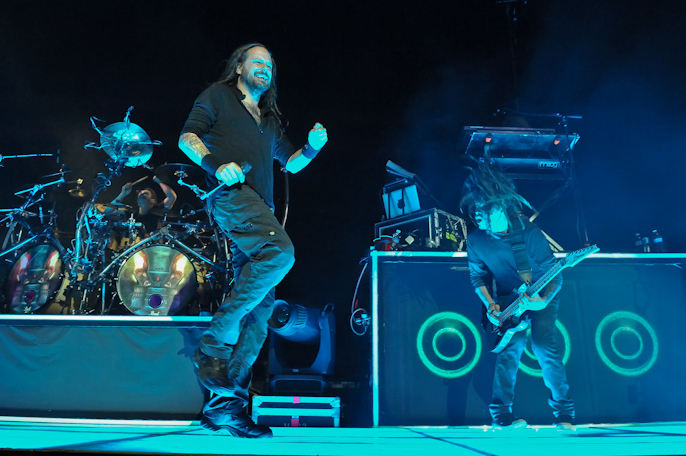 A swelling intro to the song "Molested" piqued the crowds interests as the haunting six note opening riff to "Falling Away From Me" ignited pandemonium.  Vocalist Jonathan Davis was just as animated as he's ever been with his signature shoulder jutting and dred-whipping in front of a sci-fi mic stand.  Bassist Fieldy conspired with his five string bass to devastate the speakers.
The wordless rabbid speech in "Twist" infected the pavilion.  Unmistakable drop-d tuned guitars, and Davis dynamic vocals in "Got The Life" wasn't just an exercise in nostalgia, the song absolutely holds up today and kicks in as many ear drums as it can.
A slew of new offering were met with merely a tick less of enthusiasm as the older hits.  "Did My Time", "Spike In My Veins", and new single "Hater" dazzled and displayed the creativity that the band has embraced in the second stage of their career.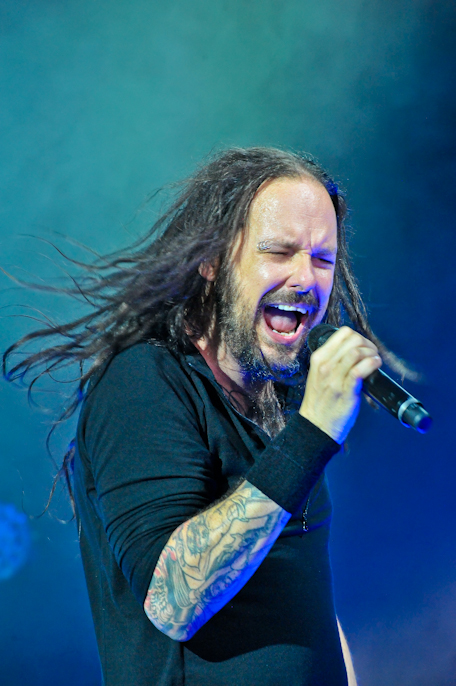 Enter the bagpipes (and amatuer documentarians reaching for their smartphones to film the proceedings.)  "Shoots and Ladders", harkens back to Korn's dark and weighty days.  Then "Here To Stay" bulldozed the landscape.  It's a song about vulnerability and overcoming, a message Korn has championed the last two decades.
After an inspired performance of "Freak On A Leash", the most amped up cut in their catalogue was initiated by the ticking of a symbol.  "Blind" got the venue jumping, screaming along as the bands members kids joined their papas on stage for a headbanging session.
To sum up the set, Korn is a prolific and professional band, that plays like they still have something to prove.  They don't.  They've meant everything to so many, and it doesn't appear that there's any signs of stopping, which should not go unnoticed for a group that has sold 35 million records and have won countless Grammy's and other awards.
To those who picked Korn as their favorite band to get them through high school, congrats, you picked a ceaseless winner who never stopped working to make you feel like you're not alone.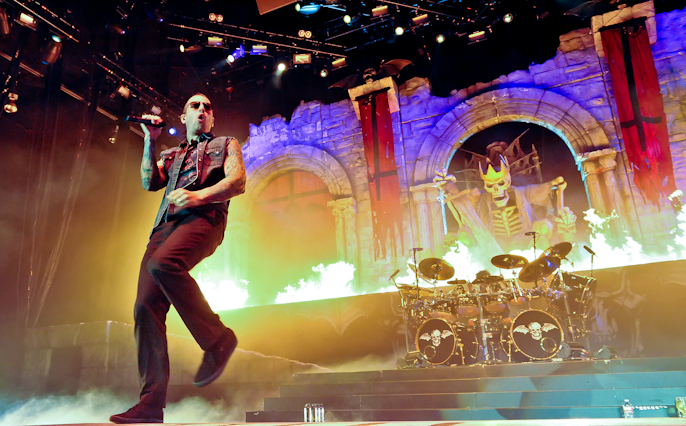 Usually pyrotechnics, elaborate set design, fog cannons, and flame effects are saved for marginally talented pop stars, or old rock acts who KISSed their raucous days goodbye years ago.  Avenged Sevenfold kicked that sentiment in the face with a live show that was cinematic, and added to the music versus distracting from it.
The quintet is arguably the biggest name in popular metal/hard rock music and had no problem presenting their case to the still 80 percent full crowd on a school night.  A7X opened with the aptly titled "Shepherds of Fire."  From an elevated set piece, flames reached heights taller than Yao Ming, yet nowhere near as high as the soaring solos went.  A toybox synth melody signaled that we were now entering a "Nightmare."  Operatic phrasing, body-possessing rhythms, and Ronnie James Dio showmanship affectation from lead singer M. Shadows made the rest of the show moot up until this point.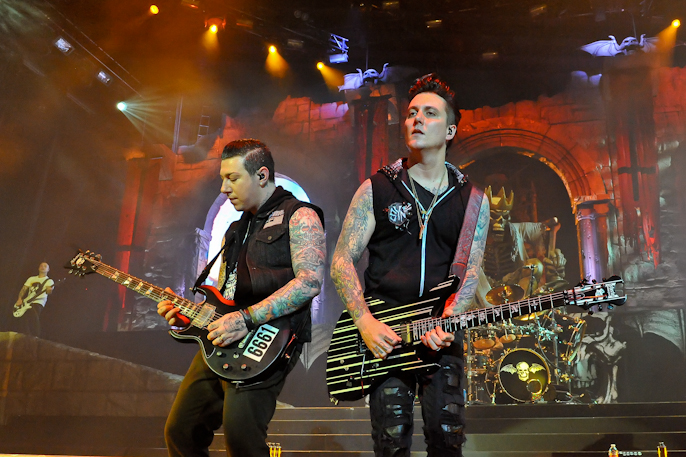 The mid-2000's MTV heavy-rotation hit "Bat Country," which introduced the band to the masses, and illustrated that the group has had tune craftsmanship in their tool belt even back when they were just metal god apprentices.  The lead single from the band's year-old album "Hail To The King," proved that they deserved the No. 1 spot on Billboard's Top 200 album charts.  The licks lapped like sonic .GIF's, and the lyrics read like buzz-worthy album titles.
Attention was called to the lawn area where–perched on a 45-degree downhill angle–a mosh pit broke out.  Shadow repeated an earnest sentiment that Houston genuinely loved metal music and that he loved that we were all "crazy motherfuckers." Tucked away in frenetic verses, the chorus "Almost Easy" showcased emotive guitars and moving vox that really connected with the testosterone-soaked lot.
"Buried Alive," "So Far Away," and "Afterlife" were met with horns, sing-along echoes, fist pumps, and utterly grateful headbanging.  "This Means War" was a battle cry in which all marched to the beat of the double bass drum, and no troop was left behind.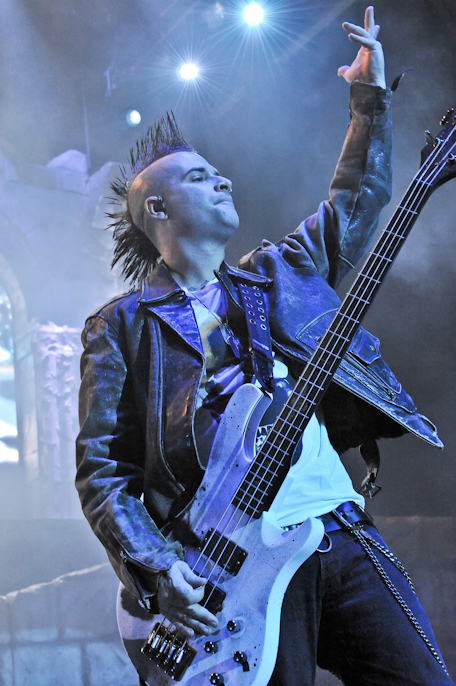 It was a quasi-pious encore for the group. The carnival freak show rhapsody "A Little Piece of Heaven" was an epic 8-minute false idol worship sermon.  They had one more offering before they reached sinners' salvation.  The bassline to "Unholy Confession" spoke in drubbing tongues, and there was nothing left but to collapse and give yourself to A7X.
To those few who tapped out after Korn's set, they got their money's worth, but to those who stuck around until A7X's last note, got something that they'll never forget: the hardest rocking 75 minutes of their lives.
(see additional photos on our Facebook Page)
Review by Donny Rodriguez