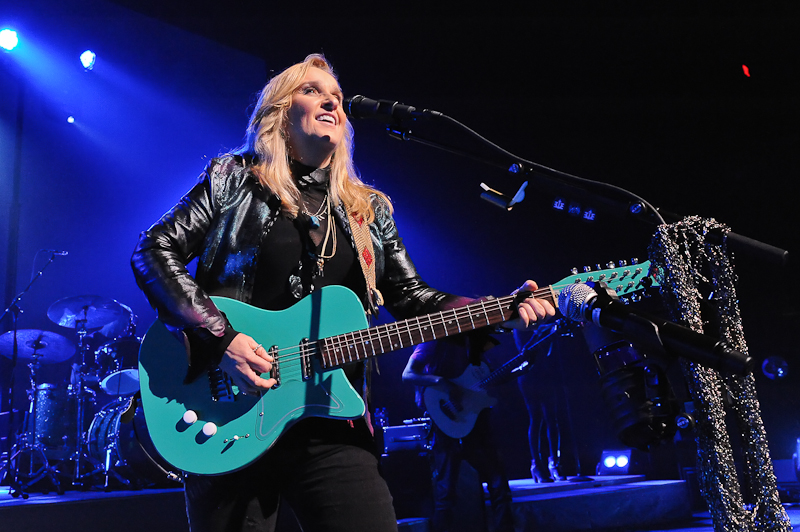 AUSTIN,TX: December 4, 2014 – Melissa Etheridge began as a fearless bluesy rock empress, then metamorphosed into a singer-songwriter hit-making alchemist, and now–in what should be the "phone it in and make nostalgia touring money" phase of her career–into brazen orb of creative energy that is nowhere near done constructing inescapable cuts and putting on performances as if she had something to prove.
On Thursday the Oscar and Grammy winner convinced the congregation at ACL Live in Austin that she's still the only one.
The age-range of those who scaled the flight of stairs behind must-have-photo-opp-of Willie's statute, shaded closer to the Gen X side than millenial. The crowd was as you would've guessed, predominantly female–though eclectic in many facets.
Our brothers and sisters in the LGBTQ community came in support of Etheridge, who's been a pillar of the gay populace for decades.  The room was warm and accepting (as should all of planet earth be.) The reason to love music over any other artform, is that musical notes–whether you're playing them or hearing them–transcends whatever genetic traits you were born with.  Notes don't see, they sound.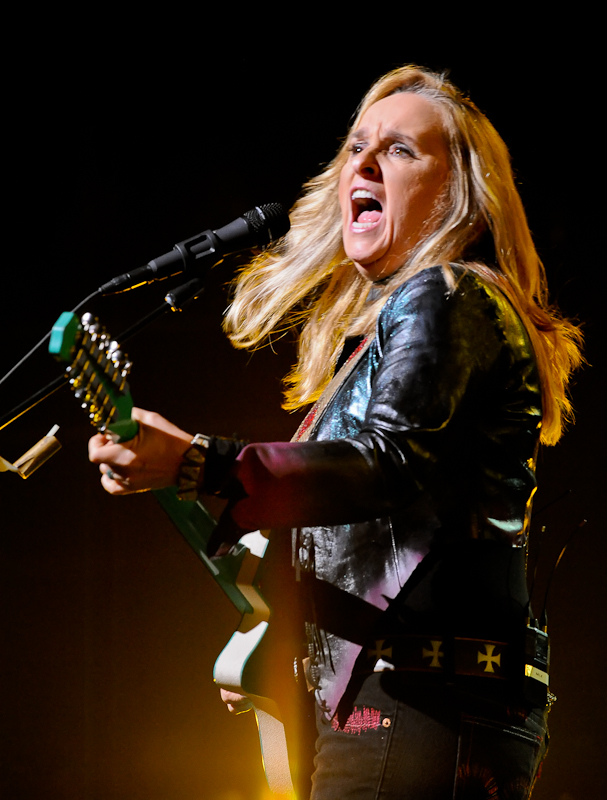 The number of attendees were sparse at the balcony level, though it was a school night and precipitation had delicately blown wet kisses throughout the day on Austin afterall. Despite the 70 degree temp, bad ass moto jackets and light coats were draped on concertgoers just incase things got slippery after the show. The drink of choice was clear spirits with splashes of carbonated water.
LA indie troubadour, Alexander Cardinale opened the show.  His music has notably moved the plots of dramas like One Tree Hill, Castle, and Ghost Whisperer. The unassuming Cardinale or "Xander" as he's often billed as, performed as a one man band.  Literally.  As he quipped often that the MacBook Pro accompanying him on stage–which played backing tracks throughout his set–was his "band".  Cardinale at first listen harkens to perpetually radio-friendly singer-songwriters like Howie Day and Gavin DeGraw, but with a more artful approach.
His rich tenor, and undeniable pop craftsmanship, overcame the distracting pre-recorded music.  When he switched from a pitch-perfect note purring, into belted roars (see:"Without You" and "Never Too Late") one had to try to not be awestruck–I found myself wishing he just played guitar and sang.  His latest single "Made For You" is cinematic folk that's contemporary yet timeless.  This kid won me over with his chops and a Mac, hopefully we'll get to see him again around SXSW where he'll ditch the device and perform in analog.
After a drink refilling intermission, the lights matched the dark decour and applause sucked up the silence like a black hole.  Melissa Etheridge, along with two backup singers, a percussionist, keys, and rhythm and bass guitarists plugged in and tuned out everything but this moment.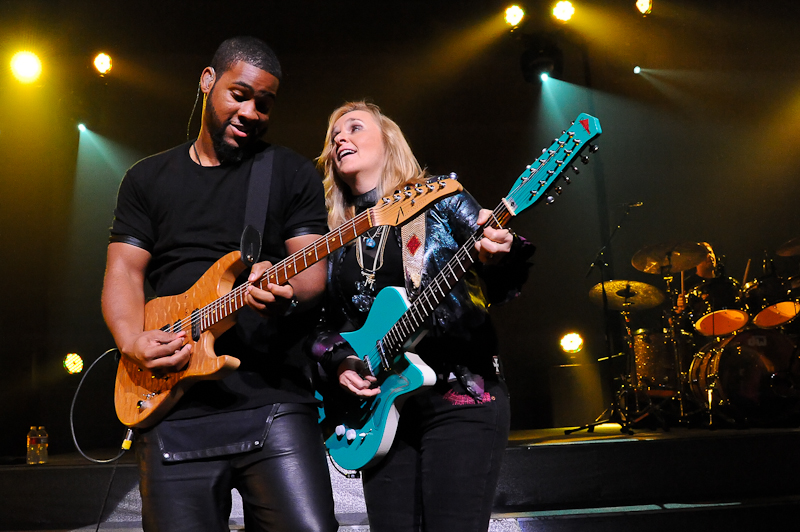 With of a solo drum a la Imagine Dragons in front of her, Etheridge and her translucent yet grizzled vocals lacerated through the thick and rabid adulation that met her for "I Won't Be Alone". She strutted around the stage and pulled everyone in with unadulterated confidence and magnetism.  The piece was nothing less than anthematic–as I'll come to find, is standard operating procedures for any Etheridge ditty.
"I Want To Come Over" garnered a more deafening reaction from the still standing assemblage.  Every word of the chorus was shouted back and an acapella breakdown mid-number had so much vibrato in it, it shook the room.  Next was, "Take My Number" an offering from her latest record.  The story-driven track is vintage Etheridge–a relatable narrative where love is the protagonist, climax, and purpose for prose.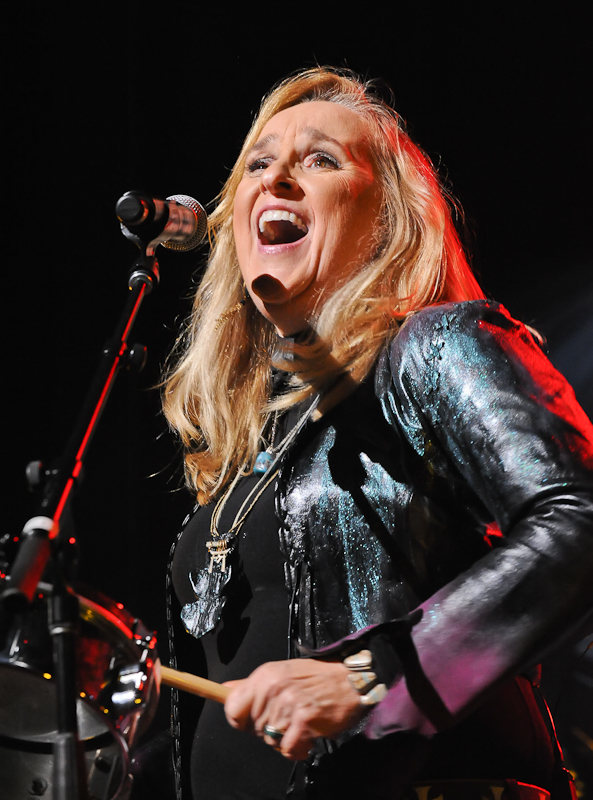 "A Little Hard Hearted" was a battle hymn steeped in pathos and memorable wordless melodies.  This new gem displays what a great white of a tunesmith she is–and like shark, the hook never stops moving.  Cue "Come To My Window", enter utter chaos.
This mega-smash is what she'll ultimately be remembered for (and what she'll play at her Rock n' Roll acceptance ceremony whenever the hall voters get their head out of their rears.) Oh, how the music industry has changed since she released this mid-90's chart-topper. It's off an album that went six times platinum.  Today, you couldn't give six million units of anything away, just ask U2 after millions deleted their free automatic download of their great new record.
The frontwoman showed her band some love and bucked the trend of introducing the musicians late in the game. A notable rookie on her sonic team is former Fugees bassist, producer Jerry "Wonda" Duplessis.  Later Etheridge shared how in NYC, "Wonda"–who helped produce her new record–and her wrote two songs in one day, and a tired Etheridge was almost out the door, until he played her the chord progression to what became soulful "Do It Again".
After the banter break, the aggressively optimistic "A Little Bit Of Me" caused introspection, toe-tapping and "na na na"-ing.  The dingy riffs in "Chrome Plated Heart" reeked of bluesy authenticity and the effects pedals turned this show into a rock spectacle.
Etheridge convincingly played the part done-wrong and moving-on outlaw, in this aural rawk assault "Ain't That Bad".  The rendition of "I'm The Only One" was nothing less than an epic rhapsody. A love song sans wimpy balladry, couples still held each other tight and planted fat ones with eyes shut tighter.  World class vox runs, blinding harmonica rips and wailing fretboard woodworking, Etheridge's extended version of her career-maker is still echoing in the ether of Second and Lavaca.
With an Imogen Heap "Hide and Seek" like haunting vocal intro, the dogmatic "Like A Preacher" was a chance to genuflect at the altar of M.E.  A double neck guitar and dance-y arrangements accompanied Etheridge as she took us "All The Way Home", then an excerpt of Bob Marley's "Stir It Up" picked us up and took us to a regge sanctuary.  Smoke'em if you got'em.
The muted 12-string strumming in the sexy "Bring Me Some Water" sounded better than most artists showpieces.  A standing ovation served as the backing track throughout the songs entirety.  When experiencing it in headphones off Spotify, "Like The Way I Do" is a bass-driven love warcry, but live, it was that times infinity.  A proggy acoustic solo by herself was the biggest mindblowing take away of the night.
After a good ol' fashioned anticipation building band exit, the encore was conducted by bassist "Wonda" as he wielded a drum machine/sampler and orchestrated a hip-hop remix version of Queen's "We Will Rock You".  Etheridge reemerged and destroyed the ruins she left behind rhythm & groove cut "Monster".
Nine of the fifteen songs played were off "This Is M.E." Usually with a catalogue as dense as her's with hits, the number of new one's versus old one's would be reversed and possibly cut in half (sorry for the algebraic equation, stay with me.) Nary a soul left disappointed.
I won't name names, but you can check the Texas Rock Report archives and find artists of Etheridge's esteemed ilk who know not to fuss with the new stuff.  Not sure if it was Etheridge's fans, her shiny new band, or the spontaneous artist inside her (most likely, all three) but her fresh batch of song filled the atmosphere with excitement.  Never did the gig feel like a nostalgia cash-grab, but rather an exhibition in musicianship unmatched by her contemporaries.
You're not supposed to retroactively fit your live show bucket list, but after Etheridge's inspired performance, I'm glad I could cross off an artist I never knew was there.
Review by Donny Rodriguez
(Note: see also 2010 review http://www.texasrockreport.com/melissa-etheridge-wows-bass-concert-hall-audience/)