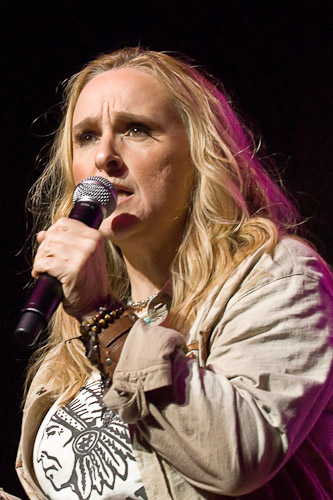 Monday night August 2nd 2010, Melissa Etheridge Fearless Love Tour stopped at Bass Concert Hall on the University of Texas campus. At this point I wish I had better writing skills because I can't seem to find the words to describe this incredible performance. Up to now I had only heard her songs on the radio and occasionally on TV, and then just the usual hit song "Come To My Window." However, Melissa's live performance is a stunning tour de force where she is able to convey the meaning of the songs through her expressions, gestures and unbelievable vocal range. Melissa entered the concert hall from the back and walked down the aisle towards the stage as the light were dimmed and an assistant held a flash light so she could see her way. As she walked, she sang and touched peoples hands to connect with her audience, she crossed over to stage left where there were some stairs to get up on the stage. The entire audience were on their feet and many were standing right up at the stage side, reaching out their hands towards her and holding up home made signs.
This show did not have the standard three minute songs, most songs were 9 minutes or longer in my estimation. There were to many wonderful moments to recount them all, but a few songs really stood out for me. The song "Company" was performed so emotionally that it did give me goose bumps. The words take on a whole different meaning as you realize that she is a cancer survivor. In my own family I have seen the devastating affects of cancer, and realize that sometimes a person just needs company to pull through lonely and fearful times in life as they battle cancer or other life changing events. When she sang "I Run For Life", for the first time ever at a concert, I did tear up and realized that these lyrics capture the feelings and emotions of every person faced with cancer.
Not only did she touch the peoples hands who were standing right up at the stage as she sang, she came down of the stage right into the audience. As the audience circled around her, she sang with great passion and energy. Her "small talk" between songs complemented Austin and the Tex-Mex food. She encouraged Austin to stay weird so not to many people will move her! She cleverly constructed each comment to introduce the name of the song she would sing next.
To my surprise, most songs included fantastic guitar solos by Peter Thorn . Some full length guitar solos made me forget I was in Bass concert hall and not at a rock festival. This was also the first time for me I saw a guitar played with four hands. During one guitar solo she stood behind Peter Thorn and reached around him to play the guitar at the same time as Peter! Christopher Dowd on keyboards at one point gave a wonderful jazzy solo. Both Blair Sinta on drums and Dan Rothchild on bass gave solid backing to each song.
As a photographer I did wish I would have been granted permission to photograph more than one song. It would have been nice to document this wonderful concert and emotional performances with a few more photos.