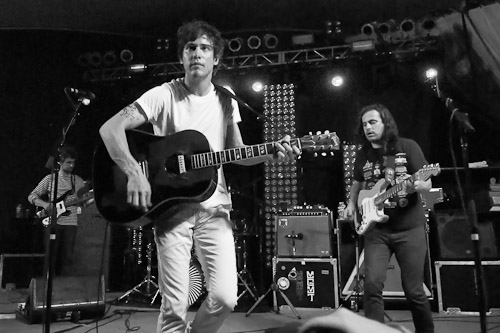 Sunday night June 6, MGMT played for a full house at Stubb's Waller Creek Amphitheater. It was an exceptional humid and hot night, but that did not stop the fans from coming out in droves. MGMT, was nominated for 2010 Grammy Award for Best New Artist, and their track "Kids" was nominated for Best Pop Performance By a Duo or Group with Vocals.(http://www.nme.com/news/beyonce/48701). MGMT started of the show with "POW", "Song for Dan Traecy" and "Weekend Wars." It was some what of a challenging to take a photograph of the band since during the first 3 songs, the stage was dimly lit with blue and magenta colored lights, maybe they are camera shy. As soon as the photographers left the photo pit after the third song, the stage lights came on and the band actually became visible to the crowd.
The complete set list included: POW, Song For Dan Traecy, Weekend Wars, Destrokk, Flash Delirium, The Youth, Someone's Missing, It's Working, Electric Feel, Siberian Breaks, Tine To Pretend, The Handshake, Brian Eno, Of Moons, Birds and Monsters and Congratulations.
The hot and humid evening air, combined with the soothing laid-back rock tunes and that haunting keyboard sound played by Ben Goldwasser gave the crowd a "buzz" in more than one way. Andrew VanWyngarden (lead guitar, vocals) and Ben Goldwasser (keyboards and vocals) sure know how to craft melodic synthpop rock.
Band members: Andrew VanWyngarden – lead vocals, guitar, keyboards, drums, Ben Goldwasser – vocals, keyboards, synthesizers, drums, Matthew Asti – bass, backing vocals, James Richardson – lead guitar, backing vocals, keyboard, percussion and Will Berman – drums, backing vocals.