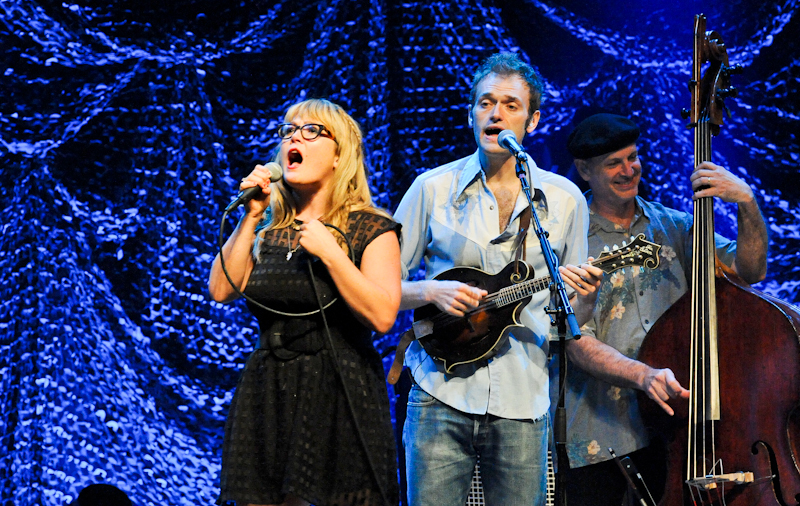 AUSTIN, TX – August 24, 2014: When someone says they want to take a "break" from you and your relationship because they need to explore themselves, it's impossible not to manifest this information into a personal attack and immediately go through all but the last stage in the five stages of grief.
When Nickel Creek embarked on their Farewell (For Now) Tour seven years ago, the group's devotees couldn't talk themselves out of what seemed like Nickel Creek's ultimate demise. However, on the second night of a three-show stint at the ACL Theater, the group and their fans picked up exactly where they left off in what was a prolific, optimism restoring performance.
All who hiked the one-story, Mount Bonnell-esq flight of steps off Lavaca and Second wore their Sunday's best. The capacity crowd saw women adorning cute, casual church dresses, complete with plastic cup chardonnay accessories, and the men shined in dull-colored polos, with pale pints of lager accenting their evening attire.
Austin born-and-bred Contemporary Bluegrass marvel Sarah Jarosz opened the evening's festivities. At 23, this prodigious folkster breathes the rarefied air of being utterly respected critically and commercially across genre-boundaries. Jarosz led with the dark and bombastic "Annabelle Lee." The multi-instrumentalist was then joined by her cellist Nathaniel Smith and fiddler Alex Hargreaves.
On "Come Around," it was nearly impossible to keep up with Jarosz rapid-fire fretboard target practice. The title track from her latest record, "Build Me Up From Bones," made the stage transform into a movie trailer for the type of independent flick you'd see a block away at the Violet Crown Theater. It was mesmerizing. Her Bob Dylan cover of "Ring Them Bells" was as stunning as it was pitch perfect.
A sonically profound tune co-written by country music maestro Darrell Scott, "1,000 Things," displayed the emotional depths Jarosz can reach. She's only begun to dive deep into her creativity rabbit hole; I can't imagine what insatiable arias await the other side.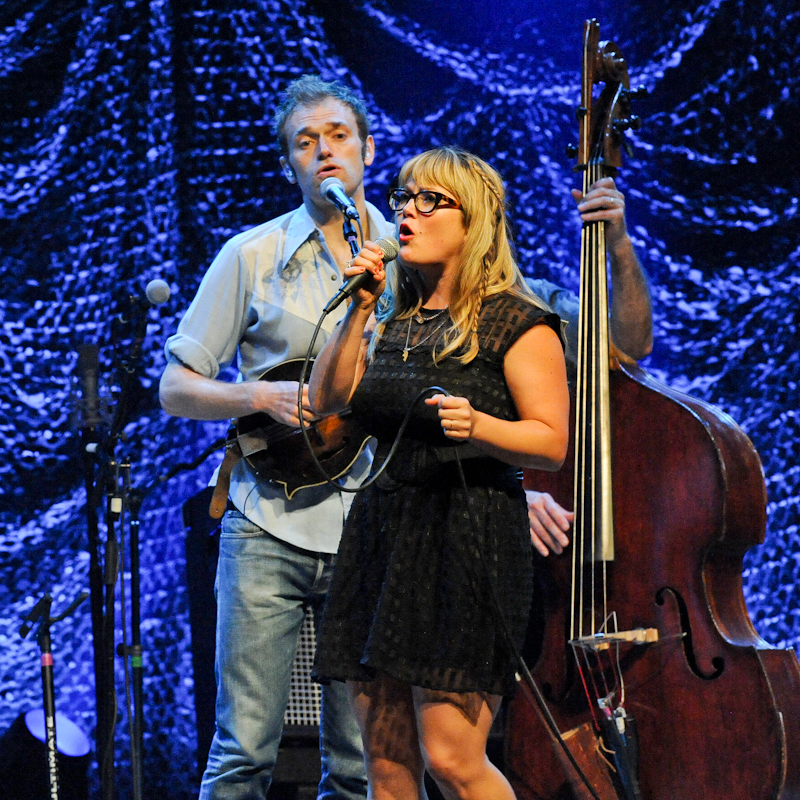 Nonchalantly gracing the stage 15 ticks after 9:00 pm was the deceptively unassuming fiddler Sara Watkins, her affable guitarist brother Sean Watkins, and moxie-flavored mandolinist Chris Thile – who didn't acknowledge the audience – they just strapped up, and played out.
With delicate harmonies, falsetto registering, and poignant prose, "Why Should The Fire Die" instantly captivated the congregation. Reunited and it feels so good after the seven year unscratchable itch. On the Sara Watkins-led "Destination," musicianship and vocal battle cries were on full display. This ditty was off their new album A Dotted Line, but the paying customers sang in unison like they grew up on the song.
Upright-bassists and at times knee-slapping percussionist Mark Schatz joined the trio during the instrumental solo-off that was "Ode To A Butterfly." Sean Watkins-led the melodious and charming ditty "This Side." The rich and pathos-drenched "Rest Of My Life" featured note belting and heart-sinking instances. The present-ness of the attendees was palpable, and the band could feel it: they matched their focus note-for-note.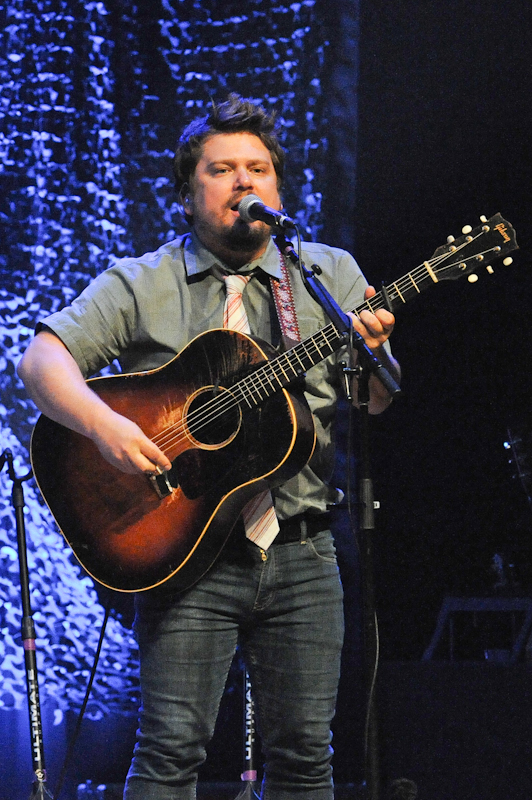 The dance-y, cautionary tale of Fleetwood Mac's "The Ledge" was next. The show shifted into a lighter hootenanny storytelling session. There were stream of consciousness riffs from Thile about how the applause meant a lot from a city that made brisket, which got big laughs.
Serrated-hooks, with bitter optimism at the end of them in "Somebody More Like You," were more pretty than petty. Those been-done-wrong in choir passionately echoed the words to the quartet and beyond to said wrongdoers. Folksy and from the point of view from a lighthouse, "The Lighthouse Tale" had aural imagery and sweeping stage lights that made for the most theatrical tune of the lot.
Compassion and resonant vulnerability added texture to the whole experience thanks to the haunting "Where Is Love Now." Smartphone filming for those who couldn't be here but wished to be, paralyzing closed-eye-kisses between steady lovers, and the white flag surrendering to the fleeting moment of being, in retrospect, was the apex of the evening.
In need of a spirit and tempo boost, "When In Rome" seemed apropos. This foreboding hymnal jolted the room with raw energy in the form of stompin', hootin', and hollerin'. In the frenetically paced instrumental number "Cuckoo's Nest," Schatz put on tap dancing shoes, and let his feet do the talking.
The non-denominational narrative in "21st Of May" spoke of one of the many raptures that never came. Sean Watkins shared an anecdote about seeing the date of a forthcoming rapture being advertised on a billboard by his home in Southern California three years ago. "It was the 20th of May, and I figured, if I only have a day left on earth, I might as well write a song."
The self-deprecating wit and ukulele playing of Sara Watkins on "Anthony" was so disarming and alluring, it had every fellow willing to change their name to reflect the aforementioned Anthony's. After the lyrics "Anthony, oh he said he can't love me, but I think he can, I told him that just before he ran" the theater burst into laughter. A whistle call from Thile quickly turned the cackles into claps.
Perhaps seeing this as an opportunity to tag the punch line of the last song, Thile went on a quip-filled rant about how the group Alabama, had no business writing the song "If You're Gonna Play In Texas." He dissected the lyrics, which had us all in stitches.
"You Don't Know What's Going On" — which had a powerful bridge, the instrumental "Scotch And Chocolate," the earnest foxhole musings of "Doubting Thomas," and the picking demo in "The Fox" — spanned the spectrum of Nickel Creek's capability.
A cover of the Canadian hard rock outfit, Mother Mother's rap-sing anthem "Hay Loft" was nearly as funky and sexy as the original. Enter a faux-bow, and the encore was upon us.
Jazzy coffeehouse deep-cut "Reasons Why" gave die-hards enough so that they could eventually die in peace. "Elephant In The Corn" was a non-verbal rhapsody that went on for six minutes, yet nobody wanted it to end. Schatz' bass bowing was a drop the mic moment.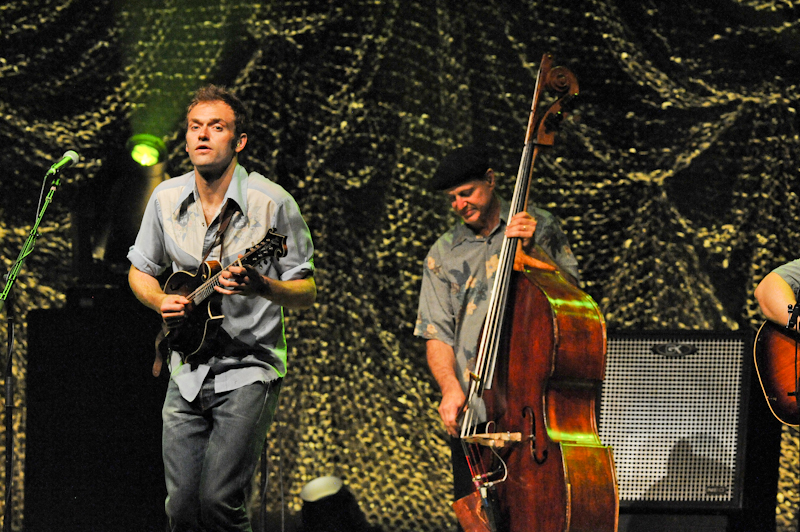 The showcase ended with a completely unamplified, acoustic rendition with "When You Come Back Down." The venue got eerily quiet during the first minute of the performance, save for two women clunking their thick heels as they spun one another and slow-danced. The crowd finally got comfortable enough to audibly sing-along, which made for a beautiful and cathartic happening that nobody will ever forget.
In wonderfully convenient hindsight, the band's "break-up" was a good thing. On Sunday night, with 20/20 vision, Nickel Creek's reunion was even better. The final stage of grieving is acceptance, and as hard as it was for some — this potential maudlin plea — now has a happy ending and a new beginning.
Review by Donny Rodriguez