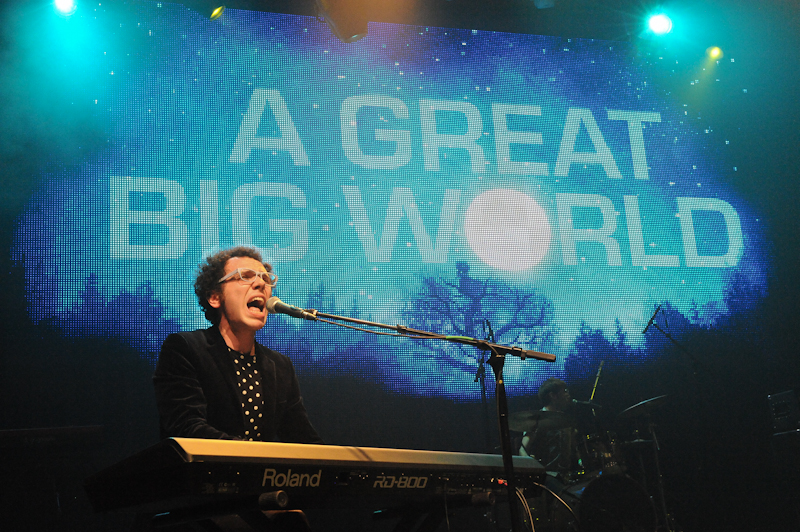 Austin, Texas – March 15, 2014: The one-man celebrity-blogging empire, Perez Hilton, returned for his 7th annual "One Night In Austin" South By Southwest (SXSW) music showcase at Austin Music Hall.  Unlike most SXSW money grabbing events, this one donated all the profits to VH1's Save The Music Foundation.  Tonight's event will hit capacity (4,400) with a combination of music badges and tickets sold.  That kind of dough is going to buy a lot of xylophones and recorder flutes for tiny public school musicians.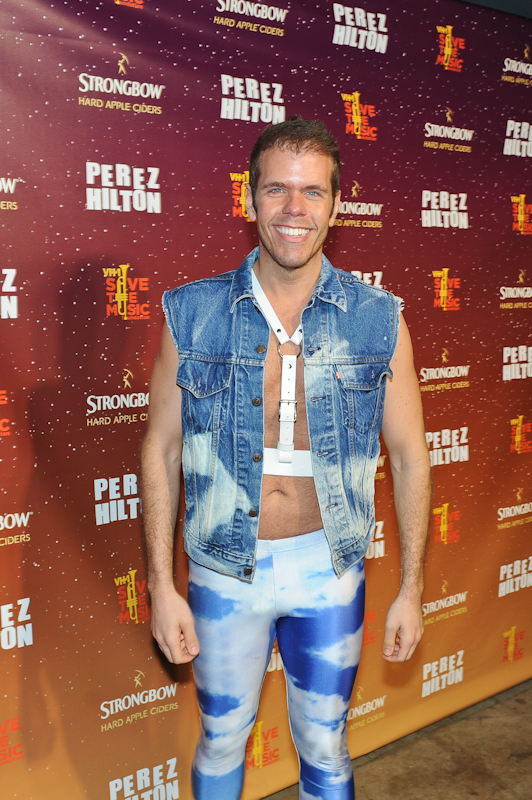 During all of SXSW, you couldn't stumble downtown ten feet in any direction before hitting a venue that had swore their bar's showcase featured the future of music and SXSW.  Perez Hilton assured me in a brief interview held on the red carpet that his show featured the "future of music".  I have a hunch he might be telling the truth.
Doors for the event opened around 4:30 PM.  Only a smattering of die-hard Perez-heads made the early call time.  Through the front door I walked passed a discrepancy among a security guard and concert-goer about the fact that there was no food available in the venue and those who purchased weren't allowed re-entry for the eight and a half hour event if they left for food.  "Rules are rules" as they say, even if this one meant there was going to be a lot of hungry and wasted people by the time dinner rolls around.
Reggae and R&B London-import Juliette Ashby, had the cumbersome task of opening the show to a nearly empty music hall.  She filled the empty spaces with her sultry voice and her band's rocksteady sound.  Ashby's persona is a bitter and sweet amalgamation of Lilly Allen and Gwen Stefani.  Conveniently enough at press row she told me to look for her new album dropping later this summer called "Bittersweet".
I tried to take my eye off MisterWives frontwoman Mandy Lee, but like anyone who's ever attempted that feat, I failed.  Effervescent charisma was bandied about the stage through MisterWives effortless blending dance-pop and soulful rock.  The "Girls Just Wanna Have Fun" cover had the jury in the pit give a guilty-of-being-my-new-favorite-band verdict and consequently sentenced the group to the withstanding of large applause.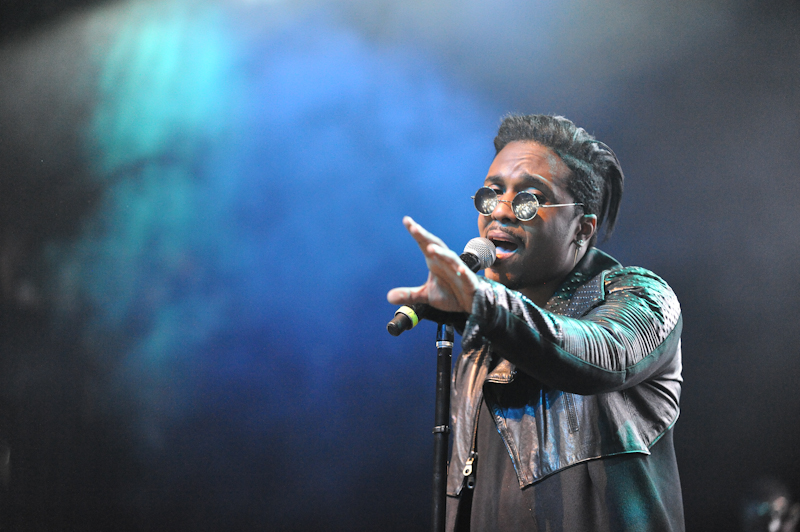 Let's get weird.  When the spotlight is on Kesington Kross he appears as a cross between Prince, Lenny Kravitz, and Wesley Snipes' Blade–but only more intriguing.  There's seemingly isn't a genre of music Kross didn't brush against in his thirty minute New Wave-R&B-Rock heavy set.  The emotional ballad "Carry On" is a hopeful hymnal of a degraded Compton lady–possibly of the night variety—and illustrates beautifully Kross's depth.  The band then played the single "Gimme Your Love" and everyone obliged to the lead singers request.  "I'll just do a simple strum on the guitar, and we'll have (his band) jam session, which allow us to morph the song into whatever genre we want" said Kross when I posed the question of how his band comes up with such genre bending tunes.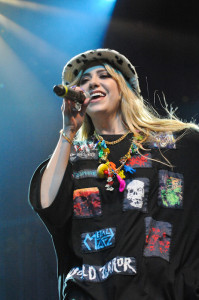 The next performer on the list was Elizabeth Grace,  known by her stage name LIZ is the epitome of 90's uptempo drum-machine R&B pop.  Her voice is much better than the studio polish would suggest on the seven song EP she recorded for MadDecent.com  With two masked female background dancers, LIZ put on frisky show.  The slow-jam "Don't Say" featuring Tyga had all in the assemblage nodding in appreciation.
After each act, a litany of DJ's tied over the set changes.  Clinton Sparks and Jeffery Tossesen spun the Austin Music Hall into a Miami club scene at times.  Our host made his first appearance dressed in sky patterned tights with a denim vest sans undershirt.  Hilton was extremely mild with his words all night as opposed to his biting blog posts.
The mythical dancer and violinist, Lindsey Stirling dazzled the theater who didn't quite know of this prolific performance artist at first.  They were blown-away and suffered shell-shock, but quickly came to their senses and erupted with adulation for the pint-sized violin God.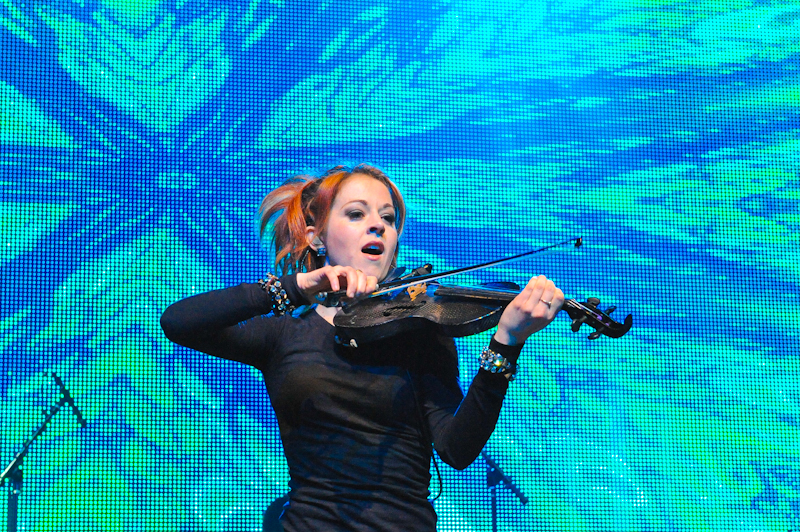 The 40 year old band Blondie popped the roof off the building with "One Way or Another".   The ageless Debbie Harry, moved around on stage like she had something to prove.  She didn't.  The set mixed old favorites like "Rapture" and "Heart of Glass"–which were as crisp as the recordings—and some new tracks off Ghost of Download, their new album.  While most celebrated rock stars of Blondie's ilk opt for new albums that sound like their old catalog, Blondie chooses to innovate and experiments with EDM, Reggaeton, alla turca on their new offering.  A cover of "Fight For Your Right (To Party)" by the Beastie Boys was a moment no one would forget.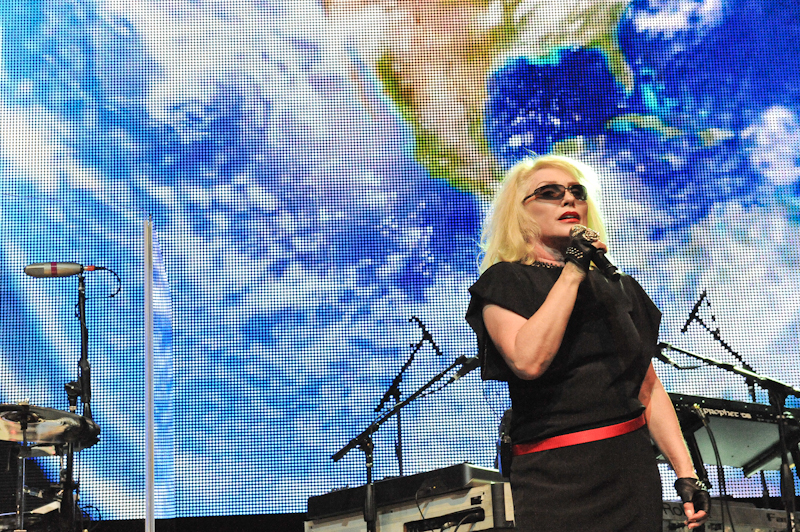 Next was the woman who out sang—and practically embarrassed Madonna– at this year's Grammy's: Mary Lambert.   With just a keyboard and her bombastic voice, Mary also out sang this evenings competition.  Her set had a VH1 Storytellers vibe as she sang her hit "She Keeps Me Warm" and talked about how she related to and thought Wheatus's "Teenage Dirtbag" was a Lesbian anthem before offering her own rendition.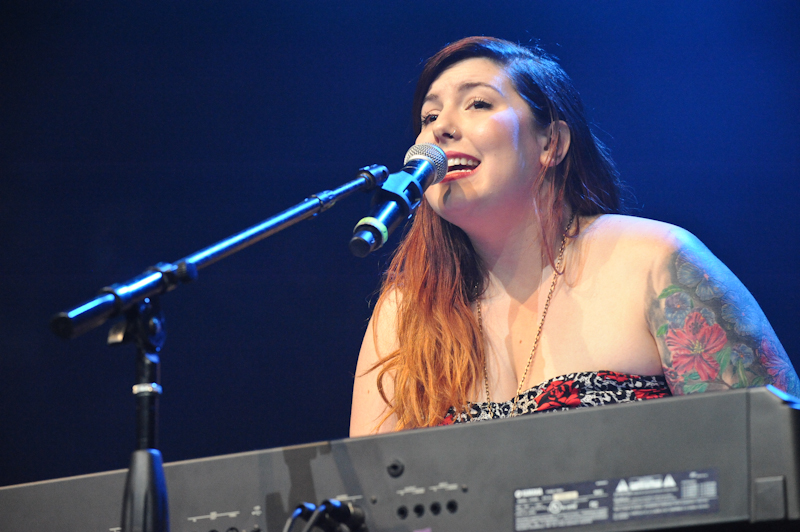 Close friend of Hilton and indie-pop princess, Ingrid Michaelson caught a lot off guard with her frontwoman stage presence and rock sensibility's during her whole set. "Parachute" and "Maybe" were sing-a-longs that could have started a campfire within the masses.  I asked the singer-songwriter which was her favorite song from her new album, Lights Out, and she said the epic and urgent "Afterlife".  She closed with a pounding alternate version "The Way I Am".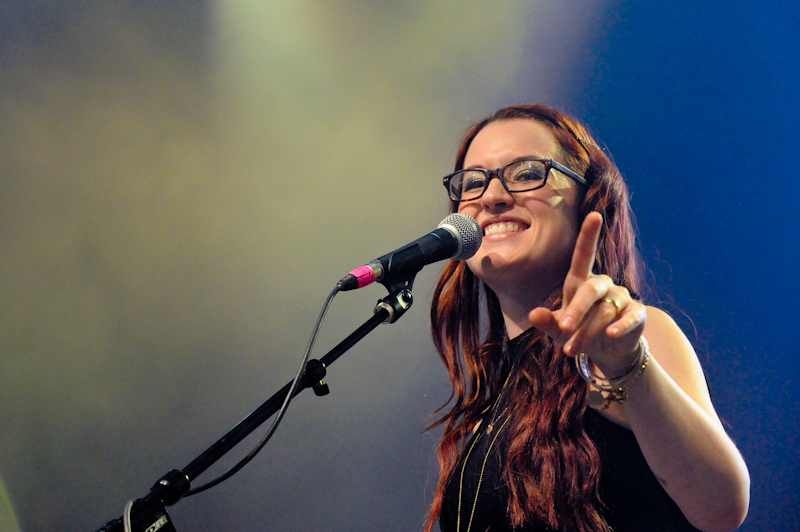 This was the second time I've seen American Authors ("Best Day Of My Life") in the last three days.  Hilton proclaimed to me that they're one of his favorite band of the showcase.  American Authors are arena-rock radio-stars with bigger things ahead them.  For more on them check out my mtvU Woodie Awards Review (http://www.texasrockreport.com/2014-mtvu-woodie-awards-invades-sxsw-review/).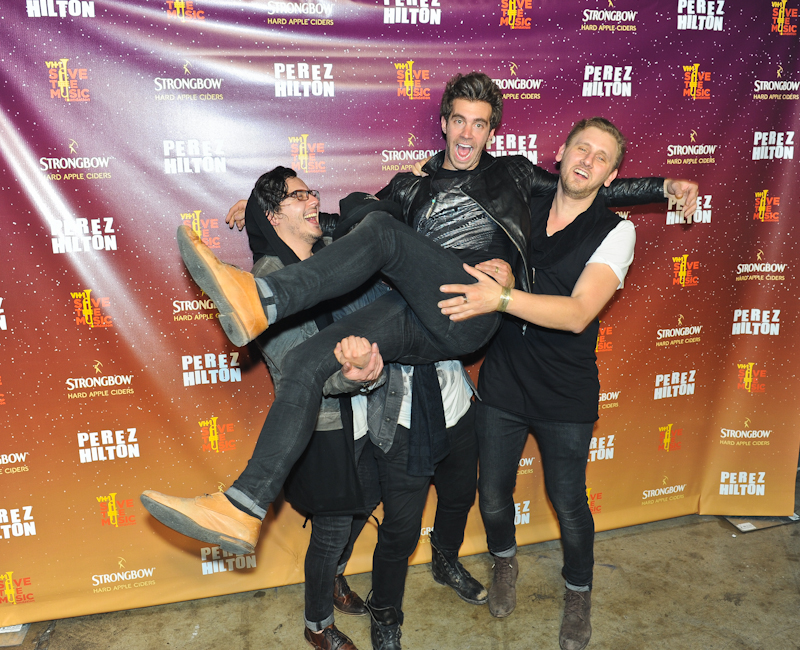 A Great Big World is a duo with the number one hit featuring Christina Aguilera "Say Something".  Turns out, they're a lot more than that.  The group has Ben Folds' rock chops with musical theater sophistication.  "Everyone Is Gay" and "Rockstar" were dynamic and billowing.  A solo version of "Say Something" moved some to tears and all to goosebumps.  The band informed me that they're in the works of writing lyrics and songs for an upcoming musical that they couldn't elaborate further on at this time.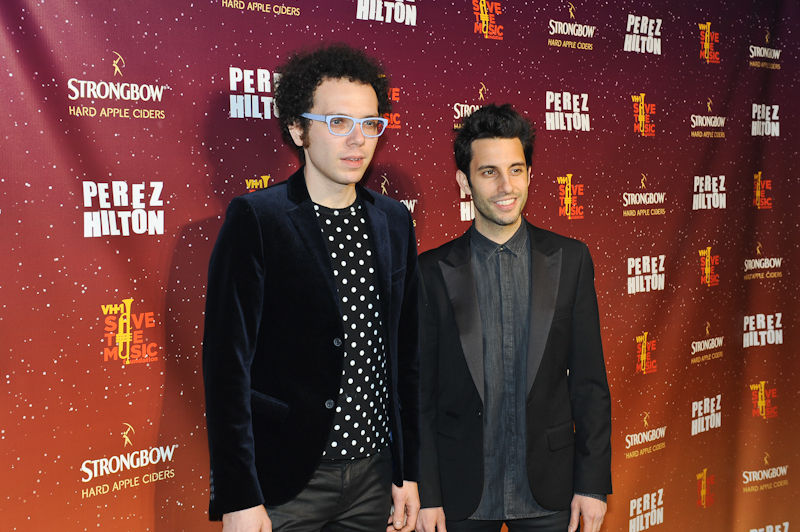 As time ticked past 12:30 AM, Perez Hilton had to come out and buy time by rambling so Betty Who's people could find her backing tracks.  Hilton shared a story about the first "One Night In Austin" that took place in a barn (The Palm Door on Sabine) and went 'til 4 AM.  Among the acts that night were Katy Perry and Robyn to whom Hilton graciously compared the Australian pop-sensation Betty Who.  As expectations were high, Who and company decided to play a few songs as a keyboard-bass-drums four piece.  An R&B version of the Spice Girls "Say You'll Be There" (specifically requested by Perez himself who was standing in the pit) had the few remaining millennials nostalgically losing their minds.
The Synth-silky "You're In Love", has the essence of a Katy Perry hook, with the Robyn-like inescapable dance grooves.  Perez wasn't lying.
All in all, One Night In Austin out performed the expectations of a line-up filled with up-and-comers and a pioneering band.  Hilton said this night was going to be the future of music, and this soothsayer may be right.  Email this link to yourself, but don't open it for two to four years from now, you'll be surprised how many big acts were on this bill.
Review by Donny Rodriguez