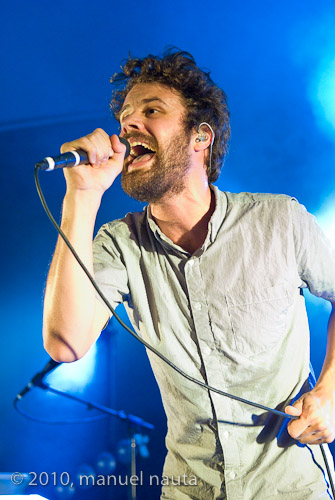 The synthpop Passion Pit pushed the volume limits on the audio system Friday night June 18 at Stubb's amphitheater. The bass beat seemed way louder and intense than usual matching Michael Angelakos way over the top intensity. Michael's shirt was drenched in sweat as he jumped, ran and bounced around the stage while swinging his microphone around like John Wayne would swing his lasso. Michael mentioned the Texas heat a few times, but my guess is that the full beard he had did not help matters.
The show started out with "I've Got Your Number", "Make Light" followed by "Better Things." Nate Donmoyer on drums was completely engulfed in the stage fog, while Ayad Al Adhamy quietly commandeered the synthesizers letting Michael do all the jumping. Ian Hultquist played both guitar and keyboards with Jeff Apruzzese on bass and synthesizer. With so many synthesizers no kidding the bass was beyond loud and and times drowning out the vocals, guitar and drums, but who cares since the crowd was in a state of "ecstasy" by the third song.
The stage lights provide Michael Angelakos with some very dramatic effects as he stood on top of the kick drum, the rear lights lit up as if heaven opened up and he jumped down like your local Greek mythological pop-oracle! The music did become enjoyably hypnotic after a while and I found myself just standing around and slightly rocking back and forth to the beat. They played 15 songs ending with their fan favorite "Sleepy Head" which show over 5 million plays on their MySpace page.