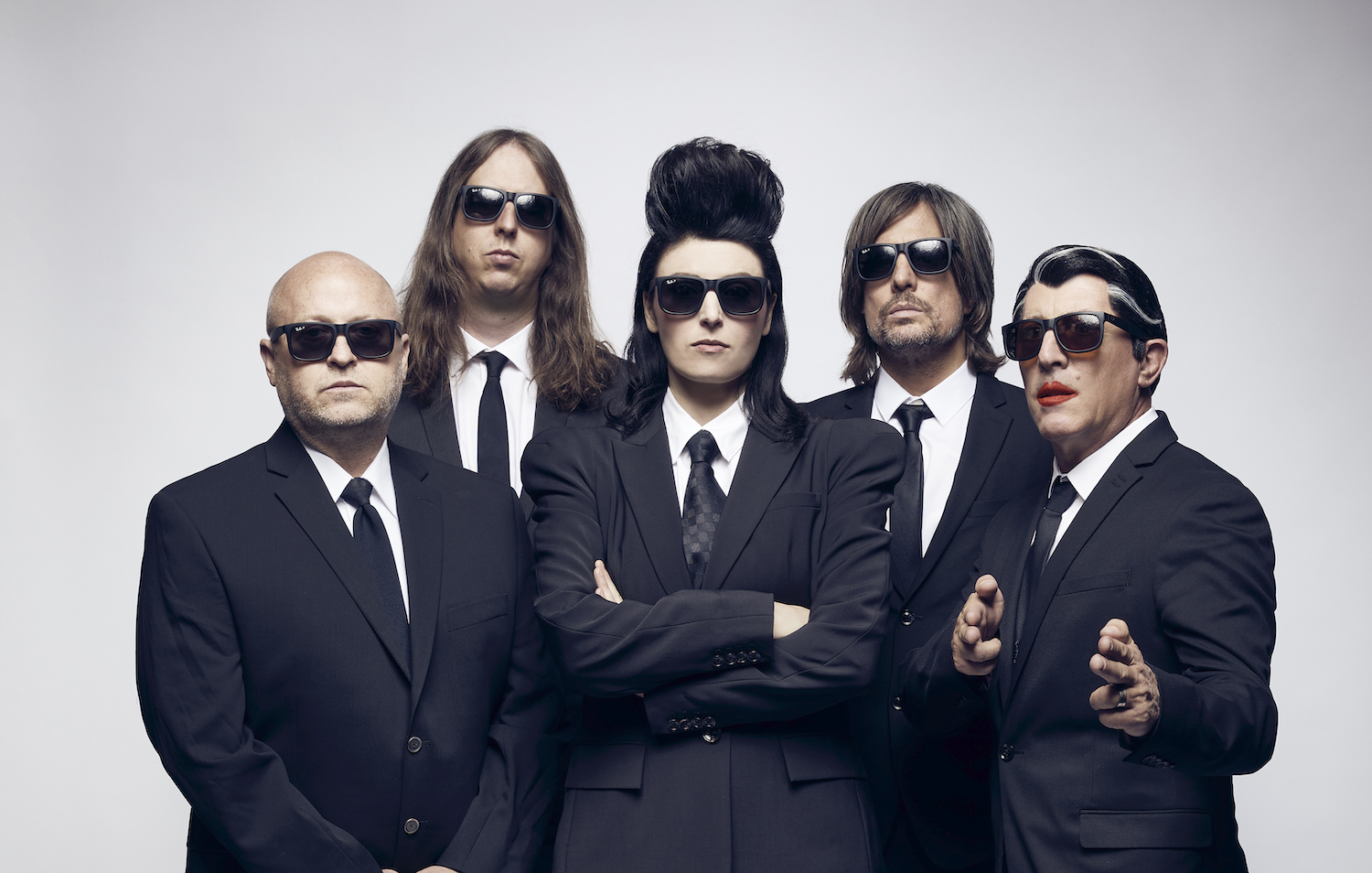 October 22, San Antonio, Texas: If you've had the pleasure of seeing Maynard James Keenan perform live with bands like Tool and A Perfect Circle, you'll certainly know that Keenan isn't exactly a force of energetic stage presence. Usually perched at the back of the stage, Keenan is oftentimes hard to see, but his presence is always felt. Agent Dick Merkin, on the other hand? Quite the entertainer. On a stop during their "Existential Reckoning" tour, Keenan (in character), along with his Pusciforce agent bandmates, made a stop at the sparkling new Tech Port Arena in San Antonio, TX for an evening of electronic-tinged alternative rock.
Prior to the show starting, multiple announcements came over the PA to announce that no phones were allowed during the performance, which is normal for Keenan's shows, given his noted disdain for cell phone usage during concerts. This was humorously taken a step further with the addition of an intro video of Agent Dick Merkin informing fans that if they used their phones, they would be escorted away and turned into the familiar foodstuff of SPAM.
The band arrived, decked out in full suits and sunglasses, for their first of three sets of the evening. The first set consisted entirely of songs from their most recent album "Existential Reckoning," kicking off with the album opener "Bread and Circus." It was a fantastic introduction, allowing to establish the depth of the band's live sound and highlighting what would ultimately be the highlight of the night in the harmonizing vocal interplay of Keenan and vocalist Carina Round.
Their voices were perfectly intertwined all evening, highlighted in the single "The Underwhelming," displaying some of the only downright danceable music in Keenan's catalog. With the electronic sound that Puscifer brings, a welcome addition of live drums from Gunnar Olsen gave songs like "Fake Affront" the extra punch they needed when translated to a live setting.
In between both the first and second sets, comedy videos featuring Keenan in character as Agent Dick Merkin came on the stage screen to skewer celebrity and pop culture. After the first break, the band returned for a set of songs that started to mix in more of the catalog. The apex moment of the show came during the performance of "The Remedy," perhaps the closest thing in the set to sounding like one of Keenan's other bands. The drums from Olsen and bass from Greg Edwards led the way, building towards an soaring bridge with guitarist Mat Mitchell taking over and Keenan and Round coalescing into vocal bliss.
After a 7 minute intermission, Keenan returned in a new costume (including an incredible blonde wig and mustache combo), this time as the purposely obnoxious character "Billy D." The band then closed the evening with a final 5 songs including adding a bit of an edge with tracks like "Man Overboard" and "Conditions of My Parole." Finally, as is tradition, Keenan begrudging allowed fans to take out their phones and film (free from fear of being turned into mystery meat) for the closer "Bedlamite."
Part of the fun of seeing Puscifer is to see a completely different side of Keenan. The crowd was addressed early and often, there was synchronized dancing, running around stage and multiple costume changes. But more importantly, it was a chance to see Keenan display his legendary vocal talent from an up close and personal vantage point. For that reason alone, catching a Puscifer show is essential for any Keenan fan. It just so happens, however, that the high level of musicianship and a special talent in Round also makes for a quite entertaining and impressive dancey rock show.