AUSTIN,TX – May 23, 2014: At the absolute cusp of Austin's city limits, sits the world class racetrack and amphitheater, Circuit of The Americas, the home to the inaugural three day country music and comedy extravaganza Redfest 2014.  The amenities were stellar, the aesthetics were stimulating, and the aural pleasure was euphoric on this Memorial Day Weekend.
Due to River City Rockfest in San Antonio (see review with Kid Rock and others), Texas Rock Report was unable to cover Saturday's show, which featured Tim McGraw and Larry the Cable Guy.
Over the weekend, showers came in and out, as did the humidity, making everyone feel like that beer can that's covered in condensation on a hot day when you're mowing the lawn.  The three-stage set-up was a bit trying.  The act overlap made for tough decisions.  From end to end (from the Natty Light Stage to the Showcase Stage, with the 360 Amphitheater in the middle) it took almost 15 minutes on foot, keep in mind there was a lot of distractions along the way.  Cornhole, an obstacle course, a military tent, a sports bar, a dance hall, and go-karts were among the popular non-live music attractions.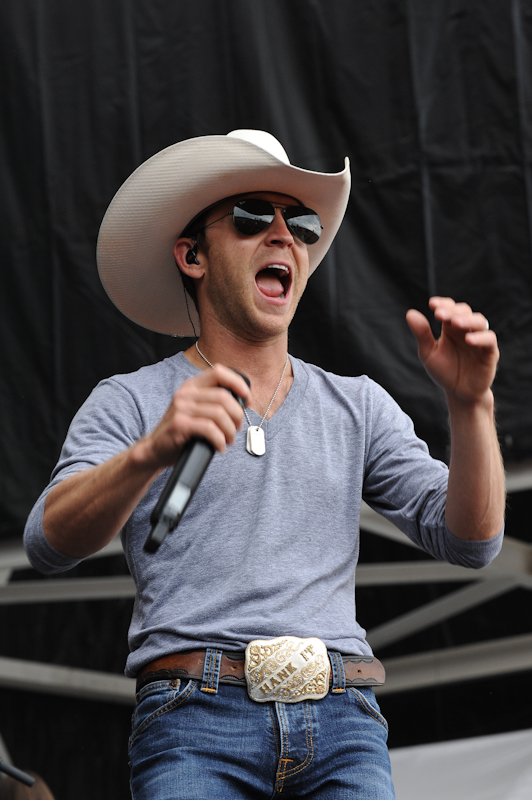 The price of food ($7-10 per main item, $5-6 for sides) and drinks ($5-6 sodas, $8-9 brews) weren't ideal for the blue collar clientele who, in theory, bought a 3-day pass that meant they'd consume an average of two meals and at least three beverages a day.
The attire of the attendees was what you'd expect. There was an abundance of cowboys in t-shirts that bestowed brands, bands, and wisecrack banter on them.  The ladies cowgirl up'd with either a combo of cut-offs, boots, and tight-tops combo, or luminous sundresses.  With the back drop set, let's get to brass tacks: the entertainment.
Around 6 pm on Friday, Justin Moore had the always tough gig of opening to a half-filled main stage.  Moore didn't seem encumbered by this one bit with his rich vibrato and relax-fit charisma during "Beer Time."  The mid-tempo "Til My Last Day" had the crowd serving as the choir.  "Bait A Hook" fired shots at those who've probably never held a gun, as Moore continued his radio-made catalog.
The seven-piece string band Gangstagrass (of Sons of Anarchy opening theme fame) brought rhythm and blue-grass hip-hop to the Natty Light stage.  "I Go Hard" was a finger-picking, flow-spitting, boot-kicking boogie, but to no fault of the band, there were only 10 onlookers.  It was disappointing because this type of music is better served to the masses.  The band played on, and the harmonies of the cover of "Constant Sorrow" were indulgent.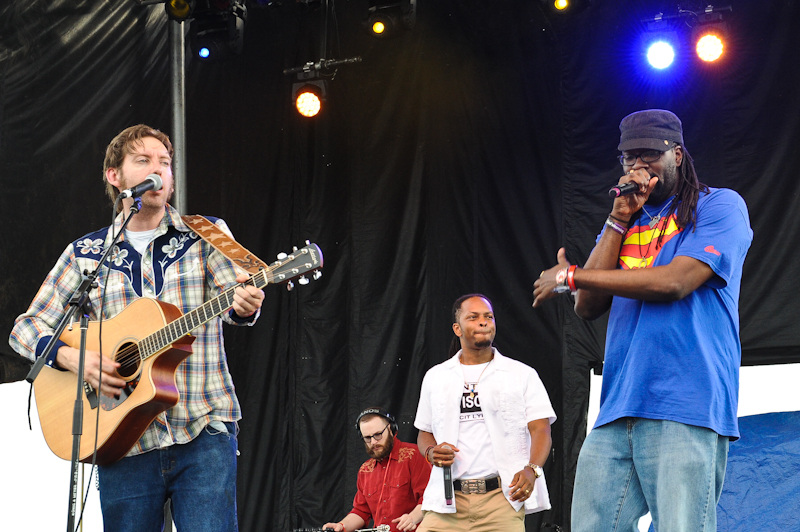 I then went three-quarters of a mile to the Showcase stage to catch comic Dustin Ybarra and Julian McCullough.  What awaited me were a few picnic tables and eight audience members.  It was uncomfortable, but not because of the stand-ups—they made the best of a bad situation by transitioning into crowd work, addressing the awkwardness, and still performing at the top of their game.  Ybarra looks like a curly-haired Jack Black, with Bobcat Goldthwait's rhythm and cadence.  McCullough is a TV vet who is destined for stardom.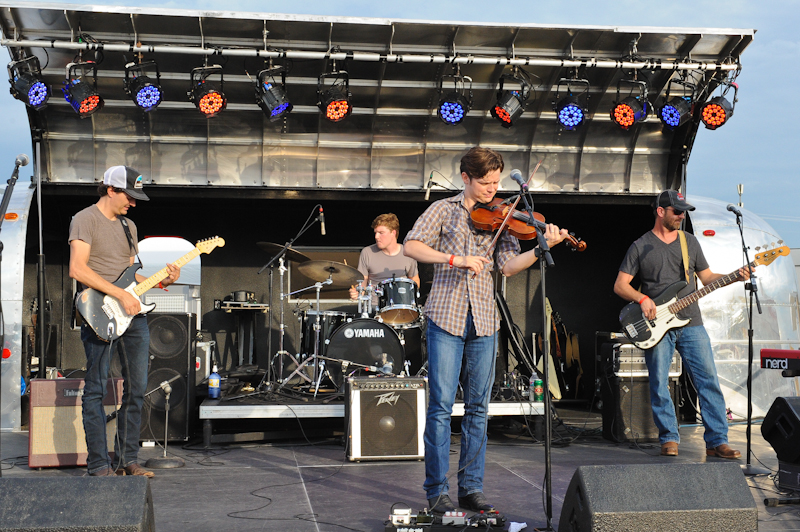 Foxworthy came out to fulfill a self-proclaimed life-long dream and introduced Lynyrd Skynyrd, but not before asking that people in the lawn section crash the near-empty first twenty-rows.  It was good for the band, bad for the order-keeping poor ushers.  The seven-piece Southern rockers played an hour and a half set that featured some crowd-pleasing deep cuts like "Workin' For MCA," "I Ain't The One," and "Gimme Back My Bullets."
The signature rag-time keys stood out on almost every song.  "That Smell" and "Give Me Three Steps" were show-stealers.  Scarfs and fabrics dangling from the mic stand were changed regularly—with the Confederate Flag earning the largest appreciation.  "Sweet Home Alabama" sounded as crisp as the recording.  And some b-side about a bird that nobody knew closed out their time.  Jokes aside, the solos alone in "Freebird" were worth the price of admission.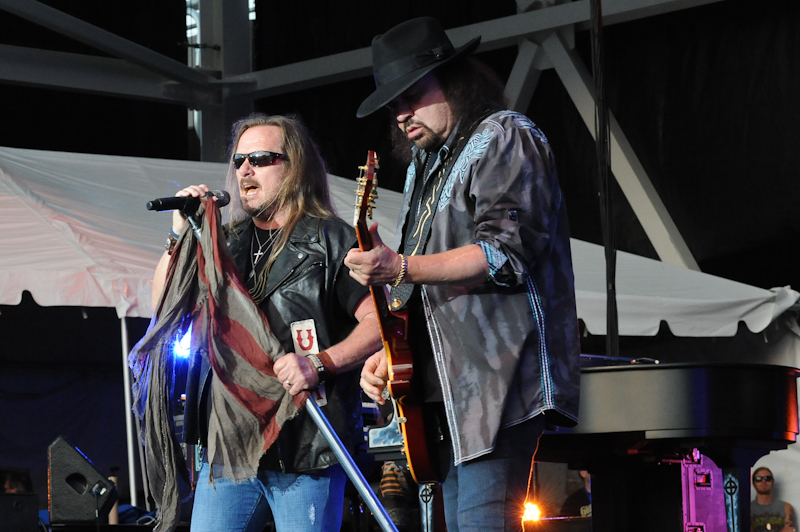 Sixteen year old Kayla Conn had some really inspired live musical moments to compliment her strong-and-still-growing vocals. Lyrics referencing "a Taylor Swift song," "boys like my truck," and "get this party rolling" were authentically her age.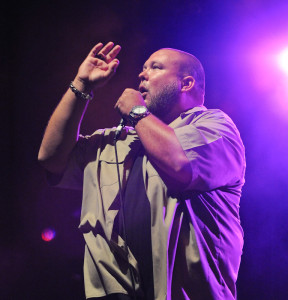 Hick-hop rapper and Reality TV personality (Bar Rescue and A&E's Big Smo), Big Smo headlined the Natty Stage.  Again, there were fewer people than there should have been, maybe 30 max.  His band, the Redneck Gypsies, featured some powerful vocals from guitarist Haden Carpenter that warmed up the set by playing four songs sans Smo.
Every cut from Smo feels like an anthem.  "Kick Mud," "Kuntry Boy Swag," and "Boss of the Stix" kept upping the ante.  A cover of Lorde's "Royals" with Carpenter's silky smooth voice singing and Smo on the harmonica was memorable.  Closing out the night was musical-Country comic Rodney Carrington, who went to describe into detail male anatomy and the Cliff Notes version of 50 Shades of fellatio.  You either love the sophomoric 45-year old millionaire comedian Carrington or you don't.
On Sunday Craig Morgan, was tardy but with a legit excuse; his bus broke down and he had his arm in a sling.  Though stationary most of the time, he had those as far back as the lawn section making up by moving and shaking.  He was bombastic on "Little Bit of Life."  An effortless drawl and a respectable octave range made sentimental ballads like "This Ain't Nothin'" special.  The passionate "Wake Up Loving You" woke up the again late-arrival crowd.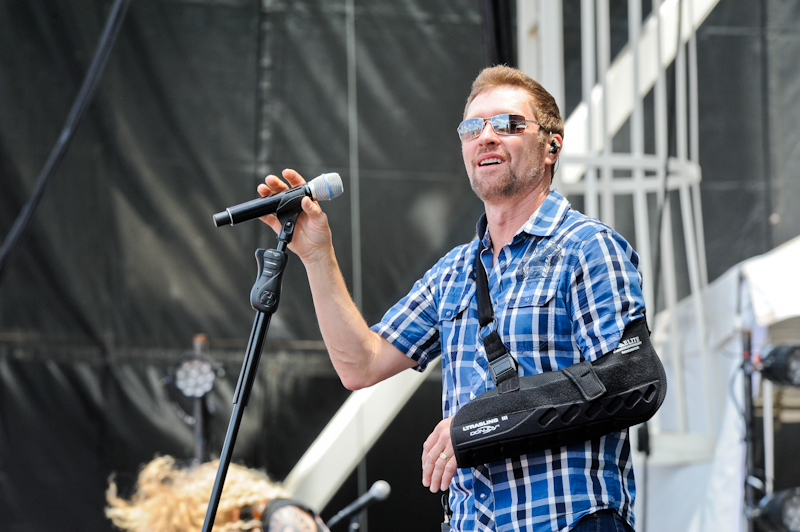 Comedian Jamie Kaler, like the stand-ups before him, did what he could in front of 12 people at the Showcase stage.  Hot Buttered Rum turned the Natty stage into a blue-grass hoedown. Their covers of "Missoula to Miami" and "Streets Have No Name" were fevered and had healing powers.
Easton Corbin really impressed with his machine-gun delivery in the verses of "Lovin' You Is Fun."  In "I Can't Love You Back," couples engaged in the all-too-uncommon practice of sunlit kissing.  "Tulsa Texas" name-checked Southern locations, which worked in a venue like this.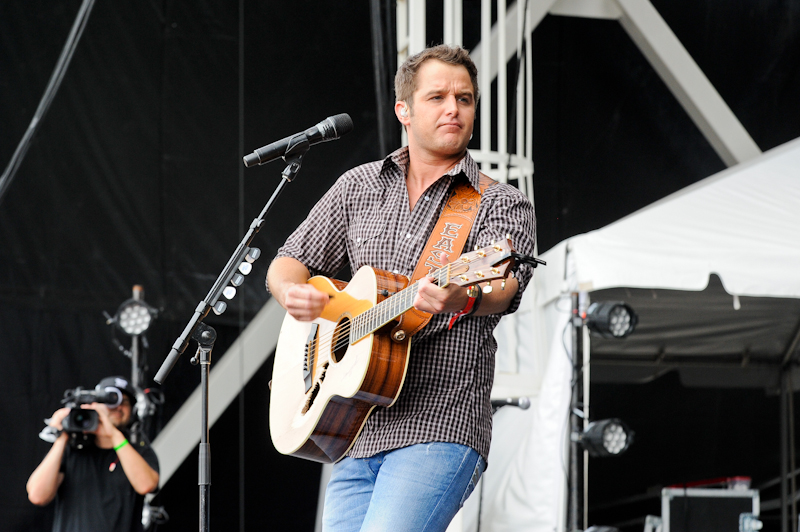 Sunday's side stage acts were as diverse as they were immensely talented.  Soul-funk-rock-everything JJ Grey and Mofro made for some lush licks and stunning warbling.  Grey is a troubadour with a growl not unlike Joe Cocker or Tom Waits—but with a concentration of melody.  "Sweetest Thing" and "Brighter Days" jolted the senses.  Austin blues-rocker Eric Tessmer was hands down the best guitarist to perform all day.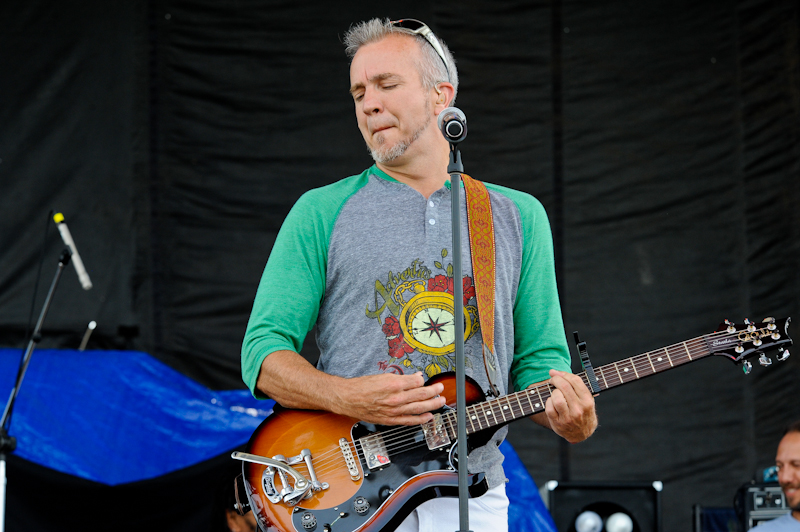 The acoustic-guitar and Cajon box percussion duo Sundy Best are deceptively good songwriters.  Their lax stage presence throws you off their scent, but "These Days" and "Drunk Right" reek of a good time.  The Continental Club staple The Whiskey Sisters wear the label of "next big thing" well.  During the chorus of "I Take It Back," my goosebumps got goosebumps.  Why aren't you downloading their self-titled album right this minute?
Affable American Idol alum Kellie Pickler dazzled with her girl next door looks and her at times Orange Is The New Black-aggressive demeanor. The Dancing With The Stars champion reminded you that she just used TV as a tool. Her voice puts food on the table with cuts like "Ring for Sale," "No Cure For Crazy," and "Red High Heels."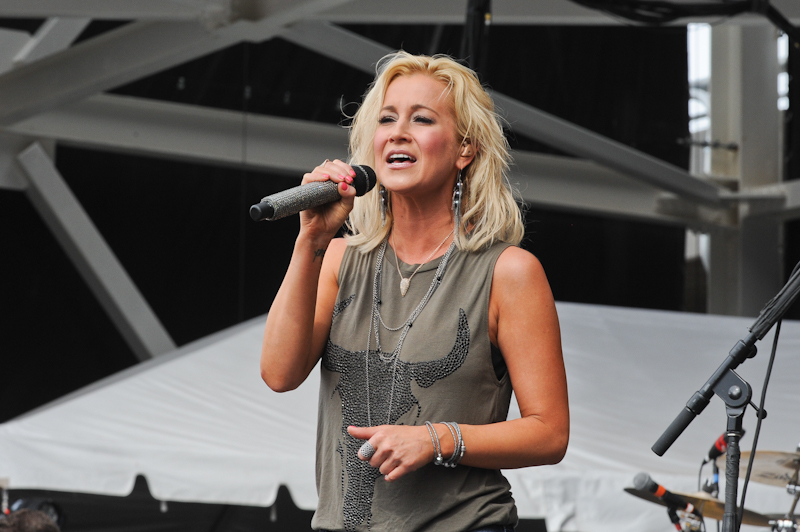 Foxworthy did a solid hour and a half, and was the only comedy act I saw that worked in front of a music audience.  It's awe-striking on how he could hold the collective attention of thousands with his observational brand of comedic storytelling.  He closed with his breakthrough bit of "you might be a redneck" to which the last jest being "if someone yells hoedown, and your girlfriend drops to the floor, you might be a redneck."  Loudest reaction by far.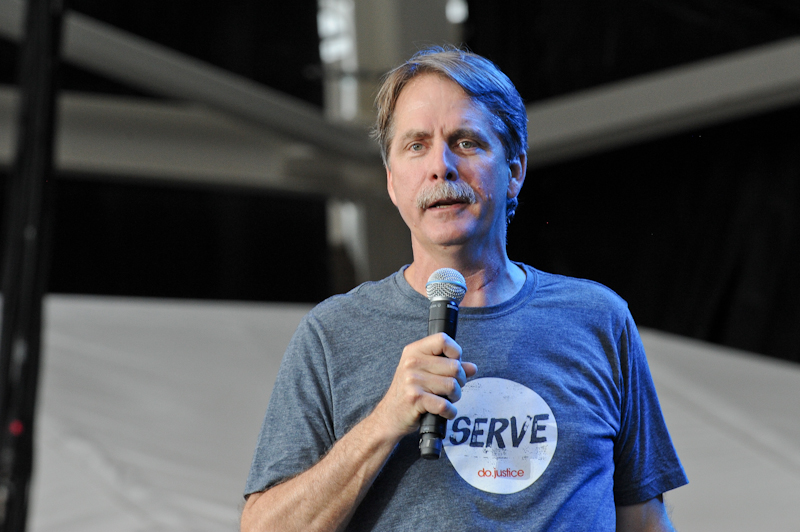 The biggest act in today's corporate country milieu is the Florida Georgia Line.  The band had Imagine Dragons "Radioactive" hype up the crowd right before they took the stage, which is ironic because they're the most active band on country radio.  Their show is a spectacle complete with lights, cardio, and rap-singing.  "Party People," "Round Here," and "This Is How We Roll" all felt like one homogenized Sunday Funday performance.  "Cruise" gave everyone what they wanted: a big name country act, a recognizable hit, and a sing-along to film on their phones.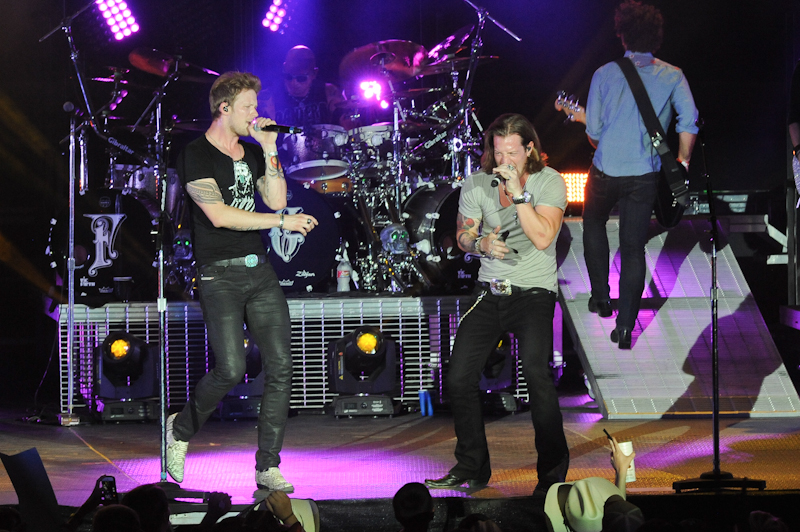 Should the fest return next year?  Yes.  Will changes need to be made such as closer stages, the nixing of comedians not as big as Foxworthy, eliminating some non-music activities, and the omission of one day?  It could only help, but I understand that it's easier playing Monday morning quarterback on the sidelines of a fest with this kind of production value.  All in all, if you didn't ask too many question, or look at the event too closely, you had a good time and that's all anyone is really looking for when they attend music festivals of this size.
Review by Donny Rodriguez