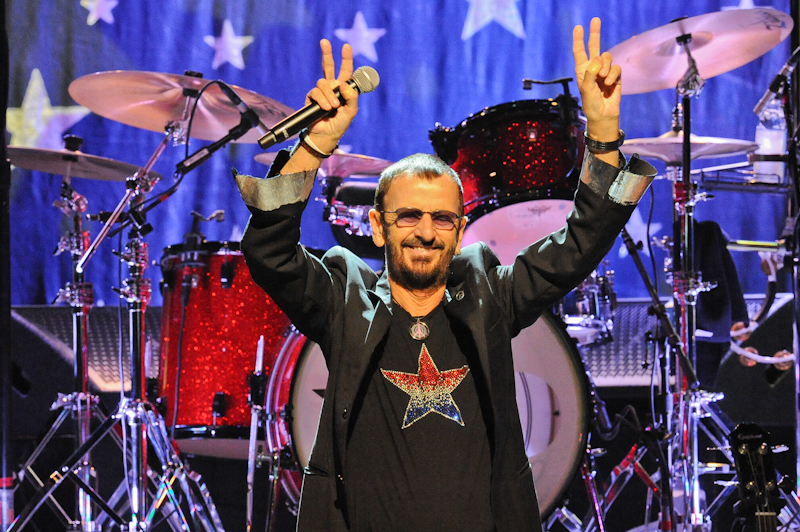 AUSTIN, TX – October 8, 2014 / The 74-year old Ringo Starr hasn't had anything left to prove since Pete Best (unfairly) became an anecdote/punch line in the history of rock and roll.  This still hasn't stopped Starr from incessantly hitting the road, making new records, and continuing his five-decade world tour of having the most enviable life (possibly) ever.
There's no combination of descriptors, analogies, or factual accounts that any music writer could craft about this Beatle that hasn't already been shared.  But, like any Beatles song you've heard countless times, you can always hear something that you haven't heard before. So, here's an attempt to do justice to the epic Ringo Starr & His All-Starr Band show at ACL on Wednesday night.
Comprising the second half of the group's nomenclature is: multi-instrumental magi, Todd Rundgren, Toto guitarist, Steve Lukather, wind accompaniment from Warren Ham, Mr. Mister himself, Richard Page, Santana'skeyboardist Gregg Rolie, and former David Lee Roth drummer, Gregg Bissonette.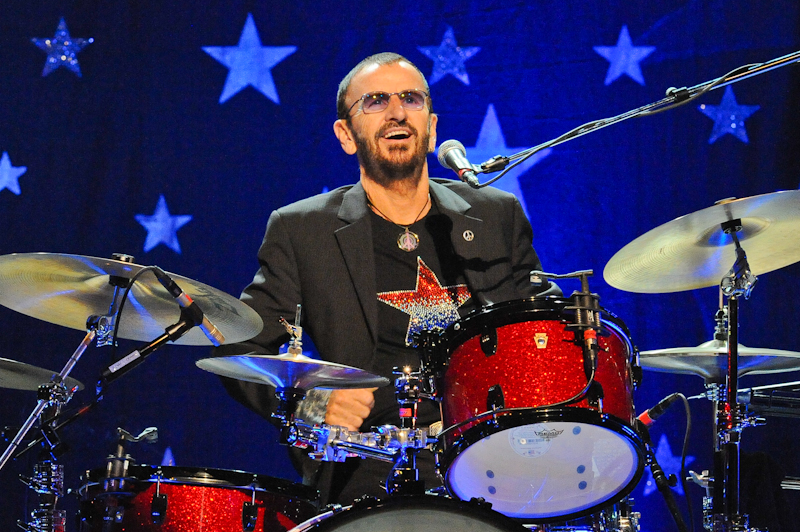 The house was almost packed about a half an hour before show time.  Lines to buy t-shirts with the lad from Liverpool's face and stage name were the longest the Texas Rock Report has witnessed. A census of the crowd was all over the place. There were: Baby boomers, children of the late sixties-early seventies, gen-Xers, millennials, and even a few tweens.
Flowy tops with flower prints and strategically tight jeans–with hair and makeup that was well worth the extra 10 minutes it may have taken–suited the female congregation well.  Bland Oxford button-ups and relaxed dad-denim could be seen more often than not as the men's wardrobe choice.  Oaky chardonnay and sugarcoated Tennessee whiskey & cola's filled the plastic cups of those looking to loosen up.
As Ringo's "All-Starrs" sauntered onto the stage, a pre-recorded introduction of "Ladies and Gentlemen, Ringo Starr" shot out of the loudspeakers, meeting the nearly rabid applause from the audience head-on.  Starr strutted out in all black with some cushy New Balance sneakers to boot. As the crowd fluttered, the set kicked off with a rapid rockabilly cover of Carl Perkins' "Matchbox."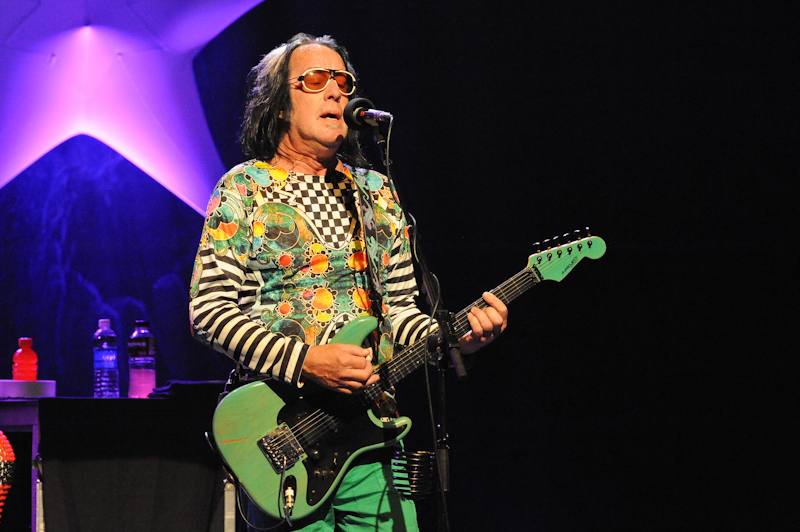 Starr's mid-tempo, signature solo-hit "It Don't Come Easy" was next. The frontman looked more comfortable in front of the skins than in his natural habitat behind them.  As Ham ripped through a sax solo, Starr conducted the orchestration effortlessly with an almost talk-sing cadence.
After quipping about no one buying his last record, the ex-Beatle went into "Wings," the lead single off 2012's "Ringo 2012" (which was originally featured on the "Ringo The 4th" LP back in 1977).  With Starr now manning the drums, the eccentric Todd Rundgren took the lead and played his AM radio, 70's soul-soaked ditty, "I Saw The Light."   With nary an individual seated on the floor level, the band engaged in vocal acrobatics, hypnotic basslines, and sustained silky key moments.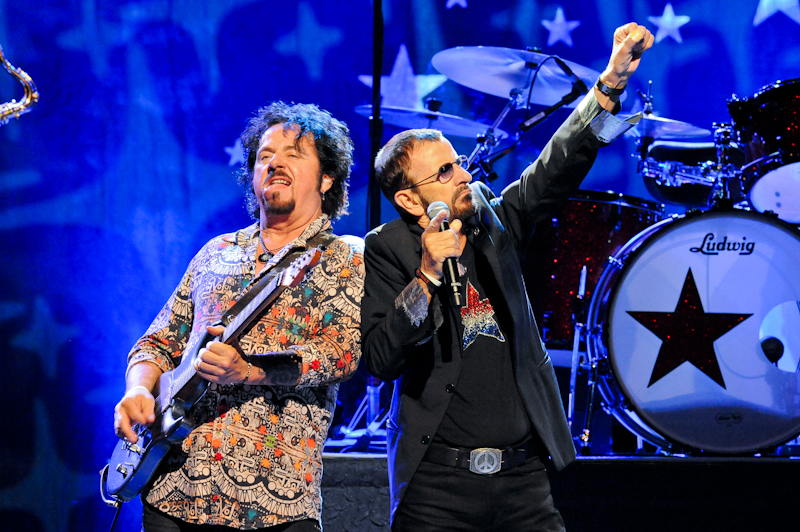 Gregg Rolie implored everyone to change their "Evil Ways," as he played his hammond organ in a double time meter for the Latin-jazz Santana hit. The entire group looked like they taught master classes in yoga, as their slender frames moved nimbly across every bit of the stage.  Lukather's Grammy-award winning Toto piece, "Rosana," engulfed the Moody Theater in sing-a-long flames, as the infectious melody would not stop combustion once it met oxygen. Lukather whittled his fret board down to sawdust during the bridge.
It was now Richard Page's turn to control the night's narrative by introducing Mr. Mister showpiece "Kyrie."  It's sheened in 80's synth, but don't get it wrong, it's a pop-rock gem with a chorus and wordless roars that are timeless.  The Rundgren-led "Bang The Drum All Day" had a Pavlovian response that had everyone innately bobbing their heads and mouthing the lyrics with their lazy tongues draped on the outside of their lips.  Rundgren may be the MVP of this "All Starr" exhibition thus far.
The Shirelles, by way of The Beatles tune "Boys," saw Starr recapturing his "other band's"(said with sarcasm) glory.  The first song Starr ever wrote, "Don't Pass Me By," was a deep-cut that just scratched the surface of Beatles catalogue nostalgia.  Afterward, Starr shared the lyric "You were in a car crash/ you lost your hair" and fanned the flames about the conspiracy to Paul McCartney's death back in the sixties, saying–with a wink and a grin–that the lyric speaks the truth.
The iconic "Yellow Submarine" signaled time for the amateur documentarians to commence with their camera phones.  The giddy and affable Starr, has been singing this number for more decades than tapes and cd's were even a thing, but that didn't stop him for performing a hi-fidelity visceral version.
"Black Magic Woman/Gypsy Queen" turned ACL Live into an old Austin authentic blues rock joint.  It was mysterious, sexy, and dangerous with its musicality.  Again, tipping his cap to Carl Perkins, "Honey Don't" continued the stretch of throwbacks that were in a time that the hip, elderly couple next to me would have labeled as, "Man you should have been there."
In what was perhaps the lone "lowpoint" of the evening, Starr played a newer tune "Anthem."  Nothing was wrong with the rendition; it just wasn't "Octopus Garden." Playing what sounded like a modern day indie Americana song in the cathartic and catchy "You Are Mine," Page displayed the most sincerity and vulnerability of the night. Frankly, it was the best song in the set that was released this century.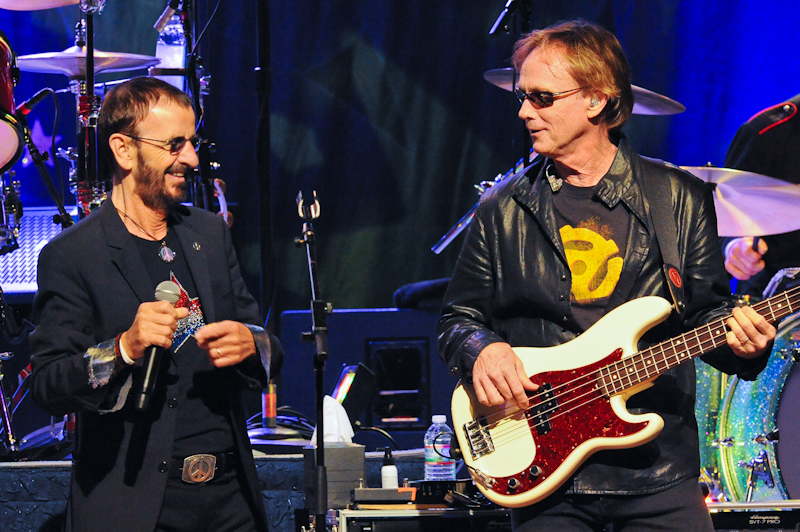 The award for biggest (non-Beatles) reaction to the first few notes of a song goes to Lukather's Toto career-maker, "Africa."  Even I blanked on my assignment, put my pen down, and "blessed the rains down in Africa" as it were. "Oye Como Va" was a bilingual song and dance mandatory participation piece.
As if he was joyously shouting it from a mountaintop, Rundgren belted "Love Is The Answer."  He played the part of rock star well by exchanging hand claps and daps, as he embraced the dozens of patrons who defiantly crashed the front row, turning it into a standing room only affair.
Oh did the ladies feverously fawn during "I Wanna Be Your Man."  It was over in two minutes, but made a lasting impression on the power of Brit-Pop circa '63.  To this point, "Broken Wings" stole the show.  The concertgoers served as a karaoke screen, feeding every word back to the performers.   
The almost heavy-metal licked and dynamic keys of "Hold The Line," rocked much more live than anyone remembered it did on the airways.  Laden with beautiful prose and sentimentality, "Photograph" had couples putting their arms around each other, kissing, and holding their pose as if their image was being captured for a wedding album or blog about love.
In true Starr fashion, the vibe shifted from serious to pseudo-silly with the honky tonk stardom tale "Act Naturally." Toes tapped, shoulders jutted, and awe was stuck.
The set's coup de gras had a little help in the throwing musical haymakers department when–with a little help from "Sailing" singer-songwriter Christopher Cross —"With A Little Help From My Friends" stepped into the ring.  Hearing the harmonies of "do you need any body?" from these legends was goosebump-inducing.
A brief but important snippet of "Give Peace A Chance" served as the evening's finale.
Earlier in the show, Starr mentioned that this was his first time ever playing the live music capital of the world. This gig was a bucket list experience for the crowd, staff, and even the band.  Though it was a blast of rock show, the night's underlying level of importance to people was inescapable.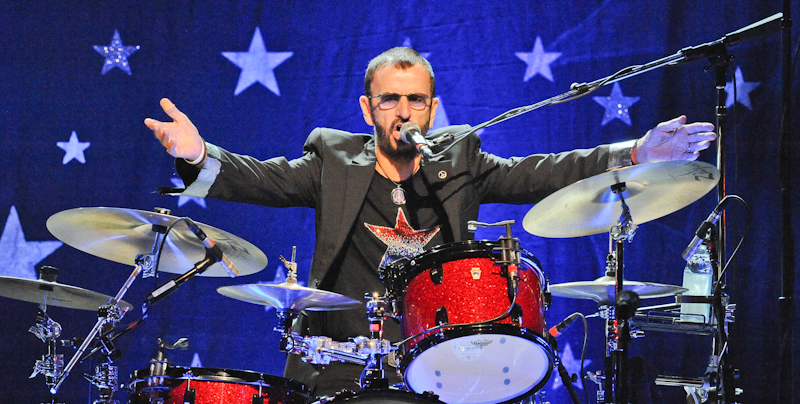 These songs meant a lot to our parents, music history, and ourselves.  And per usual, Starr's smirk and wit cut though the seriousness and made you feel like you were just surrounded by 3,000 friends listening to some tunes.
Inexplicably there are still tickets available (for now) for Sundays performance, again at ACL Live (http://ticketf.ly/1oMn5Dj).
Extra concert photos on our Facebook Page https://www.facebook.com/texasrockreport
Review by Donny Rodriguez