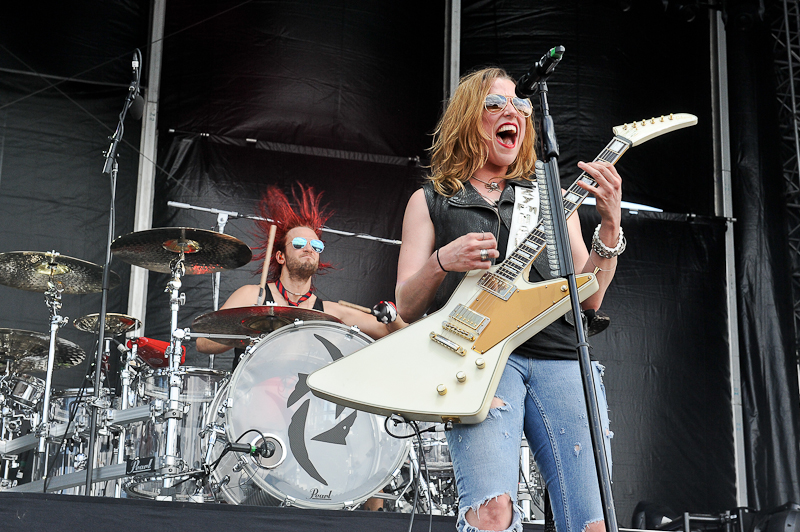 SAN ANTONIO, TX – May 24, 2015: Halestorm very well may have had the most fans at the event judging by the amount of walking billboards draped in their band's merch amongst the masses. The following is dedicated and it's easy to see why once the first soundwaves pour out loudspeakers.
They're authentically rock and roll. Not one band member had visible inked art on their flesh canvases and their outfits were more akin to that of an indie rock hipster band's album cover. Despite all this, they captivated this crowd who was extremely warm and inviting. "Love Bites (So Do I)" was frenetic but steadied by a ballast of on-point musicianship.
"Freak Like Me" was an exercise songwriting craftswomanship.  The congregation genuflected to the heavy hymnal in "Amen". "Apocalyptic" was a bluesy, garage rock throwdown that would have Jack White envious. And "I Miss The Misery" easily won the award of catchiest song of the day.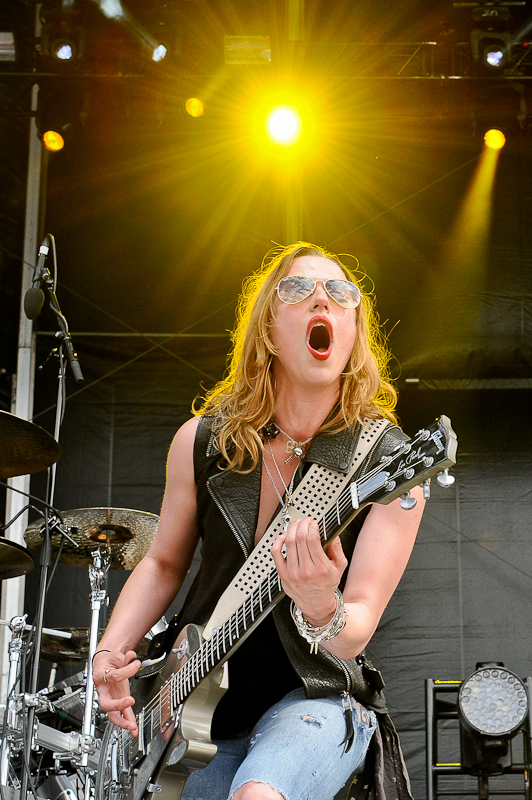 The venerable melodic Swedish death metal five-piece, In Flames did not disappoint. Their set was rife with lyrical imagery, emotion and the punishing licks with bpms that exceeds the speed limit.
Depending on who you ask Papa Roach is a lifeline or a punchline. They were a part of the turn-of-the-century nu-metal movement that saw acts like Limp Bizkit and Korn crossover and land on the charts of the pop music taste making show Total Request Live on MTV. On the surface, the band was very stylized in every sense of the word.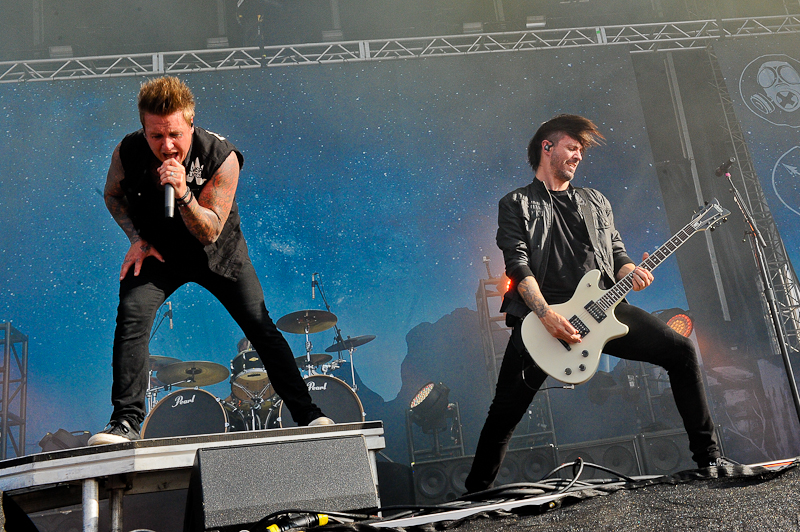 Fifteen years after their initial ascension, PR has managed to stay in the rock scene's mind by letting melody rule the roost. Like them or not, they know how to create arena-rocking anthems that stick with you. "Face Everything And Rise" was emphatic and had purpose. The ballad-like "Scars" rekindled the feelings of longing, love and passion. And "Last Resort" heard 25,000 plus harmonize beautifully if not begrudgingly in a few instances. They surprisingly won me over.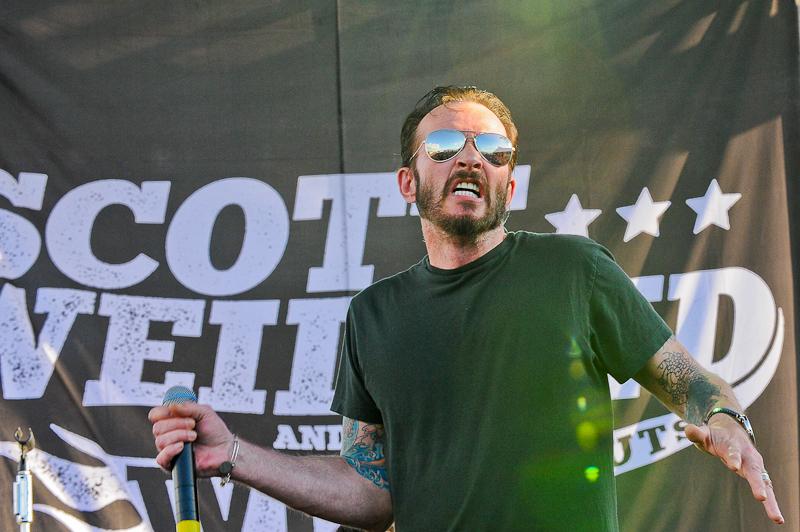 Ok. Here we go. Scott Weiland And The Wildabouts performance was pure dissonant bliss. Though it was a Stone Temple Pilots heavy set, it was light on the Scott Weiland that his fans grew to worship. The man is a regal rock figure, there's no doubt it, but like an episode of Game of Thrones, oh how the anointed fall.
The beginning of the set was marred with audio miscues, sound board catastrophes and general disorder, but what was most jarring was the slurring of sentences by the frontman during on-stage banter and his utter lack of movement and showmanship.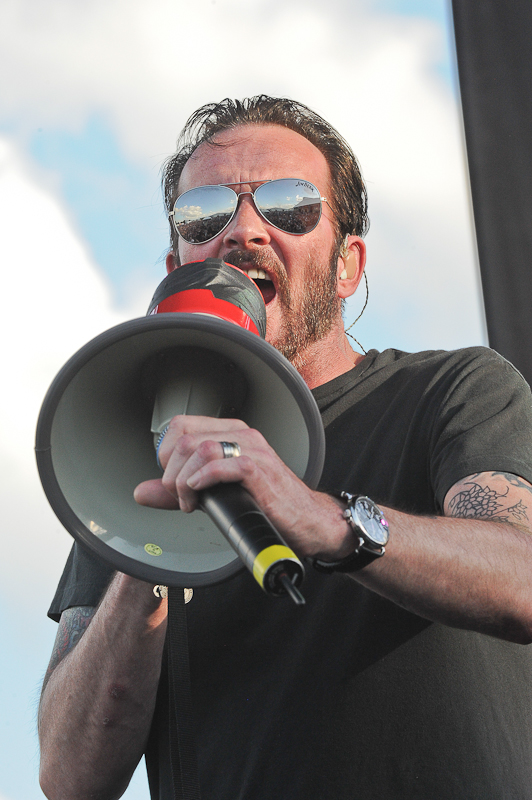 Overall, it was as frustrating as trying to stream the season finale of your favorite show on a dialup internet connection. Slow and unsteady lost the band their race out of the gate with their touring cycle. It's too bad too, the band's new songs showed such promise.
"The Way She Moves" was a strong psych-blues pop showing and "White Lighting" had pulsing and memorable moments. If you think I'm being too hard (or not hard enough) just search for the videos of the show that's being shared online.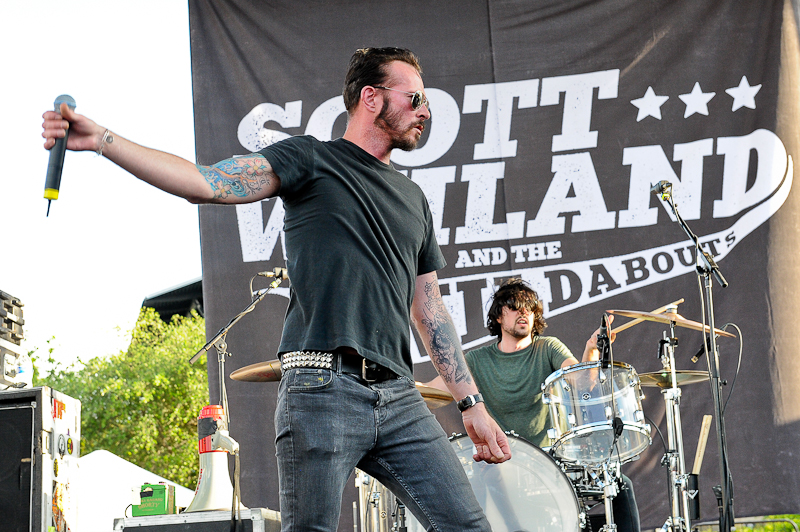 It's almost impossible to add hyperbole in describing how in-the-moment, the charismatic Volbeat is live. The Swedish metal centrifuge seems to perpetually have its wheels in motion be it in the studio or on stage. In a metal/hard rock milieu that's littered with homogenized denizens, Volbeat is a delicacy that should be savored.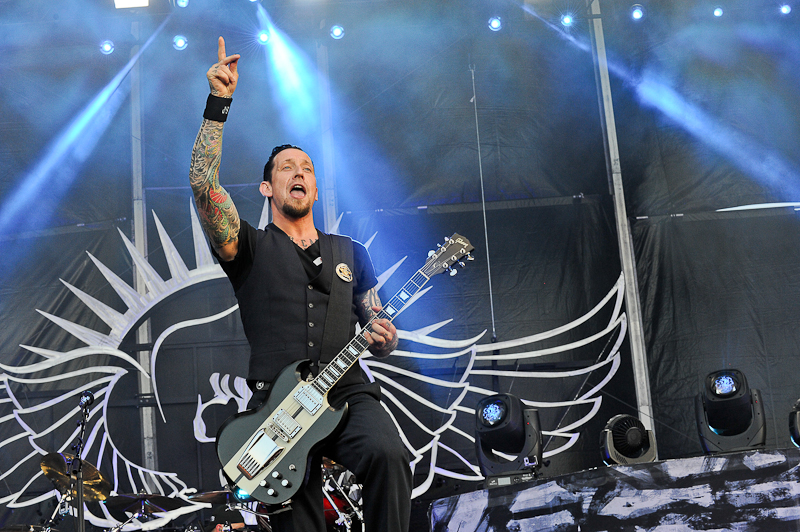 "Hallelujah Goat" is built on a bedrock licks that'll wear you down, vocal runs that'll wind you up and sentiments that'll keep you marching in place to the beat of their drum. The epic "Dead But Rising" killed the audience dead on its arrival. Some Johnny Cash references and riffs proceeded the singalong "Sad Man's Tongue".  San Antonio was referenced and revered, as it is anytime the city you're in is mentioned in a number.
With acoustic axe in hand, "The Garden's Tale" reaped the earnest fruits of the pathos filled labor put into it. "The Mirror And The Ripper" felt like hearing "We Are The Champions" after the squad you support won the title–it amplified all your celebratory feelings.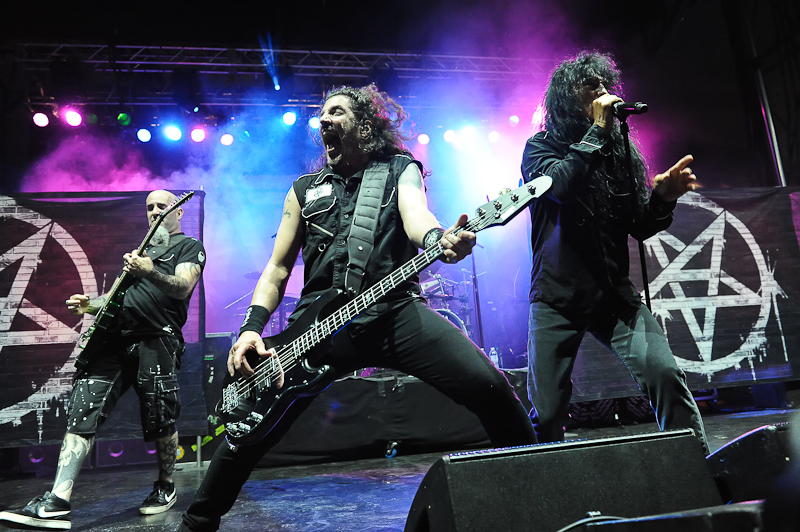 To put it bluntly, Anthrax waxed the competition up until this point with a spirited and furious set that everyone expect, but nobody could prepare for. "Caught In A Mosh" caught everybody off guard. They weren't going to pull a single punch.
Perhaps its my own ignorance but, I underestimated Anthrax to no fault of theirs but to my own naivety. We've covered aging-rock outfits here at the Texas Rock Report and rarely do said bands (just check out our archives) bring a sense of urgency like they did.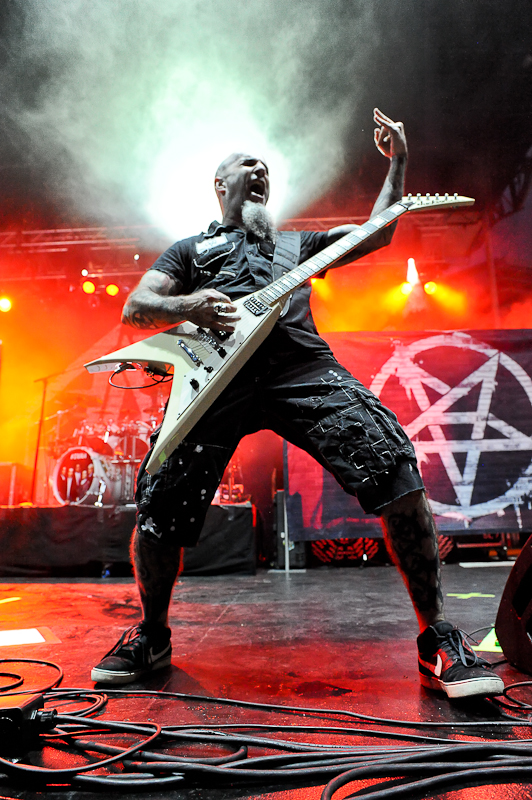 "Madhouse" aptly captured the moment. "Antisocial" conjured up misunderstood-high-schooler levels of angsty. Echos of the chorus shouted into the air could be heard in San Marcos. A few tender moments and salutes to Ronnie James Dio were the right amount of sentimental, and all in all, the virtuosos guitar play saw notes played for ayotes of nanoseconds. It was a sight to behold.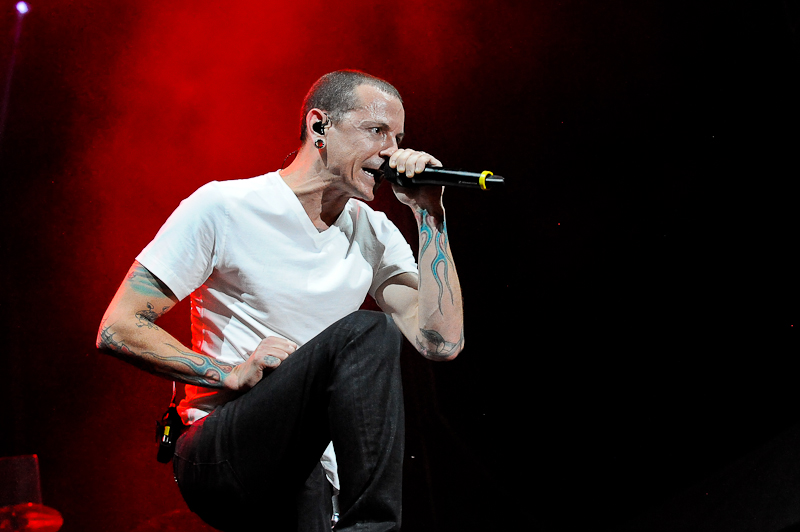 Ladies and gentlemen, now for something completely different; Linkin Park. The most commercially successful act from their era–their 2000 breakthrough album Hybrid Theory will be one of the last albums ever to receive a Diamond certification for selling 10 million copies in the US– Linkin Park still remains relevant and consistently releases inventive and artful works.
The ever-evolving group stunned the crowd with their unstoppable rendition of "Papercut". Rhythm and flow vocalist Mike Shinoda rapped verses as if he still had to sing for his supper and the pocket-sized Chester Bennington delivered sinister whispers and air current blast vocals. The audience, who most would profess follow the beat of their own drum, were now at the mercy of the prolific hit-makers.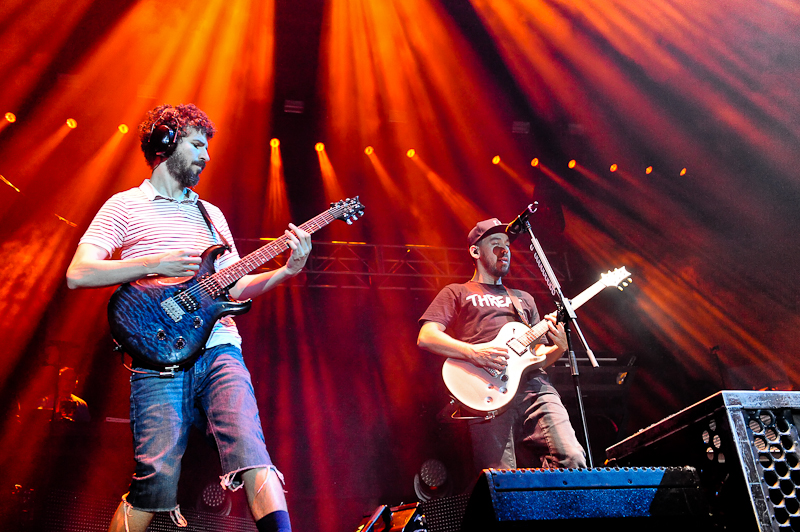 The bridge during the 2014 release "Rebellion", almost collapse the permeriter in on itself. The chaos unleashed was lasting. "Given Up" showed their hardcore sensibilities. "One Step Closer" embodied their songwriting dynamics and was recited by every single soul.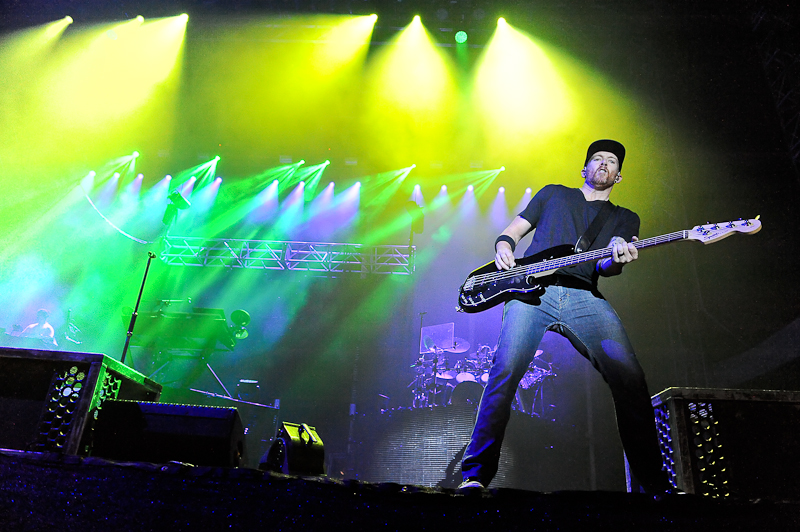 Deeper cuts for the die-hards like "Castle of Glass" and the dancey collaboration with EDM renaissance man, Steve Aoki in "Darker Than Blood", put the group's range on full display.  A murder's row of Billboard chart toppers kept upping the ante leaving one to genuinely wonder, what song could possible close out the set. Scream-alongs like "Numb", "In The End" and "Faint" paved the way for the evenings swan song in "Bleed It Out". Hard rock and heavy metal always have been beacons of hope to the alienated, disenfranchised and isolated ones in society. That's why events like River City Rockfest are important. It brings together those lone wolves who feel like they can't relate to others, and lets them know they're not alone. The power of rock compels you and always will, amen.
Review by Donny Rodriguez
See also River City Rockfest Part 1 Review …
More photos on our Facebook page: https://www.facebook.com/texasrockreport