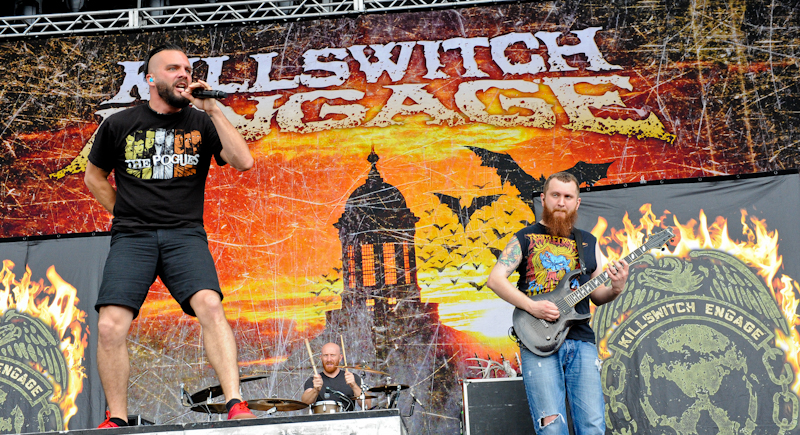 SAN ANTONIO, TX – May 24, 2014: What drought?  On Saturday, the parking lot of the AT&T Center was converted into a man made waterway complete with slip-n-slide licks, gale-force vocals, and lifeboat lyrics.  Even the reoccurring rains couldn't dampen the party at the River City Rockfest which featured 25 all-killer-no-filler acts, on 4 conveniently close stages.
The lion's share of the crowd was decked out in the kind of tattoos you could call art, although there were a few angel wing back tats, along with some penitentiary-pale flaming skulls.   It was a strict black-tee affair.  The hairdo's often did the talking. Mohawks, long manes with ends that split months ago, and flashy dye jobs in more colors than Dennis Rodman had during his mid-90's stint with the Spurs, were loud and proud.  Marlboro Lights burned in effigy, and American flag Budweiser cans got day-drunk.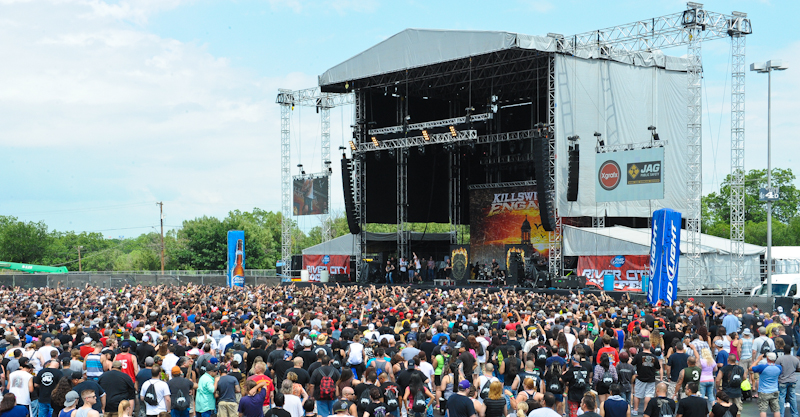 As I trekked towards the main stage for the first time, I could hear Black Stone Cherry singing in the drizzle.  Sans poncho, I was afraid my mother was right all those years and I would catch a cold from merely standing in the rain–however this contagion would be due to the infectiousness of BSC's deceptively catchy tunes.  The sexually-charged "Blame It On The Boom Boom" dropped DTF bombs.  Fist bumps and double-bass drum fills did the cool–but convoluted chorus of "you can't judge a book looking at the cover/you can't love someone messing with another" during the inescapable "Lonely Train".  Exit BSC, enter the second stage.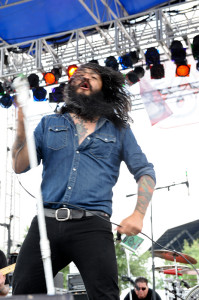 San Antonio's home grown superheros, The Heroine parted the clouds and shook everyone dry with their brand of genre-melding musical-moxie.  Lead singer Lynnwood King is an outlaw with flare for the emphatic when it comes to stage presence.  He's a bucking bronco who does the whipping of the mic stand, and effortlessly trots scales like a show pony.  "Hardworking Man" was as much of an ode as it was an opus.  Spotify them immediately, I'll wait.
Welcome back, and now prepare to have your face cauterized by the iron hot metal of Killswitch Engage.  Melodic metalcore with screams that could escape a black hole, Killswitch's songs are complex solar systems unto themselves.  The gravity of "The End Of Heartache" had the sing-along masses feeling weightless.  And roping this review back to earth was "My Curse"–a number about breasts, to which frontman Jesse Leach requested seeing some bare one's during duration of the ditty.  The response to the cover of "Holy Diver" was almost as loud as the battle cries at the Alamo.
Undoubtably, the biggest star that was shining while the sun was as well, was the incandescent Zakk Wylde of Black Label Society.  Wylde struck his signature pose of a boot hiked up on the monitor, a Les Paul Custom being man-handled, and dishwater blond locks a rocking—all became witness.  "Godspeed Hellbound" and "The Rose Petalled Garden" capped off a set of upper register howling and literal chest-thumping of the guitar king-kong and his crew.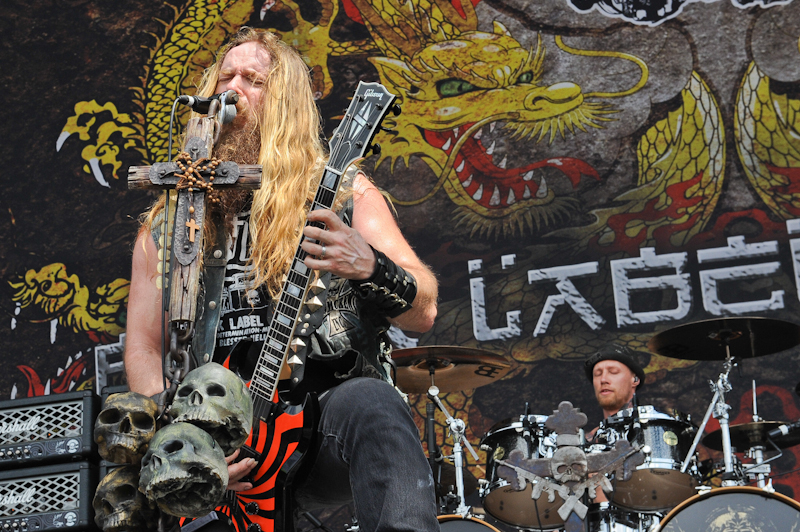 Austin's musical swiss-army-knife, Scorpion Child had a Southern-rock, Led Zeppelin-like vibe to them in the live cut of "Liquor".  One of my biggest regrets of the fest was not catching more of their set.  Right my wrongs when they come to a town near you, would you?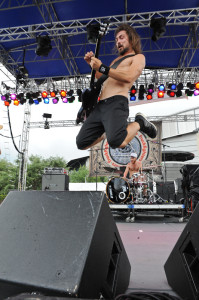 Though, I only caught a glimpse of them as I made my way back to the main stage, Swedish psychedelic metal act Truckfighters exuded enough energy to make Nikola Tesla blush.
The group that seems like an amalgamation of the entire fest was Eve To Adam.  Bass busy, paper cut riffs, and growl-turned-yodels during note holding, ETA had the audience focused during "Fortune Teller" and "Locked and Loaded".
Doing double duty was The Heroine vocalist as he fronted the Lynnwood King Revival's set in the Morris Center stage—see also: where the livestock and stables are when the rodeo comes to town.  There was no bull about the Lynnwood King Revival, the nine piece rock-soul-gospel band, even made those with pentagram ink testify.
The award for most Imagine Dragon-y stage show goes to the buzz band Nothing More.  To be fair, I walked in on Nothing More like one walks in on the awkward part of a conversation when taken out of context.  As the lead-singer banged away on a center stage solo drum, a contraption was set up to hold a bass guitar.  Then three members of the group started playing the bass and spinning the suspended guitar.  It felt too novelty.  I stuck around for "This Is The Time (Ballast)" which was distorted, dank, and garnished with high-fructose harmonies—it probably wasn't good for me, but it was pretty sweet.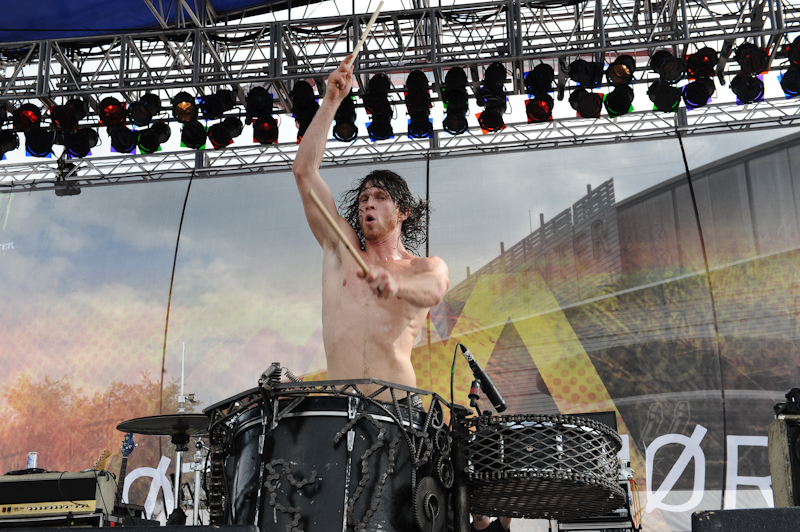 South African rock radio fixtures, Seether performed a perfect blend of introspective mid-tempo melancholy and hopping mad rhythmic anthems.   Highlight's were "Broken", "Words As Weapons"–the lead single off their new album due July 1st—and the blunt but biting "Fake It".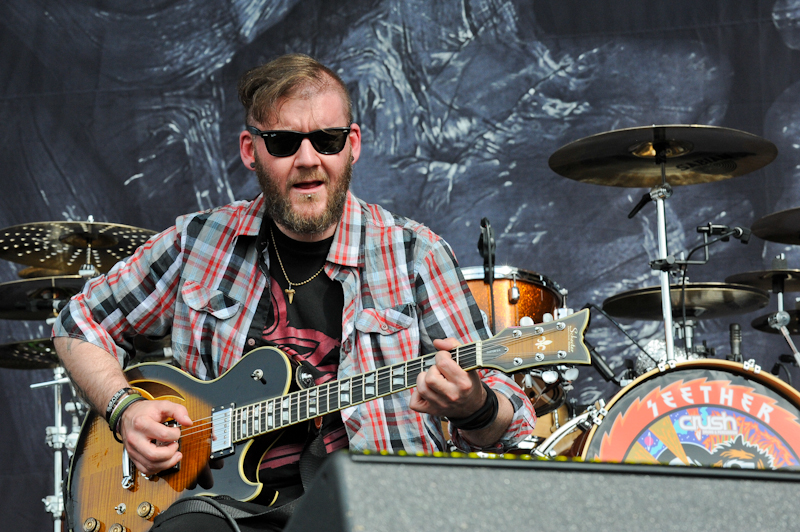 Check back for part two featuring the Deftones, Five Finger Death Punch, Kid Rock and more.
Review by Donny Rodriguez