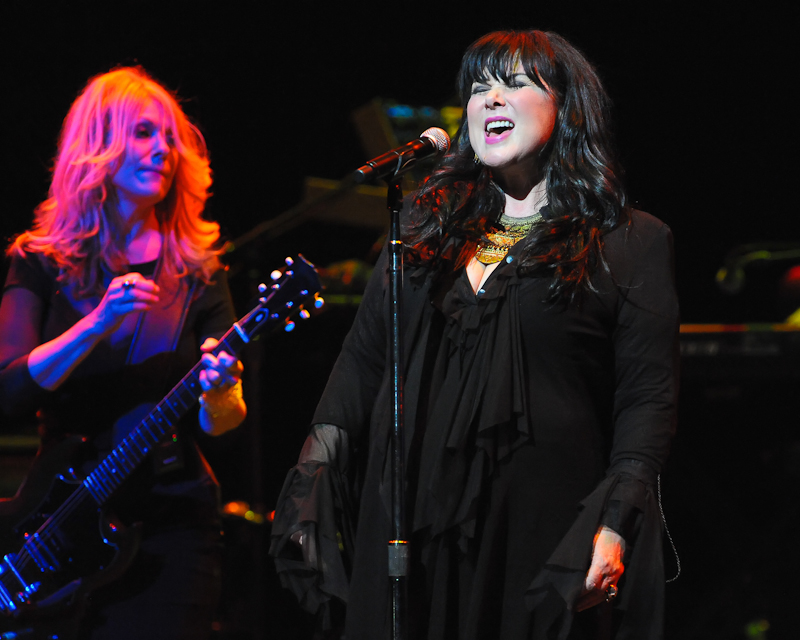 AUSTIN, TX – November 16, 2014 / Heart's roaring rock anthems accompanied me on college road trips between Oklahoma City and Houston several times a year. Riding shotgun, I'd roll down the windows and scream belt every word to their greatest hits CD, much to the dismay of my fellow travelers stuck in traffic.
The audience at Austin's Moody Theater on Sunday would have gladly joined me in my head-banging had they shared the road with me during those standstills. November 16th's sold out show at Austin City Limits Live pulsed with energy even before the Rock-and-Roll Hall of Fame inductees touched their instruments.
Black Pistol Fire fueled the crowd at 7:45 before the classic rock icons graced the stage. This two-piece outfit from Canada expended the energy of eight shots of espresso during their 30 minute set. Lead singer and guitarist Kevin McKeown flew into the audience with no perception of personal space. His dance moves rival those of a Radio City Rockette's, with high kicks nearly knocking out his teeth and footwork of a rock ballerina.
Drummer Eric Owen's impressive curly locks whipped across his face during their cover of Neil Young's "Ohio." McKeown took a running leap to land square on Owen's kick drum. He didn't even seem to hear the cheers and laughter escape from the fans; his fingers picked impressive licks with clear and precise dexterity. The rockers left the stage as if on a high from the music they just created.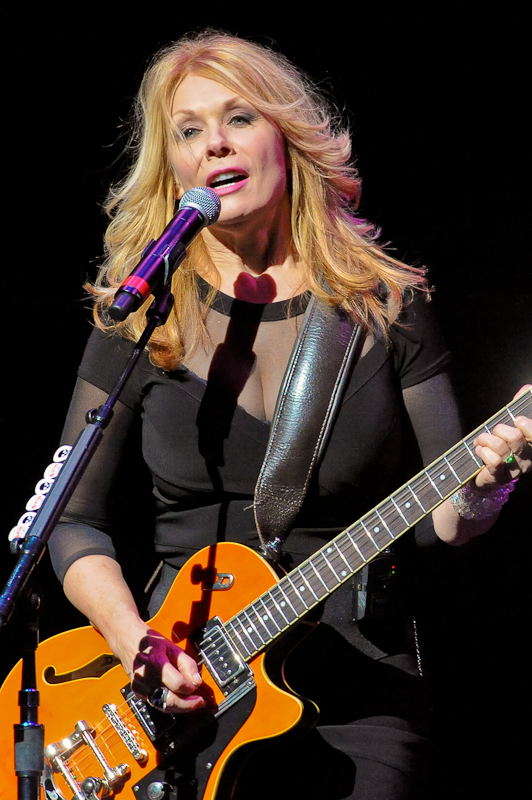 Anticipation rose in every music fan's chest with each passing minute of intermission. Middle-aged men and women squeezed by my seat to pay $9 for a second margarita and I, getting antsy, paced through the mezzanine's posh atmosphere. Glossy, close-up photographs of iconic musical moments lined the walls from ceiling to floor. A young couple held hands and looked out after the Austin skyline in a movie-perfect scenario of budding love. After ten-minutes of people-watching, I said to goodbye to Merle, Johnny, and June and shuffled back to my seat. By the time guitars and keyboards echoed against the walls, the entire row smelled of citrus and salt.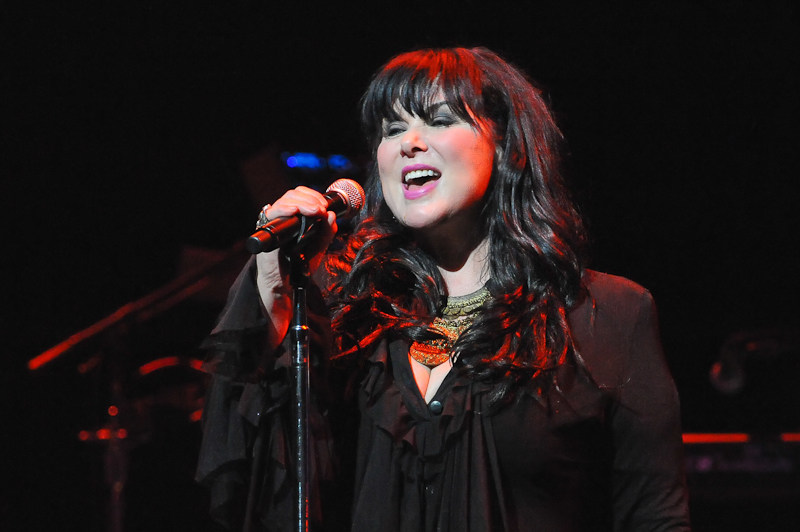 Lead singer Ann Wilson, wearing a black bohemian dress with flowing sleeves, strutted to the microphone. Guitarist Nancy Wilson chugged the opening of the group's most famous song, "Barracuda," and the audience immediately started moving to the tune's sexy, foot-tapping beat. It should be no surprise to note that, even at ages 60 and 64, the rock goddesses still have it. One doesn't earn a star on the Hollywood Walk of Fame for frizzling out. The sheer power and resonance of Ann Wiilson's voice live, however, is jaw-dropping. Her effortlessly sustained notes came from a bottomless pit of breath support. The audience had to collect itself for a brief moment before erupting into overflowing applause.
The hits kept rolling with "What About Love?" and "Magic Man." By this time, I had overcome my initial awe of Ann Wilson's singing and was able to take in the rest of the show. Guitarist and singer Nancy Wilson feathered her hair and rocked multicolored bellbottoms. Over a dozen candles illuminated the performance space, creating an oddly cozy and intimate vibe. After the roar of appreciation dulled, Ann Wilson introduced the next song, the 1980's feminist track "Even it Up." Wilson claimed the tune doesn't apply to the current social climate, except for "the whole equal pay part."
Ann Wilson then introduced the entire six piece band with Dan Rothchild on bass, Debbie Shair on keyboard, Craig Bartock on lead guitar, Ben Smith on drums, and her sister Nancy Wilson on rhythm guitar and vocals.
The band launched back in to their catalogue of hits with "Straight on." During the song's climax, a young woman in the front row nearly collapsed in pure ecstasy. She waved her arms towards the group, as if to worship and praise the musicians on stage.
Nancy Wilson traded her electric guitar for an acoustic to cover Paul McCartney's "Let me Roll it." Lighters came out in a synchronized sway of bliss. The band then performed "Heaven," an unrecorded song that they only play live. Ann Wilson strummed an autoharp, Bartock donned a guitar slide ring, and Nancy Willson played a glittery black acoustic guitar like a cello. The song opened with riff of semi-tones reminiscent of Middle Eastern music. Ann Wilson's famous pinging voice cut through the song's yoga-like trance with the lyrics "How sweet the strong can be."
Nancy Wilson again switched instruments to play the mandolin for another ethereal song, "These Dreams." The lights then went dim as the sisters played "Alone." Ann Wilson began the song with breathy intensity until the chorus brought her to a goose bump-inducing power belt. Heart ended their set with the wild and sensuous "Crazy on You." Nancy Wilson teased the audience by repeating the last few notes of the opening guitar sequence three times before diving into the first verse. The gray-haired woman next to me didn't seem to mind, though. Her air guitar never faltered.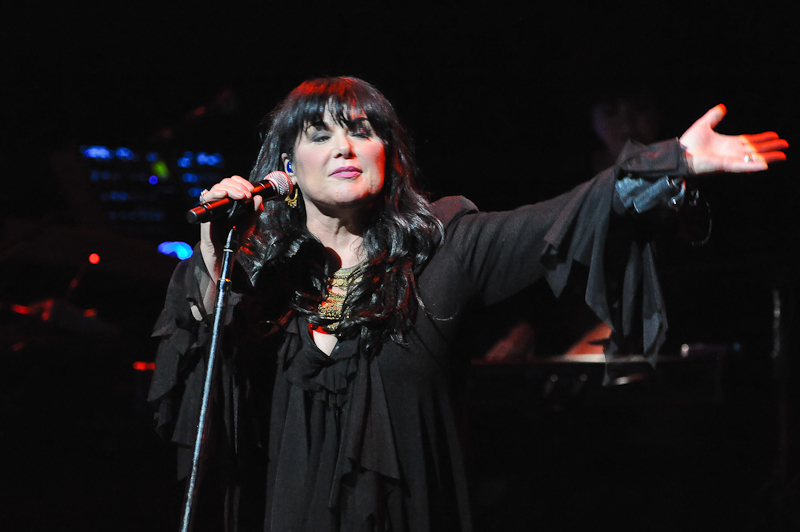 Just when I began to think the band could never top that performance, they ran back on stage for an encore of Led Zeppelin. After "Immigrant Song," "No Quarter," and "Misty Mountain Hop," I left the Moody Theater radiating joy. The doormen smiled and high fived the audience as they exited, grateful to have experienced an evening of live rock and roll.
Extra concert photos on our Facebook Page https://www.facebook.com/texasrockreport
Review by Elisa Regulski