Review and photos by David Clements from HoustonMusicReview.com.
Houston, Texas – August 9, 2012: Legendary rockers Rod Stewart & Stevie Nicks reunited this summer for their highly acclaimed, co-headlining "Heart & Soul Tour". It made it's way to Houston this past Thursday at the Toyota Center.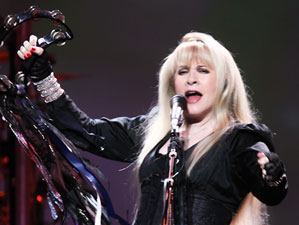 Stevie was first out and dressed in black she came well prepared to give the audience what they wanted…. lots of the sound that is so 'Fleetwood Mac'. I was allowed to photograph the first three songs and then, along with the other photographers, was ushered out of the arena to await the start of Rod Stewart's show. As a result I can't tell you a lot about Nick's show. However what I can say about what I saw is all good. I thought her vocals were just where she needed them to be and her set list was all a Stevie Nicks' fan could have hoped for. I also know she started her show covering Led Zeppelin's Rock and Roll. Besides being a fun way to start she added an incredible slide show behind her made up of all concert photos from the legendary concert photographer Neil Preston.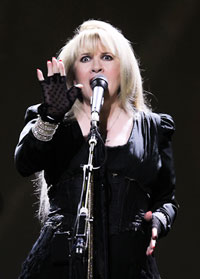 Preston is the photographer who toured the US with Led Zeppelin, the Who, Queen, Fleetwood Mac, Bruce Springsteen, and countless others. His rock-and-roll travels have also included touring Europe (Springsteen, Queen), Canada (Heart), Russia (Billy Joel), Japan (Bruce Springsteen, Duran Duran), China (Wham!), South Africa (Whitney Houston), and South America (Queen). In 1985, Preston was chosen as one of the official photographers for the Bob Geldof's "Live Aid" concert at London's Wembley Stadium. He is one hell of a photographer and I am certain you have seen his music images many times…or were those mine you saw???
I also know that as we were leaving Nick's was introducing 'Dreams' from the iconic Rumours album. She mentioned that it was the only number one hit Fleetwood Mac has ever had. Who would have thought that to be true?! And speaking of Rumours it is rumored that Stevie, on this night, wore her original cape from 1983 when she first performed 'Stand Back' with Fleetwood Mac. I know that someone will correct me if that didn't really happen…
My final note regarding Stevie is about imagining that surely she sang my favorite Stevie Nick's song, 'Landslide'. And my close second 'Leather and Lace'. If she didn't sing these please don't let me know. Leave me to my dreaming, let me just imagine she did and spare me the pain.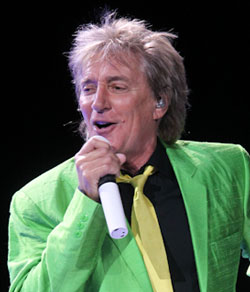 The unmistakable Mr. Rod Stewart took the stage on time, ready to show his stuff…very colorful stuff at that! You can't help but admire this guy's stage presence. He is so very enthusiastic and full of fun and bounce and I really don't think he takes himself too seriously. Look at the HMR Photo Gallery and see what my photos say, assuming you can hear them talk.
In a career spanning five decades, Rod Stewart has sold an estimated 250 million in album and single sales and had an incredible 16 Grammy nominations. His first song was' Love Train', a good opening number. He followed it up with my absolute favorite Rod Stewart song. No, actually it holds the top 6 spots in my Top Five List of favorite Rod Stewart songs! 'Tonight's the Night' 's last notes fell as we photographers were once again escorted out. Rod, thank you for performing this classic so early in your set.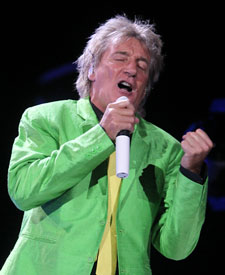 In closing I will say, given his stature as an artist, a little Rod Stewart was better than none. He is part of an elite list of performers who are 2x Rock and Roll Hall of Fame inductees (as a solo artist and as a member of the groundbreaking 60's rock band, Faces)!
Until next time I hope you will keep it between the navigational beacons.
dwc