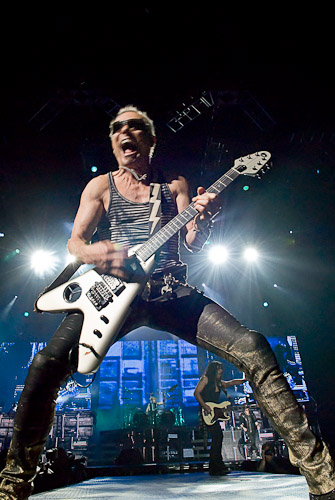 As MTV called them "The Ambassadors of Rock", German arena rockers Scorpions rocked the San Antonio crowd "like a hurricane" Friday night July 23, 2010. With out a doubt this was one of the most fun and entertaining high octane shows I have covered in a long time. The virtual original line up with Klaus Meine (Vocals) Rudolf Schenker (Guitars) Matthias Jabs (Guitars) James Kottak (Drums) Pawel Maciwoda (Bass) are promoting their new album "Sting In The Tail" with this final world tour. It is hard to believe that this band has been around in since 1965. Not only did the Scorpions gain notoriety for their controversial album covers, the multi platinum 1984 song "Rock You Like A Hurricane" sealed their status as rock super stars. Not only did they produce a large number of albums, in 1988 they were also the second western rock and roll band, after Uriah Heep, to perform in the Soviet Union. The socio-political song "Wind Of Change" was a perfect back-drop to the end of the cold war and coming down of the Berlin Wall.
Tonight's show included hits such as "Raised On Rock," "Rock Your Like A Hurricane," "Wind of Change" and "No One Like You". Once Rudolf Schenker (guitar) warmed up after the first song, he unleashed his rocker energy and flair. Dressed in weathered leather pants with a stripped wife-beater, he charged up and down the large stage that protruded into the audience. With Matthias (guitar) on his side they gave the audience a fantastic up close view as they played standing at the very edge of the stage. Klaus Meine's (vocals) encouraged the crowed to sing along as he would swing the microphone high up into the hair, pointing it towards the audience. The drummer James Kottak was hard to see because his drum set was on top of what looked like a massive tower that was raised up during the first song. In between songs, Kottak would rise up from behind his drum set to wave at the audience.
This is a massive world tour, they still will play many US cities before the end of August. Next they will tour Mexico, Brazil, Argentina, Chile, Bolivia, Turkey, Greece, Bulgaria, Moldova, France, Urkrane, Switzerland, Luxemburg, and then the magic of Scorpions will end with a final show on September 27th in Westfalenhalle, Germany.