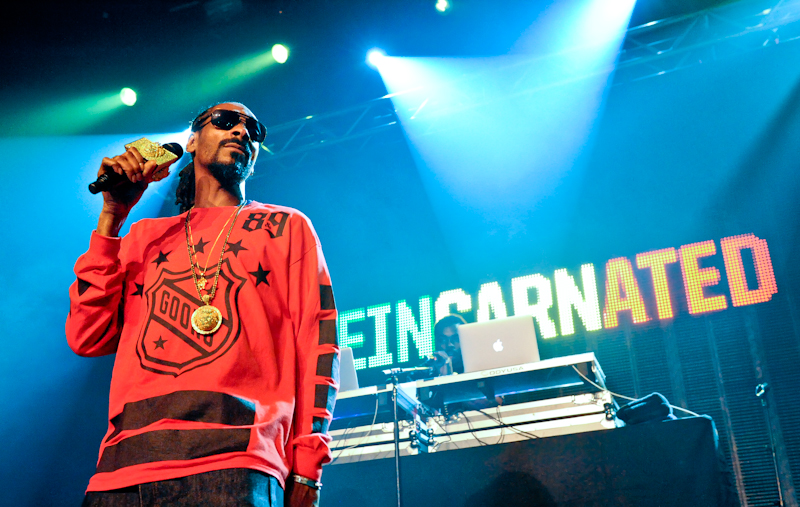 Austin, Texas – March 11, 2014: Is there a rapper who epitomizes the eclectic spirt of SXSW more than Calvin Broadus, AKA Snoop Dogg AKA Snoop Lion? In his 20 year plus career, Snoop has jumped genres and worked with diverse talents like Mariah Carey, Metallica, Katy Perry, The Police's Stewart Copeland, and Texas's blue-eyed boy, Willie Nelson.  On Tuesday night–the first official day of SXSW's musical portion–Snoop Dogg played to a capacity crowed at Emo's.
The venues ceilings vaulted sky high, but some on the ground floor may have been a bit higher.  After all, marijuana is the party favor that the evenings headliner is a famous fan of. Credit goes out to the security staff who confiscated more joints and drug paraphernalia, than a Laredo Border Control task force.  About one-third of the room was dressed urban chic, another third had on casual outfits, and the rest uniformed as Urban Outfitters.  The age-range varied with the oldest in attendance drawing double takes, while the youngest present were met with raised eyebrows and spit takes.
Added to the sold-out bill just hours before the doors opened –perhaps Snoop's reputation of tardiness and compact sets, may have proceeded him—was 17 year old wunderkind, Bishop Nehru, along with South Austin MC, Pharanchyze (pronounced "franchise").
Austin's DJ Mel, was first to light up the lit legion of hip hop fans.  The unassuming Mel has been busy as of late gyrating records in front of sweat-laced crowds at festivals like ACL, Lollapalooza, to even getting esteemed butts out of seats at President Obama's most recent Inaugural Ball.  This Austin original kept the BPM's low with some throwback 90's records, then went with some club bangers from the '00's for 50 minutes in total.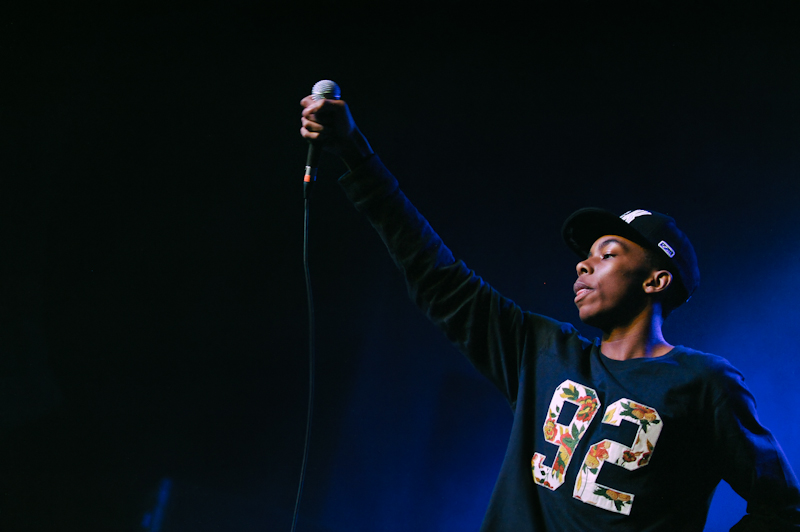 Markel "Bishop Nehru" Scott isn't old enough to legally purchase cigarettes, but he is old enough to blaze a huge online following with his songs and music videos.  At first it was clear that most weren't familiar with the prodigy.  The audience was polite, but didn't give the green performer their all, as he did for them.  However, the last song in his abrupt set, the late J Dilla produced, "Welcome", saw Nehru pleasantly startling everyone by dropping some amazing verses A cappella.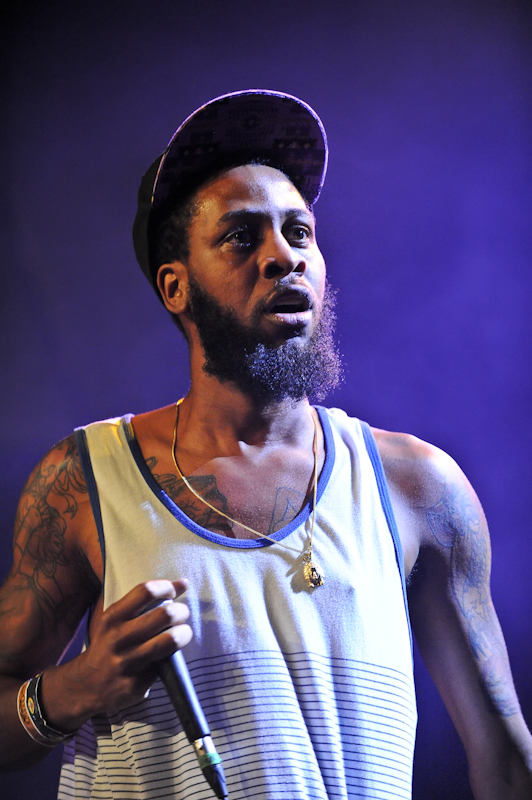 The hyper-aware and diligently creative Phranchyze, proclaimed he was from the south side of Austin, and that tonight, everyone was from the "ATX".  The bearded, and tattooed Phranchyze used his battle-rapper begins to assault the civilians with his polished riffle of astute rhymes. Tracks like "#ATX" and "I Got" had comical references, but were the right kind of serious– they both had a mix-tape feel but seemed radio ready at the same time.  After each song, he uttered the catchphrase "I'm Phranchyze and I am not done".  Aggressively passionate and undeniably catchy, Phranchyze's time may have been up in the literal sense, but he's just getting started in the eyes of the new fans he just won over.
The video screen was fired up, the laser lights were pointed, so the kennel started howling.  After a four-track mash-up built anticipation, out strutted the dog-father him self.  His hair was pulled back, shades chilling on his face, and donning a baggy red hockey sweater, Snoop went into the reggae joint "Here Comes the King".  There was island-style bobbing, and plumes of smoke blown towards the Gods.
Snoop has been known in the past to have an entourage accompany him on stage, but tonight only a  background singer, DJ, and a guy in a dog mascot costume had his back.  The intimacy theme continued right along as the legendary MC went into "So Fly", a song from his group 213 with Warren G and his fallen friend, Nate Dogg.
50 Cent's "P.I.M.P.", was the most confessional hymnal up to this point.  The man's silky tone and seamless flow has stayed as vibrant as they were when we first heard him on Doggystyle.  That's not to say he hasn't grown as a performer, but rather it's a testament of how prolific he was out of the gate.
The first song to cause everyone to put down their drinks and focus on grooving was the old school cut "Lodi Dodi".  In unison, the venue chant-sung "It's all because of you, I'm feeling sad and blue".  We've opened up to each other and now we were all in this together.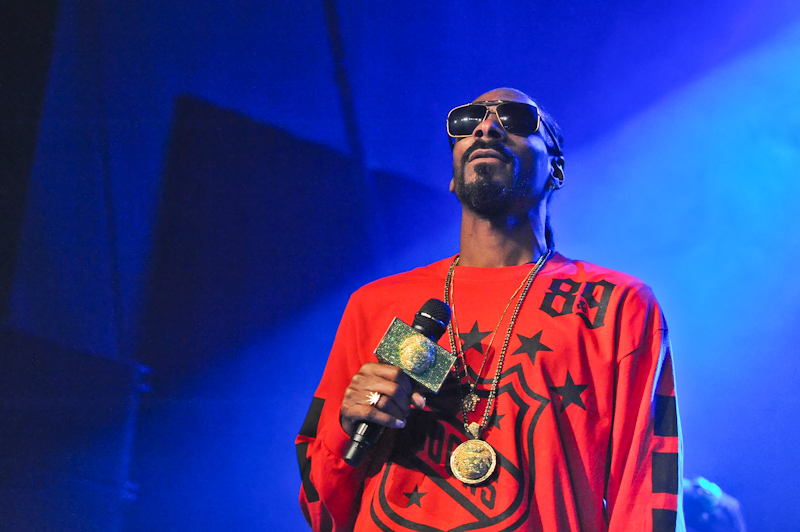 "All I Do Is Win" instructed to put our hands up and let them stay there, as Snoop word painted with verbs and vigor.  Collaborations with Dr. Dre, was just what the doctor ordered.  During "The Next Episode", Snoop asked "what do we do everyday", and syncing up with the song, a response of "smoke weed everyday" was echoed.  The ante was then upped by the hypnotic keyboard notes from "Nuthin But A 'G' Thang", had the collective swaying like snakes, with Snoop serving as the charmer.
"Gin & Juice" paired perfectly with "Mary Jane".  An uncalled for cover of Joan Jett's "I Love Rock N Roll" confused some.  The Akon hit featuring our master of ceremonies, "I Wanna Fuck You" was Snoop's way of charming all the single sexy ladies.
Tips of the cap were given to the last two soldiers to die in the East Coast vs. West Coast rap war of the 1990's.  Biggie Smalls anthem "Hypnotize", and the Tupac classic "Gangsta Party" were done justice.  Snoop made it out of that hostile era alive, and these tributes showed his gratitude.
"Drop It Like It's Hot" is the biggest hit of his career and possibly of the night.  Body's were grinding intently, almost to the point that no one noticed Snoop's persistent swagger.  "Who Am I? (What's My Name)?" brought the house down.
Most rappers as accomplished as him, did so with a lot of help from non-music ventures such as clothing lines, owning record labels, and pimping name brand booze.  Snoop Dogg has had his fair share of similar endeavors, but ultimately he's stayed a mogul of music and not the other way around.
Twelve solo albums in twenty years, not to mention being a featured artist on 83 singles, seven of which were Billboard Hot 100 top 10 hits. He left a lot of his popular pieces on the table, like "Beautiful" and "Holidae In", in favor of cover songs and deeper cuts. Was any one disappointed that they didn't hear their favorite track?  If so, they didn't show it.  He could have rapped all new tracks and you would have felt like you've song along to them for years.
The endearing, and vulnerable figure I saw on the Netflix documentary "Reincarnated", came out during the finale.  The oddly poignant "Young, Wild & Free" allowed Snoop to drop his hype-man persona, and finally speak to the crowd.  The song is an ode to being in the moment, and in this moment the introspection was palpable. Snoop rap-sung the lyrics "We're just having fun,We don't care who sees So what we go out? That's how it's supposed to be, Living young and wild and free" which put a beautiful button on his set.   As "Young, Wild & Free" faded out Snoop told the crowd he wanted to leave them with some words, and it was fitting that the words he left were "Smoke Weed".  Que a few bars of Bob Marley's "We're Jammin", Snoop then disappeared into a puff of smoke.
Snoop Dogg performance Wednesday night 3/12 at Emo's has sold out.
Review by Donny Rodriguez