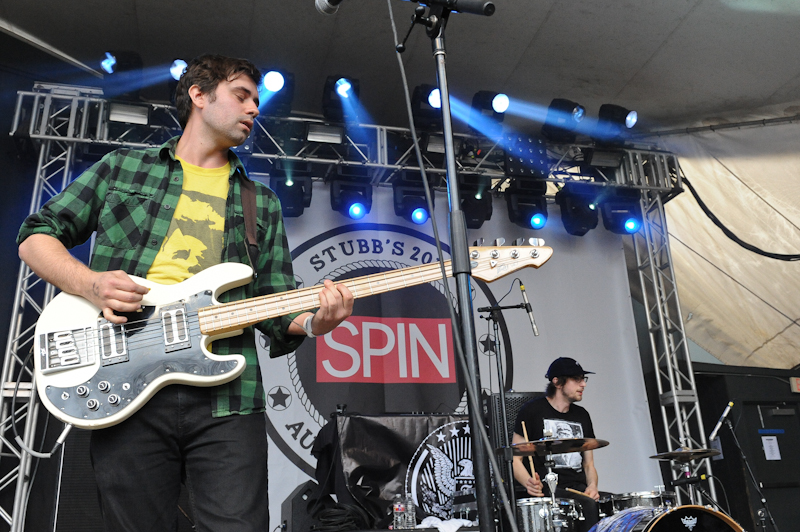 Austin, Texas – March 14, 2014: On a sun-screen essential Friday morning, SPIN Media threw their annual SXSW, RSVP only party at Stubb's BBQ.  A mob of hungover aging-hipsters, disheveled hoopster (hipsters in 90's NBA jersey without an undershirt on underneath), and instagram scenesters packed the two-stage nook behind the world-famous eatery.  Tito's provided free bloody mary's for the first hour in order to revive the walking dead (tired).  Stubb's didn't want us to go hungry so complimentary, deceptively spicy breakfast tacos nourished our senses and had us shelling out two-bits for bottled water.
The set up on the tilted dirt knoll was picture-perfect for a fest that featured nine acts performing 30 minute sets each.  It's the crack of noon, and the snooze bottom was dismantled by the rebellious hands of teenage brothers Radkey (Dee, Isaiah, and Solomon Radkey).  Normally, you'd have to tell adolescents to put down their phones and pay attention, however Radkey's music gave all the stern directions.  These Missouri natives are ushering in a new era of punk rock and doing it with some high-octane thrashing and Ronnie James Dio-lite vocal arrangements.
The Orwells put on a set that will have those unfamiliar with their stuff, rushing to Spotify to gobble up anything they can on these recent high school grads out of the Chicagoland area.  Some like myself will even give iTunes money to own their catchy, frenetic music.  "In My Bed", has 90's nostalgia grounded in now. "OtherVoices" is the garage punk revival people talk about.  It's devastatingly melodious, and guitar-lick lavish.  Lead singer Mario Cuomo freaked everyone out with a creepy but necessary repetitive laugh during the bridge.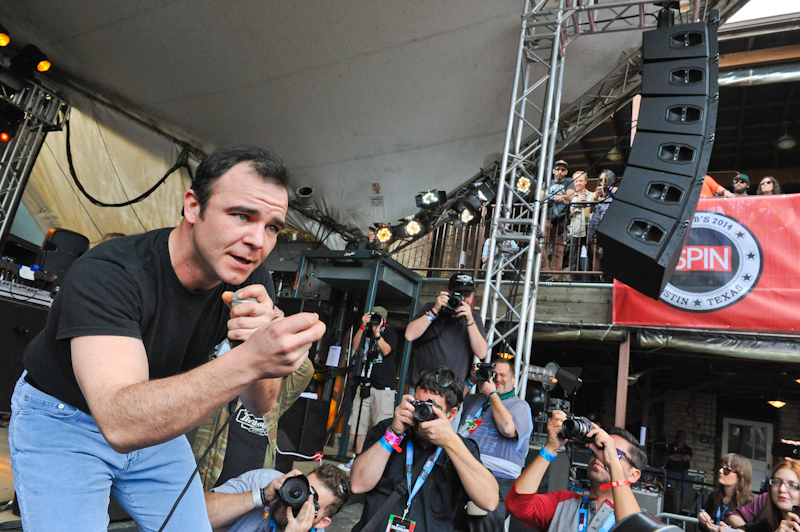 I'm not sure if fun is allowed at a hip festival such as this, but Future Islands insisted on it.  Future Islands is New Wave dance rock with lyrics that could have possibly made Morriessy's eyes well up–that's if he still had tear ducts.  Frontman Samuel T. Herring is like an in-shape Jack Black.  Tons of facial expressions, charisma, and unsuspecting pipes.  Synth-pop gems "Spirit" and "A Dream of You and Me" are unapologetically 80's, and absurdly good.  No one should be embarrassed with the good time they had during their set.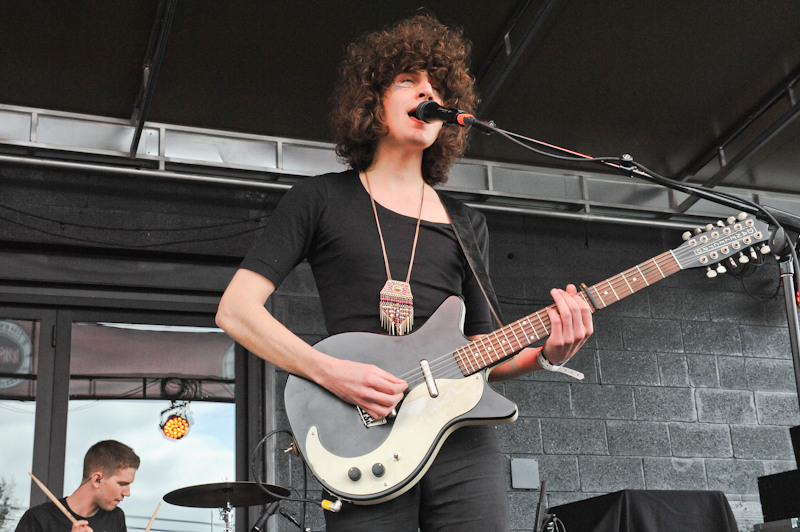 Trust me, you want to listen to Temples with headphones in, and your minds open.  These young, and manicured English lads, do psychedelic rock justice by keeping it's structure sound with musically-cosmic feng shui décor.  The problem with their showcase is that they were the first mellow act of the day, and their polished art, was too polished for this dusty boot, BBQ fingered assemblage.  They were just as pristine as their name suggest.  I implore you to download the haunting "Keep In The Dark", and see them when they are headlining the bill.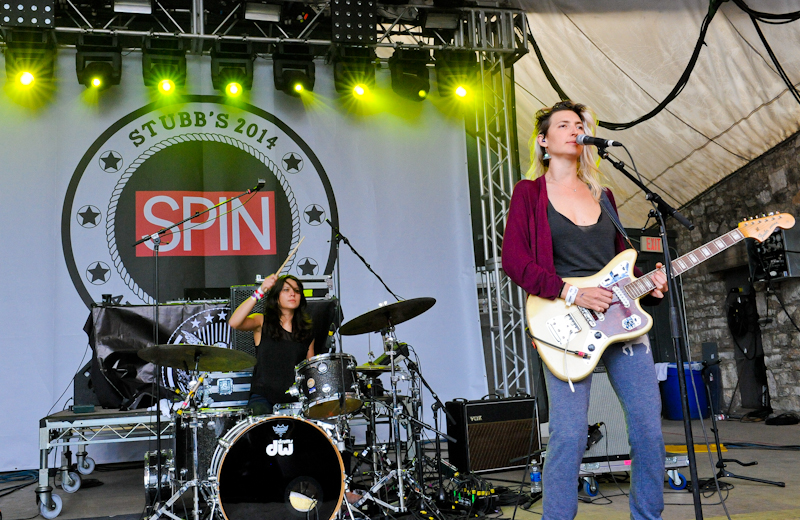 The four piece, all female art rock-dream poppers, Warpaint with Jenny Lee Lindberg (vocals, bass), Emily Kokal (vocals, guitar), Theresa Wayman (vocals, guitar), and Stella Mozgawa (drums, keyboards), came out twenty minutes late and apologized to the crowd for the short set they were about to play.  Technical difficulties were the reason given.  SXSW is all about seeing your favorite acts and discovering new bands.  Warpaint had more than a few faithful on hand, and hopefully they made a couple converts from their brief display of trippy atmospheric tunes with rosey harmonies.  The gals made the best of the bad situation, but it is too bad we couldn't hear more.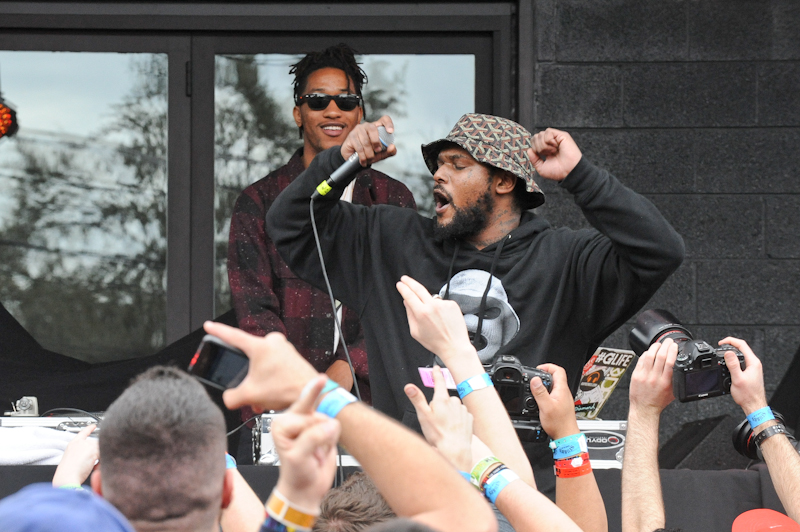 Rapper ScHoolboy Q is very serious and refreshingly unfiltered.  When he stepped on the smaller North Stage, he questioned how he was even going to be able to perform in an acute area.  "Gangsta" made you fear for your ear drums safety, and his flow car-jacked the control you had over your own body.  Nod your head, appreciate the infectious lyrics and that no one gets. "Hand's On The Wheel" drove some to recreational pot use, and the rest to wildly bounce.  At one point ScHoolboy Q, told his fans to come closer and that those who just met him should move away, some would view this as petulant behavior I saw it as candor and passion from a earnest performer.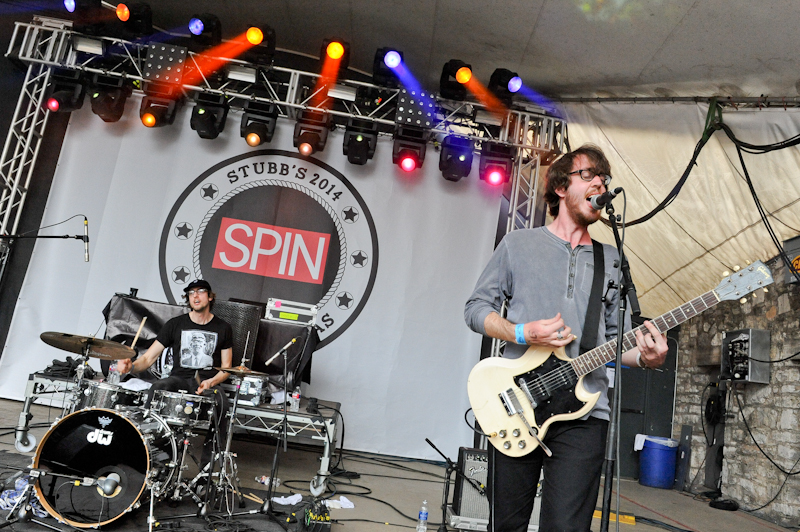 Cloud Nothings covered the herd of indie rock enthusiasts with a frantic set that was never in danger of losing it's cool.  Normally in a smaller outdoor venue it's hard to hear a noise band such as this three man outfit, but mastermind Dylan Baldi has a way with dynamics articulating his music through less than ideal circumstances.  "Fall In" and a few tracks from their upcoming album Here and Nowhere Else had even this primarily idle but-willing-to-move crowd exerting energy for a jaunt period of time.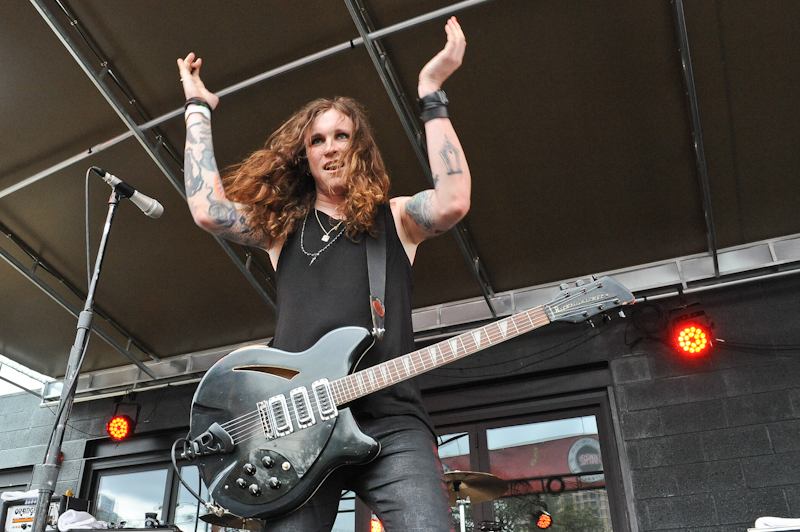 Much has been made about Against Me! Laura Jane Grace's transformation from Tom Gabel as their fans knew her from '97-'12.  The throng of Against Me! supporters couldn't be any more indifferent, they loved her and her work, there was barely an iota of gawking detectable. Acceptance is a hallmark of music.  With that said, Against Me! kicked the sound system in the teeth, and then kept doing so for 30 minutes.  "FuckMyLife666" jolted the circuitry in everyones body, with it's epic punk-poppiness.  "True Trans Soul Rebel" performance was rowdy but regal.  "Black Me Out" poignant.  And "The Ocean" was everything.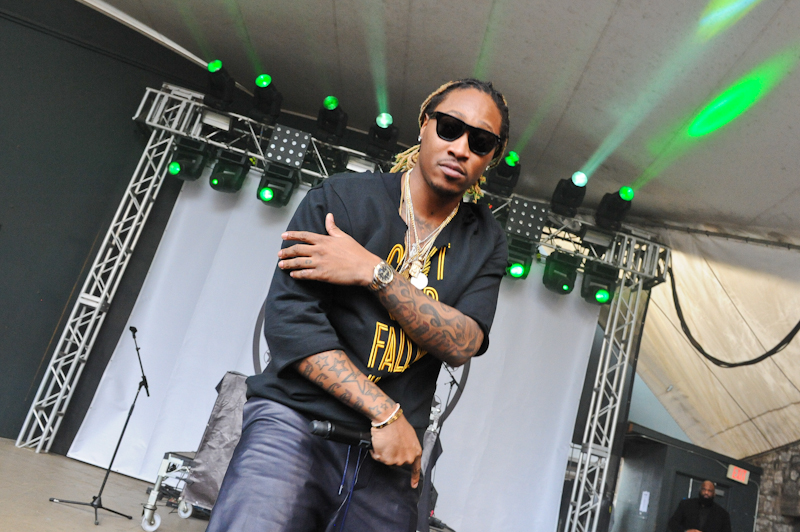 Atlanta rapper Future (Nayvadius Cash) really wants you to know that his new album "Honest" drops April 22nd, as he mentioned it abundantly.  Future, opened with his YC collaboration, "Racks".  His bleach-blonde dreadlocks, and black tee with the gold lettered phrase "Can't Help Falling In Love", instantly lets any neophytes to the Future experience that he's different from other rappers.  Indiscreet lighting up of joints, focused fist pumps, and the reciting of all lyrics took over the pit.  The songs "Karate Chop", "Honest", and "You Wonder" just kept upping the ante which had everyone all-in.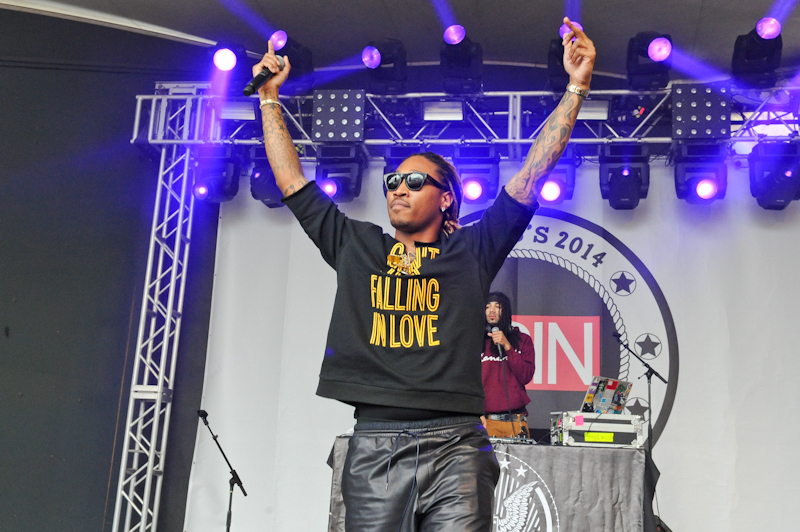 The Chosen One as his DJ alternately called him, unveiled a new song called "Good Morning" that inexplicably didn't make the final cut to his forthcoming album—which you can cop April 22nd.  Future said the joint was produced by "Drunk In Love" architect Detail, who put said song on the back burner to craft the Beyonce and Jay-Z chart topper.  The profanity laden, articulate and manipulatively sweet "Good Morning" chronicles the courting of a woman by doing anything that the male suitor can to say good morning to the potential mate.  The beat is brain blistering, and verses leave marks, and one can only wonder, if this near perfect rap song didn't make his album, then what amazing tracks are awaiting us in the Future?
SPIN Magazine used to print the most trusted "Best of",  and "Year-End " lists.  SPIN Media's SXSW party was a line-up of Best Of's for years to come, and will digitally make everyone's "Year-End Ultimate Party's" lists.
Review by Donny Rodriguez