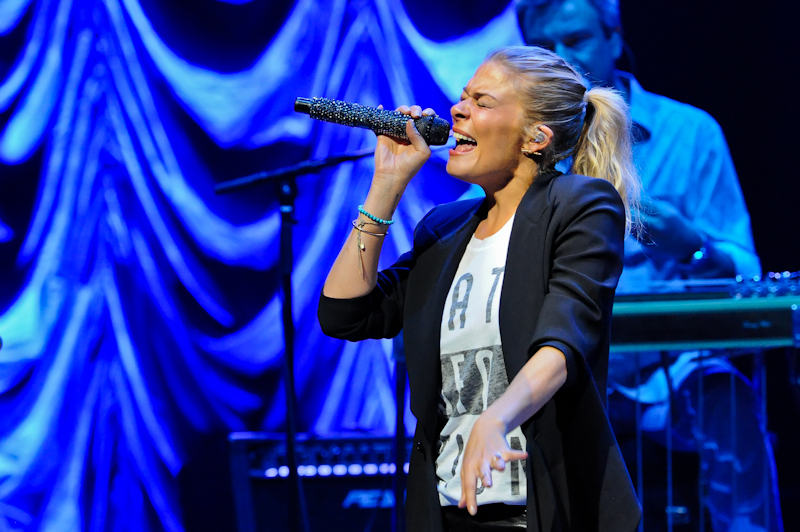 Austin, Texas – March 21, 2014: Music's oldest 31 year-old—and most vocally talented country singer, LeAnn Rimes performed a lively and cathartic set at ACL Live at Moody Theater on Friday Night.  Music first found Rimes barely a teenage (13) when she debuted with the bestselling album "Blue", and almost two decades later, here she stood with 10 studio albums under her belt and with little else to prove.  However, this virtuoso may just be getting started.
The attendees at the Moody Theater was noticeably sparse in the upper deck for a performer as accomplished as Rimes.  Black cloth canvased off two entire sections of the balcony.  Rimes has sold over 37 million albums world-wide, why was a concert only three-fifths full?  Maybe it was March Madness or SXSW fatigue.  Or perhaps because those other seats were (unfairly) claimed by the elephant in the room.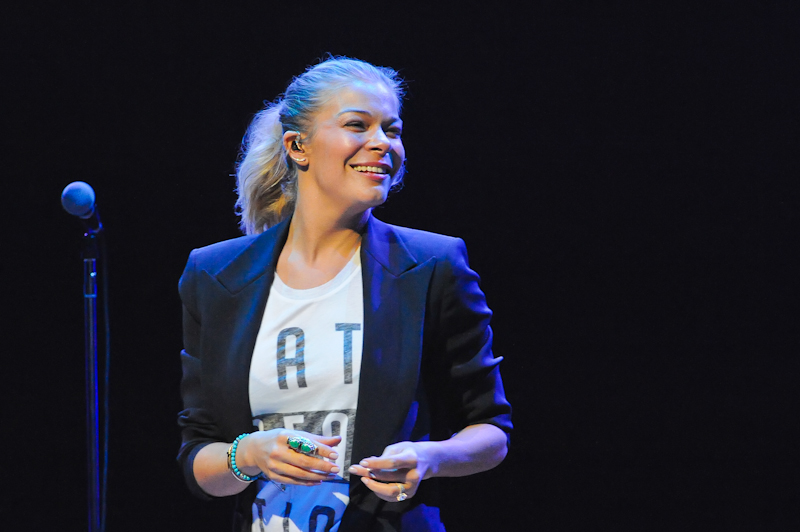 Rimes life in the public eye of the last five years, reads like the lyrics to a hit country tune.  Heartache, cheating, and the absence of friends in low places. But unusual of cliched, got-done-wrong songs is that the singer is never the antagonist, like Rimes has been portrayed as.  She split from her husband of 7 years, after it was discovered that she was involved with a married man, actor Eddie Cibrian—who is currently Rimes' second husband.
Aside from a few pre-show tabloid rumblings overheard, not many here were interested in anything else other than Ms Rimes art.   They were a proud bunch comprised of girlfriends dressed as if they were going out for the night in Dallas, and couples who probably had a Rimes ballad play at their wedding.
Sauntering on stage was the four-piece band and the sun-kissed, yoga-fit Rimes herself.  Her signature smile could be seen from San Antonio.  First up, the in-a-hurry honky-tonk gem "Swingin'".  A track like this isn't supposed to highlight the pipes.  Rimes is apathetic to what a song is and isn't supposed to do.  I'm only quasi-kidding when I say the first couple of notes she offered almost blew out the speakers, her tongue is that powerful.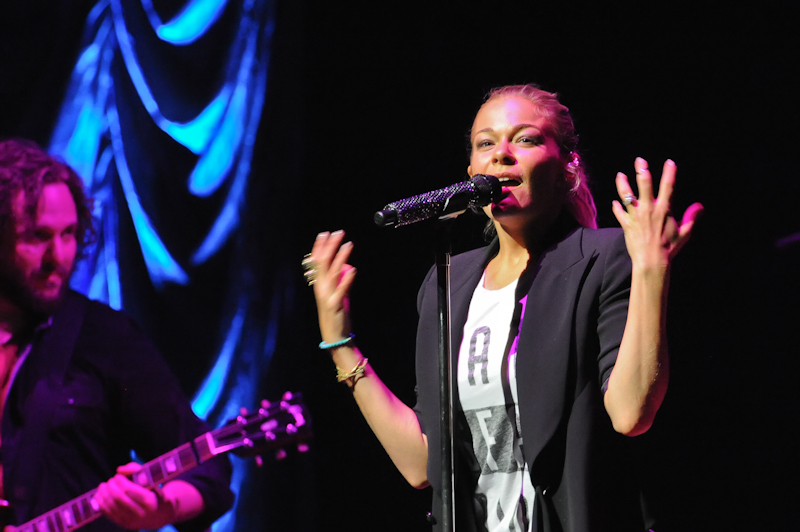 Crowd work suits this lady well.  She has a keen understanding that every show is an opportunity to make a lasting impression on someones life.  The cerebral Rimes thanked the assemblage for coming out saying "in a live music town like Austin, I'm grateful that y'all aren't a jaded bunch."  She saw the faceless seats, and couldn't careless.  Her candor continued to creep out all night.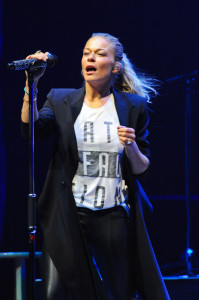 "Nothing Better To Do" was a chance for the band to spread their rock wings.  During the hook, Rimes would go frantic but in-control vocal runs.  Singing of "yeah, yeah, yeahs" showed that Rimes does not merely hold notes, she holds them for ransom, then abruptly releases them but not before they developed Stockholm Syndrome.
There wasn't a part of the stage, the songstress didn't tread or jump on during "I Do Now".  She mentioned how this ditty was written in response to her hearing how she was too young to understand the lyrics she was singing in the 90's.  An emphatic "kiss my ass" stirred the room into a frenzy.
Acoustic guitar and stool time was upon us.  The tender "Probably Wouldn't Be This Way" showcased an emotive nature of her three-octave range.  The falsetto was lighter than air.  "I Need You" was the first cut that everyone knew, cheers quickly turned into harmonizing with the words pouring out of the PA system.
A poignant "I Can't Make You Love Me" found a new meaning perhaps for Rimes as an ode to her critics and haters.  The social media age hasn't been kind to this brilliant performer.  Frankly, she's been through a lot of shit lately, deserved or not.  In spite of everything, he's still standing and has the one's she needs in tow.
"Life Goes On" harkens to the artist Adult-Contemporary period.  It was catchy, but wasn't why the die-hards came to see her live.  Afterwards she cackled to the congregation, "It's Friday night bitches, let's go!"  This won't be the last time she forced the few parents who brought their little one's to put earmuffs over their precious ears.
After the chatty Rimes did some valley-girl mocking, and a prideful "it feels so good to hear y'all"–she's a Dallas native—Rimes went into storyteller mode.  Her most recent album, the 2013 Spitfire, was written in a dark and angry place she intimated.  Though it didn't come close to the numbers of her previous major label releases, the album was critically acclaimed.  When she performed the title track to that album, it was visible how comfortable she was singing songs crafted from her own voice as an artist.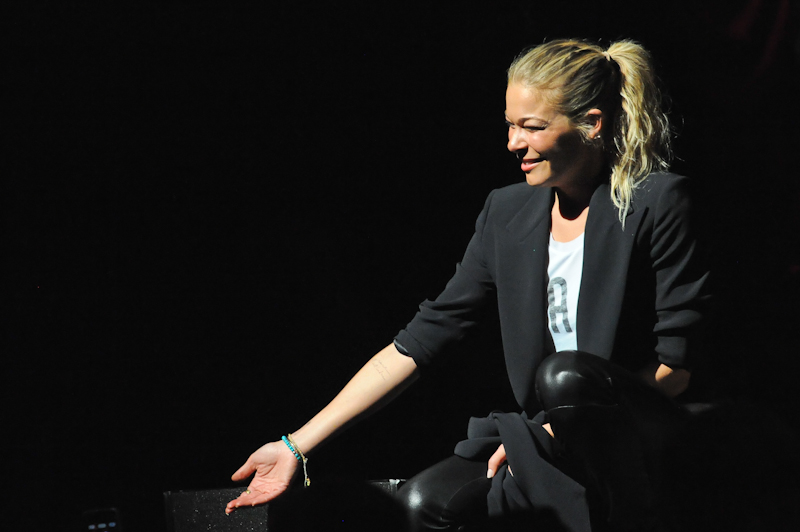 Earlier in the night, a fan in the front-row asked Rimes if he could sing with her, she (seemingly) dismissively agreed but not at that time.  LeAnn sat at the edge of the stage, and asked Napa, California native and fan Joe Murphy to join her for "One Way Ticket (Because I Can)".  She jokingly said, you better be able to sing—and boy could he.  This was the essence of the unpredictability of a Rimes show.
A medley of songs followed and the theme for the film "Coyote Ugly" was played.  "Can't Fight The Moonlight" was so poppy, I couldn't help dancing like the throngs of fans that basically took over the aisles and front row.  "Blue" transformed ACL Live into The Broken Spoke—the Austin original, country dance hall.  And a cover of "Gasoline and Matches" brought the energy up to 11, and burned down any preconceived notions of what the singer can pull off.
There was dozens of her own hits Rimes could have played for the encore.  "How Do I Live" was anticipated, but the Leonard Cohen penned–Jeff Buckley immortalized–"Hallelujah" closed the show.  Shoes off, sitting indian-style with her guitarist, Rimes angelically sang as goosebumps rose, tears fell, and awe struck.
Rimes has played every possible part that a starlet could play in the Nashville music scene.  She's been the wholesome prodigy, the sexy pop-crossover sensation, the purveyor of safe Adult-Contemporary singles, to now as the artist making a comeback with honest lyrics and well constructed music. She's basically every character in the ABC prime-time soap Nashville.
After the show she put on, I wouldn't count out a Rimes return to the top of the charts.  That's if she even wants to go back.  Her voice will always be prolific, but she seems invigorated as a songwriter and performer.  It's always darkest before the dawn, and Rimes is starting to see the light.
Review by Donny Rodriguez