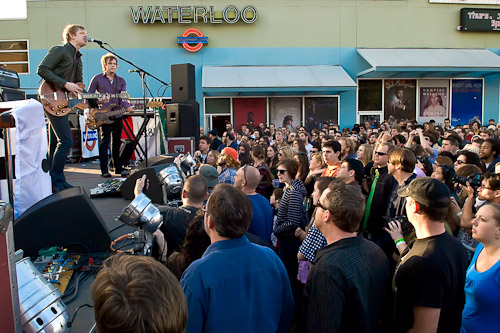 On a gorgeous, sunny January afternoon this week the band Spoon performed an open air concert out in Waterloo Records' parking lot. Waterloo usually does an in-store record release party, but in this case for Spoon's new album Transference, it was moved outside to the parking lot on the corner of 6th street and Lamar, to accommodate the large crowd that was expected to attend. The stage was set up on the south side of the parking lot in front of Waterloo records and come four o'clock there was a huge crowd cheering on Britt Daniel, Jim Eno, Eric Harvey and Rob Pope as they walked on stage.
Spoon's music has been featured on numerous sounds tracks, shows such as The O.C., Veronica Mars, Bones, The Simpsons and Scrubs to name but a few, in addition to many movie soundtracks. On July 10, 2007, Ga Ga Ga Ga Ga was released and debuted at number 10 on the Billboard 200. The new album Transference debuted this week at number four on the Billboard charts….
The set list included, "I Saw the Light", "Mystery Zone", "Got Nuffin", "Target", "Written in Reverse" and several others to fill the hour-long show. Considering the airplay the album is getting, and recent TV appearance on one of the last Tonight Show with Conan O'Brian—in addition to their international touring schedule—this album might well become one of their biggest hits yet.