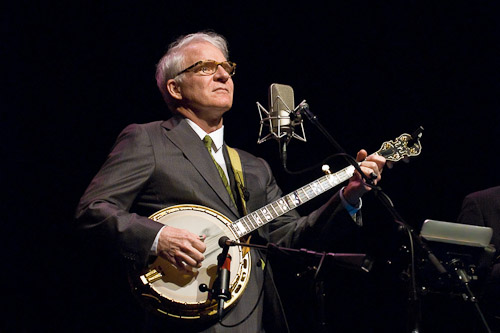 Sunday night April 25, Steve Martin and the Steep Canyon Rangers performed a phenomenal show in the nearly sold out Long Center. Although I was no fan of blue-grass banjo music, I am a convert now! Not only was Steve Martin extremely funny with his one "one-liners" and dry humor, but his banjo playing was amazing. "The Saga of The Old West" song showcased his incredible left hand agility and speed as he played the difficult opening part. Not only is he an accomplished banjo player, he composes the songs himself.
In addition, I can't say enough about the Steep Canyon Rangers. Their harmonies were beautifully crafted, Charles R. Humphrey III provided a wonderful bass line. Woody Platt, Graham Sharp each playing banjo with Mike Guggino on mandolin gave a seamless sound to the songs. Nicky Sanders gave an amazing fiddle performance on "Orange Blossom Special", incorporating themes from classical violin pieces was a real treat.
Steve Martin's peculiar sense of dry humor and farcical sense of self-importance was extremely entertaining. This Saturday Night legend has not lost a beat, especially with the aid of his "$500 dollar set list" which he proudly held up for the audience to see. This was an iPad that was sitting in a special stand by his microphone. He said that using a $500 dollar set list gave his songs so much more importance. "you can even tweet from stage" he said, tweeting "… the audience loves it, they laugh out loud.." as he spelled out L A U G H …..! To relax the audience he would play a sing-along song called "Words Unspoken", a song with no words during which we can imagine ourselves being in a field, or maybe on a horse, or maybe in a row boat on a lake. He did admit that banjo music might not be the most relaxing style of music.
The humor continued in between songs. Steve Martin decide to take a short break and let the Steep Canyon Rangers play alone because he "..had not Googled himself for 15 minutes." Of course he could use a beer while on break, and to the surprise of the audience, the bass player turned around his upright-bass, opened up a small door and pulled out a beer for Steve Martin. The Steep Canyon Singers harmonies on "Can't Sit Down" were wonderful, no wonder they were nominated for 2 International Bluegrass Music awards in 2008 (including Album of the Year, "Lovin' Pretty Women), and named 'Emerging Artist of the Year' in 2006 at the IBMA awards ceremony in Nashville, TN.
Once Steve Martin returned from his break the remaining songs featured more of the Steep Canyon Singers. It was nice to see that the show was not just about Steve Martin, but is was real ensemble playing. But all good things must come to an end, and so the show ended with two encores. The second encore "King Tut" was of course a rousing success with the audience.