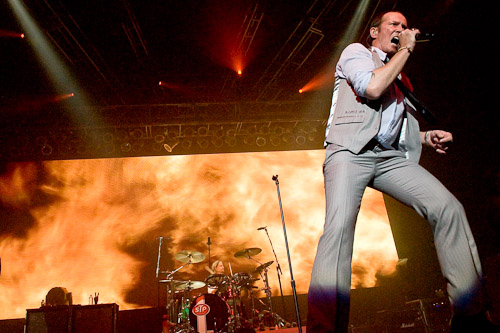 Regardless of scandals, drug use, band break ups and record label lawsuits, Stone Temple Pilots is back with a vengeance! They absolutely rocked their SXSW 2010 show at the Austin Music Hall Thursday night March 18.
The opening bands for STP were The Color Turning, and TAB the Band. At first I was surprised that there was not a line around the block waiting to get in the venue. I think that many SXSW wrist band holders are afraid to go to the "big" shows assuming that all badge holders have filled up the place. However, as TAB the Band was ending their set the place started to fill up and by the time STP took the stage Austin Music Hall was at capacity.
Scott Weiland, guitarist Dean DeLeo, bassist Robert DeLeo and drummer Eric Kretz put on an awesome show. The huge video screen behind them showed psychedelic patterns, colors, underwater scenes, racing cars and bellowing flames as Scott Weiland stood at the edge of the stage singing his lungs out. This was fast paced and intense show, by far the "best ticket in town."
---
UPDATE 5/10/2010:
STP brand new music video for their #1 single "Between the Lines" off their self-titled studio album which hits stores on May 25th!