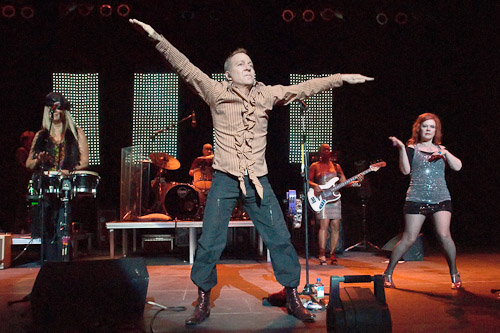 Since 1976, The B-52s have produced one New-Wave party song after another. In 1989, they released the song "Love Shack" which probably has become the all time favorite party song in the world. On Sunday night, May 16 they rocked the Majestic Theater in San Antonio. From the first song to the last song, the audience was on their feet, some dancing by the stage and others dancing in the isles. Other than Kate Pierson, Fred Schneider, Keith Strickland and Cindy Wilson seemed a bit more calm, I guess every one is getting a bit older. Kate Pierson, with her signature red hair did not stand still for even a second during the 70 minute show, she brought the energy to the show. Fred Schneider went off stage while Kate Pierson sang "52 Girls" and "Roam", the audience loved her. For "Party Out Of Bounds" Fred Schneider came back on stage, this time wearing sunglasses and a dark red hat, which matched his shinny leather boots. The audience seemed to quiet down a bit during "Love 3000" and "Hot Corner" but as soon as they played "Love Shack" every single person in the audience danced in some form or another. Heads bopping and with hands in the air, the audience loudly sang along with almost every word!
The set list included: Pump, Meso, Ultraviolet, Idaho, Man, Funplex, Strobe, Quiche, 52 Girls, Roam, Part Out Of Bounds, Love 3000, Hot Corner, Love Shack, Claire, Rock Lobster.
The show was all about the music. There were no fog machines or fancy light effects, just a simple row of lights hanging high above the stage and a four panel video screen behind the band showing some swirling colors. Not much small talk between songs either, just one song after another. The show ended with two encores, "Claire" and of course "Rock Lobster".