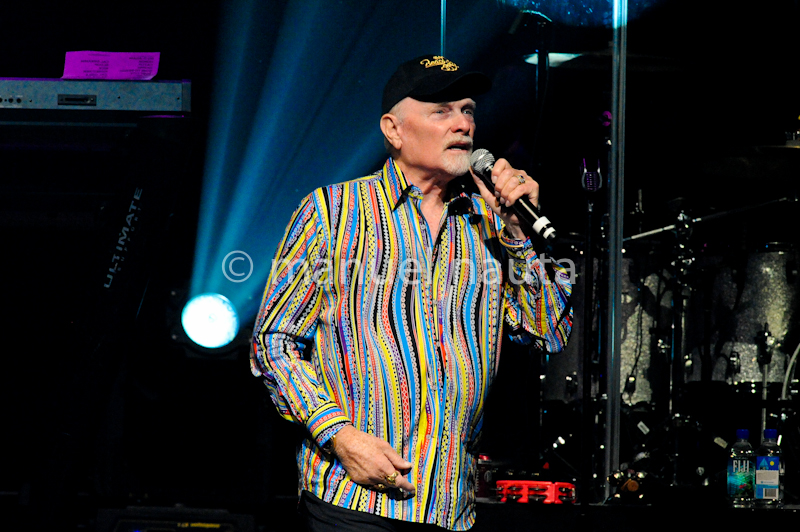 On Sunday night January 19, 2014  pop music revolutionaries, The Beach Boys surfed into Austin and caught waves of appreciation from their bewildered fans at ACL Live at The Moody Theater for a night of rock and remembrance. The sold-out crowd was as diverse in age, as it was in ilk. Those who listened to California Surf Rock as rebellious teens in the 60's were present and in full cooperation. Also a part of the congregation was aggressively hip Millennials who most likely became familiar with the bands catalog from TV shows like Full House or Adam Sandler dating films. There were families led by dads so eager to wear their just bought $30 Beach Boys tees that they'd just thrown on over their island print button-ups, fashion be damned. Not to be outdone, the family's patriarchs were dressed to impress so much so that they looked too pretty to be seen with said loveable beach boy beaus. Facebook pictures were among the most popular of pre-show activity's. The current line-up touring under the iconic moniker features founding member, Mike Love, and in flux fixture, Bruce Johnston (see also Beach Boys' Mike Love planning new tour – without Brian Wilson.)The two were joined by a five piece band that included Love's son Christian on guitar and vocals.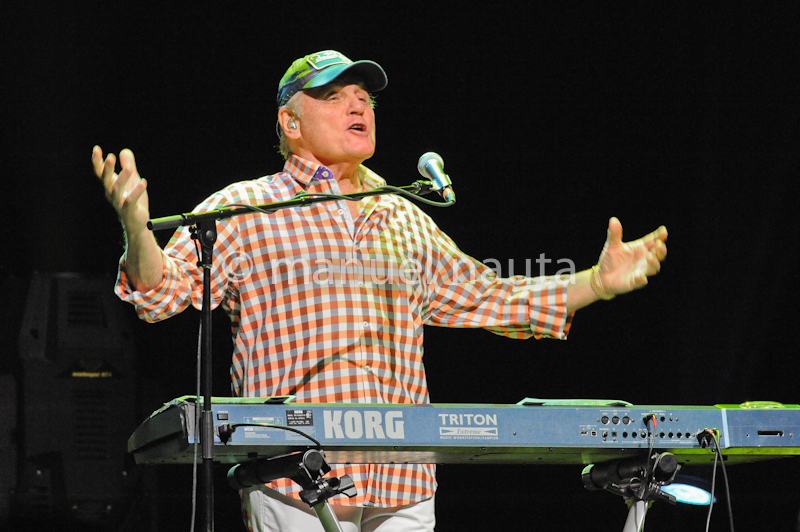 The show opened with the appropriate "Do It Again", a 1968 release co-written by Love, with the lyrics serving as an ode to a nostalgic day surfing where Love rendezvous with the love that gave the band's their California pop identity. Then came a fury of hot-rod and la playa b-sides that only the die-hards were able to lip each line in unison—which was roughly sixty percent of those seated. The first big eruption came about seven songs in, when the band played "Surfin' Safari". Love and Johnston then finally addressed the crowd for their first of many banter breaks. Love, the baseball capped seventy-two year-old captain of this current Beach Boys iteration, let his charisma do the talking, while Johnston's "I'm here to help" Andy Richter (or Ed McMahon for those aforementioned whipper-snappers circa '66) side-kick approach had entertainment throughout the night in perpetual motion. Love, laced the looker-ons with webs of information on how that song they just played was released fifty-two years ago, then he offered some self-deprecating humor about the band being so old that there was going to be an intermission so they could all nap.
"Surfer Girl", the night's first ballad, was met with reminiscence of fantasy love, and the reality of the present day concert milieu as Love took out his white iPhone and gestured to the audience to do the same and wave them around like they were lighters. Love then went on to find his surfer girl of his own from off stage and proceeded to slow dance with a perfect 10 beauty who was many decades his junior. Tonight there was no mistaking that Love was still the rockstar that guys dreamed to be and that girls dreamed to be with. Enter the other lovely young lady of the hour, the blonde hair golden voiced, Ambha Love, Love's college aged daughter who joined her pops and brother for the hit "Darlin'". This was all in keeping with The Beach Boys all in the family tradition. Love is cousins with other founding members (save for the groups close friend Al Jardine) Brian, Dennis, and Carl Wilson brothers. Be it kin on stage or kindred spirits seated right next to each other, familiarity brought all together.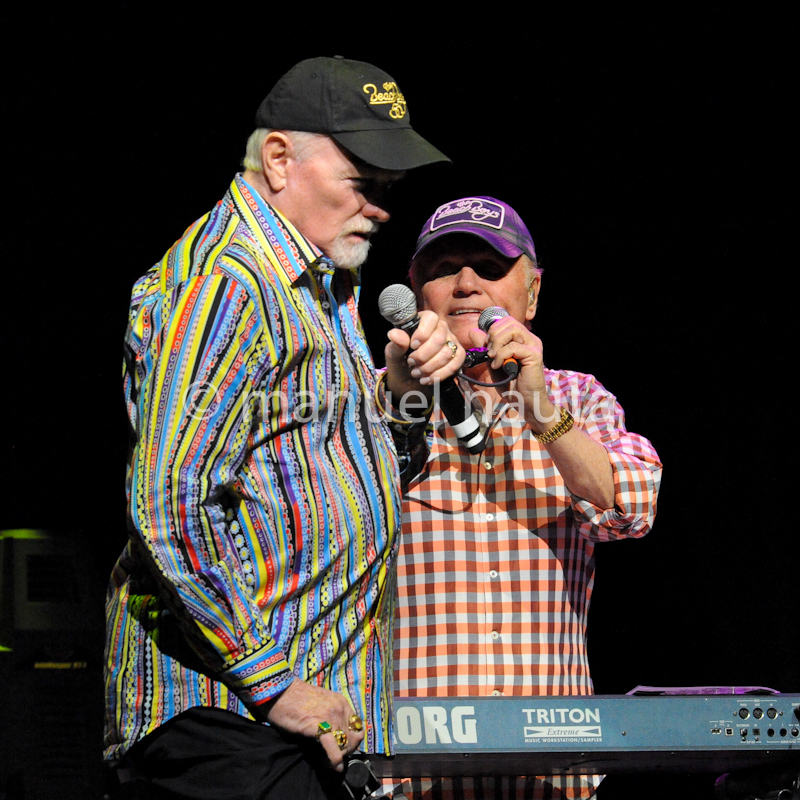 The set moved along with more sentimental pieces like Johnston written gem "Disney Girls", but not before Love ribbed the Grammy award winning songwriter Johnston for writing Barry Manilow's biggest hit "I Write The Songs", to which he jokingly apologized to the crowd for. References to Brian Wilson received applause when they were finally made halfway through the show during the intro to "The Ballad of Ole Betsy". However the crowd didn't seem to mind the Beach Boys performing tonight sans the mastermind Wilson. Like the band itself, no one was really there to rehash, but rather relive. "I Get Around" had all three-thousand plus dancing and singing almost as if they were performing for the band, not vice versa. It was now time for all to hang ten, and ride a brief intermission.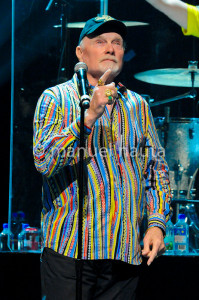 A cover of "California Dreaming" kicked off a second half that was filled with more songs that were immediately identifiable from the first lick of the guitar, than were in the previous half. The cut "Wouldn't It Be Nice" filled the space with unfiltered joy, to which even the imposing pony-tailed security guard stage right, could be seen nodding his head, singing under his breath and cracking a smirk. The energy was cohesive which was impressive considering the joint was packed by a disjointed pack of multigenerational strangers. Love waxed poetic on what inspired the band in the beginning—modern harmonization jazz group, The Four Freshmen. After the lesson was complete the band got to work and started pipe-fitting four part harmonies of their own in an accapella cover of the Freshmen's "Their Hearts Were Full of Spring"–it was pitch perfect for lack of a better term.
We were now entering the reflective section of the show. Love told an emotional story about how the night before President Kennedy was assassinated in Dallas, he wrote with Brian Wilson " The Warmth of the Sun", a ballad about loss. He made a point to say that irregardless of politics, President Kennedy was a father, husband, and son, which strummed the choir he was preaching to's heart strings. Mentioning that he still gets choked up whenever he sings that song, he then let emotions get the better of him in front of the pensive audience.
Next was more vulnerability out of the in-tune Love. The group was to sing what Rolling Stone Magazine deemed the tenth greatest song in rock and roll history, "God Only Knows". In this rendition, the group would be accompanied by via projection screen, by the departed Carl Wilson singing his original parts. As the song was playing, I couldn't get out of my head, that this was the most important track off the most important pop album ever written (just ask the Beatles right before they recorded Sgt Pepper's) and that it was odd that we all weren't freaking out at this fact hearing it live. As it were, everyone else was to preoccupied being wrapped up in this powerful moment to care about the anthem's place in history, and rightly so. Meaningful kisses comforted couples, and expressive eyes meeting among of friends reminded all how captivating a hymn like this one could be.
Rock ruled the show's final dissent. Texas's very own, "Sailing" crooner Christopher Cross joined the gang for a monster three song showdown. Overheard in the masses was an appreciation of how "rock & roll" Cross was, that he could be seen playing impromptu shows at Austin coffeehouse staple, Strange Brew, and now he's here with the Beach Boys just because he wanted to. An overwhelming response to "Kokomo" seemed to figure as the evenings coup de grace, however, the band had much more fight left in them. The next offering was "Good Vibrations" which won the night's award of "best use of the million dollar lighting system". It was the most complete performance of the entire gig. After a few more covers like "Barbara Ann", and crowd favorites like "Surfin' USA", it was time to sum up the whole forty-one song experience in just one carol, the aptly titled "Fun, Fun, Fun". Fulfilled and inspired, the sun had set on this celebration of paradise with one another, young and old, until the next wave brings us to another surf in a sea of melody and harmony.
Review by Donny Rodriguez