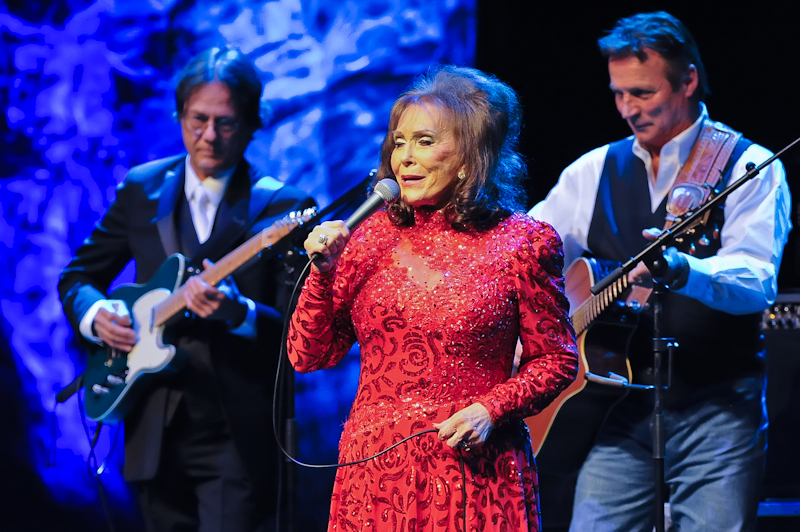 Willie Nelson Boulevard returned to its roots on Sunday October 18, 2015 with Loretta Lynn's honky tonk classics, and nothing could have sounded sweeter. After two rounds of the claustrophobic ACL Music Festival, the city of Austin finally had the chance to take a breather. The weather released its sweltering grip, and the downtown streets no longer rang with out-of-towners' shrill cheers. The only sounds resonating along 2nd street were the crickets chirping and leather boots hitting pavement.
With so many concerts relying solely on spectacle these days, many audiences have forgotten how magnetic a guitar and vocals can be. Luckily, fans from all generations strolled into The Moody Theater for a much-needed reminder. Lynn's sonic refreshment isn't easy to come by. There's a reason she's still captivating audiences after fifty years.
Her son Ernest Ray opened the set with her backing band The Coal Miners. Though Ray's pipes rang with a lovely steel-toed twang, audience members couldn't help but tap their feet in anticipation for Loretta.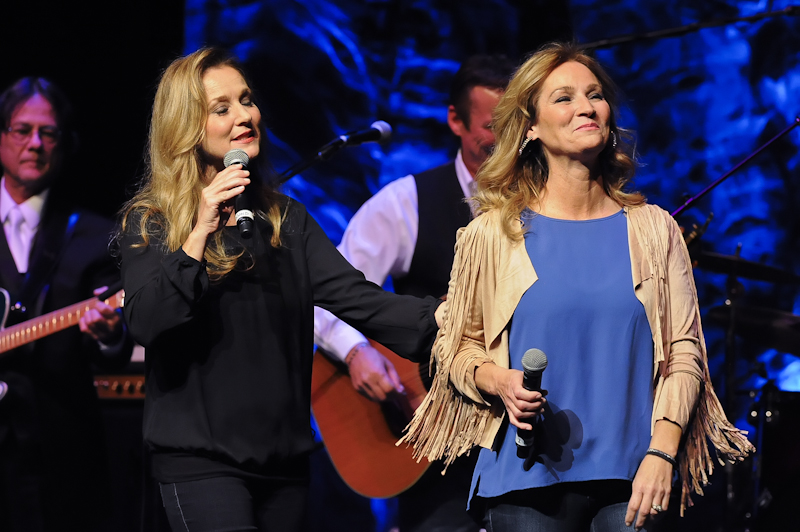 Draped in an effervescently shimmering red dress, Lynn embodied every bit of her legendary status. At eighty-three years old, she still owns that indescribable star quality. Though her dress was as grandiose as a rerun of The Grand Ole Opry, her performance was as comforting as a rustic rocking chair.
The first twenty minutes brought a jukebox of non-stop favorites. "They Don't Make 'Em Like My Daddy" became "You're Lookin At Country" which turned into "Blue Kentucky Girl." Applause sprinkled in between each song, but the cheers dissipated as soon as the opening chords picked up again. With over 70 hit songs, Loretta Lynn wanted to fit in as many as possible.
After "You Ain't Woman Enough To Take My Man," Lynn relaxed into some honeyed, southern banter. The energy in the elegant Moody Theater shifted and turned the space into a quilted hearth room. Her voice seemed to hug you with each sassy statement, and you could almost smell the brown sugar baking in your grandmother's pie.
Lynn paced to the edge of the stage and looked across the audience. When she asked what we wanted to hear next, you could tell she wasn't pretending to take requests. Voices screamed out their favorite tunes and she craned her ears to listen. A deep, burly voice bellowed, "One's On The Way!" and with a nod to her band, Lynn summoned the next song.
The steel guitar crooned the opening chords and swept into the verse. With a bounce on her heels and a tug on the mic cord, Loretta Lynn swayed with the melody. A raw chuckle escaped her lips as she turned to the guitarist and said, "I forgot the first line!" He sang the first two words and she galloped right into it.
Like a small scratch on a record, the beautiful imperfection only added more color to the song, and the audience once again sank into the comfort of her welcoming vocals.
Fans charged to the front row to request their favorite tunes, and their accelerating excitement seemed out of place against Lynn's relaxed responses. After turning down an autograph request, Lynn noticed a young woman in the second row. The fan's fists punched the air above her like she was rocking out to Van Halen. On her knuckles read the words "Fist City."
Her backing band didn't even need a cue. This die-hard music lover helped craft the set list, and nobody had any complaints about that.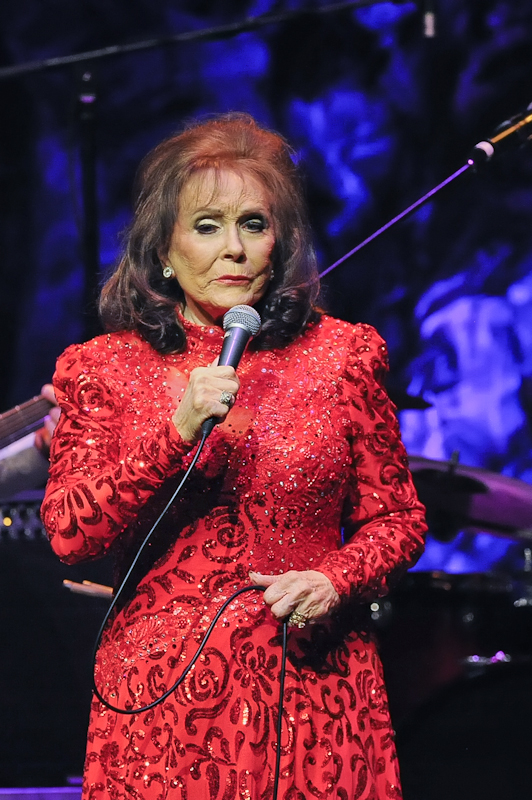 Lynn sprinkled in some personal anecdotes throughout her spread of Patsy Cline covers, gospel celebrations, and Conway Twitty duets. She told these stories with the candidness of motherly advice. Even through her fifty years of top ten hits, she hasn't lost her gratitude. Her years of performing on bar stools seemed as sacred to her as the shows that aired on television.
I could have nestled into my cushioned seat and listened to her stories for hours, but The Moody's pristine acoustics begged for more country music– and it would be blasphemous for her to leave the stage without singing the song that inspired her nickname.
"Coal Miner's Daughter" swept through the theater and brought every fan to their feet. In a goodbye reminiscent of Elvis leaving the building, Ernest Ray poured his deep voice over the microphone and repeated, "The coal miner's daughter! Loretta Lynn!" until the audience finally accepted the concert's conclusion. As the boots shuffled out to the street at 10 PM, even the Willie Nelson statue seemed to flash a satisfied grin.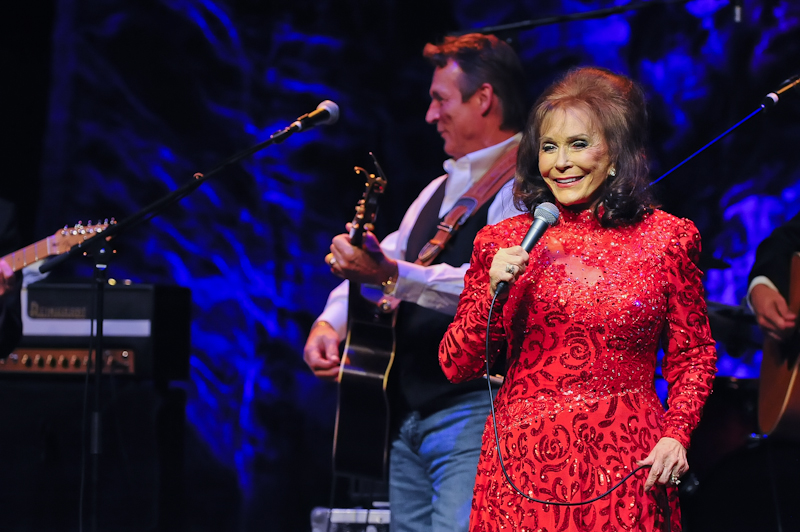 Review by Elisa Regulski