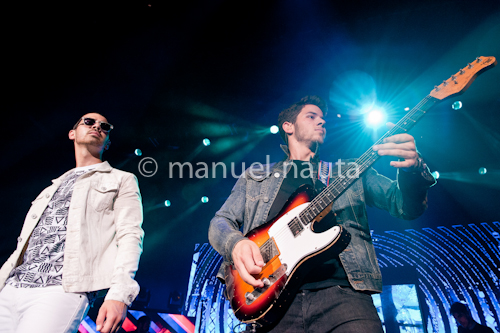 Wednesday August 7, 2013 – The Woodlands, Texas.  Opening for the Jonas Brothers tour was the duo Amy Heidemann and Nick Noonan of the band Karmin. The band rose to international Youtube fame in 2011 with their cover of Chris Brown's "Look at Me Now" which by now has had more than 84 million hits. Then in 2012 the band won the Rolling Stone flip cover contest for woman who rock and Amy was featured on the magazine's cover. These guys met the Jonas Brother in 2011 while doing Jingle Balls and seemed to get along well enough to eventually tour with the brothers.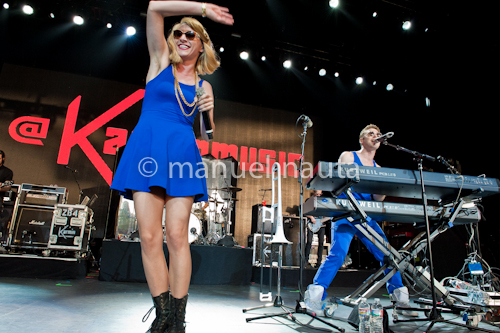 Since I did not preview Karmin on the internet, I sure was in for a big surprise when their set started. These guys are a musical tour de force. Not only are the songs super bubbly rock-pop, but they have a great stage act. Amy was dressed in a nice blue short dress with accessories and catchy red lipstick wearing what looked like fashionable black combat boots. Nick Noonan, wore a matching blue pants and matching blue wife-beater with white sneakers and sun glasses. The stage lights were cycled between red and orange matching the giant red letters on the screen behind them with their twitter account @karminmusic. It sure looked that they put some thought in their show using complimentary colors in their outfits and stage lighting. Amy was all over the stage, dancing, posing for the cameras in the photo pit and leaning over toward the audience as she delivered one hell of an entertaining performance.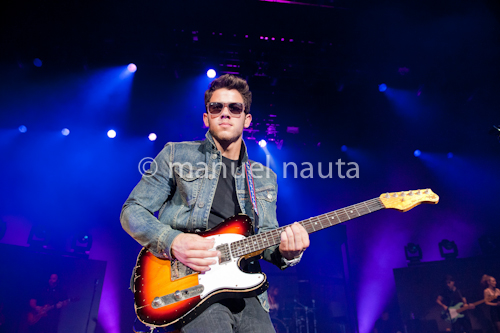 Next up were the The Jonas Brothers who are on tour again after a three hear hiatus. It looks like the absence from the live touring gigs has caused them to loose some fans since it was not a sold out show. But then again who cares, things change, the fan base has grown up and some have moved on to other musical genres. There is also competition from other teen bands for concert dollars. But approximately 5000 screaming fans is not bad for a show! The Jonas Brothers are no longer the teenagers they used to be, they have grown up, married, gotten facial hair and Joe even shaved of his hair. Time moves on which makes me feel old as I can recall watching them with my two daughters on MTV's TRL in 2006!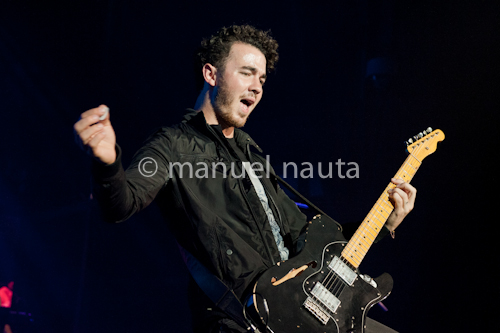 Although I have never been a great fan of the Jonas Brothers this was my first time hearing and seeing them live, there was something genuine and nice about their songs. This might not be a popular thing to admit for someone my age, but for their genre, they do a damn good job writing and performing their own songs. Nick Jonas still does most of the bands song writing and production.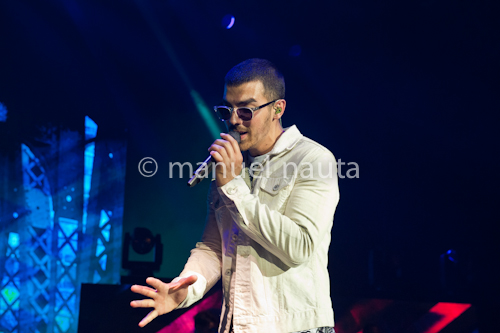 The sound was robust with a seven member band including backup singers, saxophonist, bass and drums. They are playing a lot of the songs from their upcoming album V. The opening song "First Time" has plenty of punch with a very catchy "Oh Oh Oh Oh .." chorus which people quickly sang along with. Although there were a lot of pop beats here, the song "What Do I Mean To You" was one of the best songs I heard tonight with plenty of rock and roll edge and Joe belting out the lyrics like a rock star.
Jonas Brothers Photo Gallery
Karmin Photo Gallery