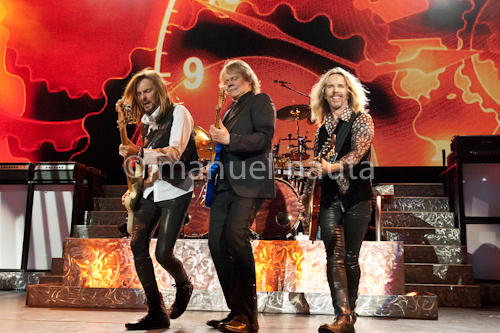 Houston, Texas – May 12, 2012: Rock 'n Roll hit masters REO Speedwagon and Styx were the co-headliners on the Midwest Rock 'N Roll Express Tour that stopped over at the Cynthia Woods Mitchell Pavilion on Saturday night. The show opener was the Pat Travers Band who had the famous party rock 'n roll hit "Snorting Whiskey and Drinking Cocaine" and the memorable "Boom Boom" songs that all of use know from high school parties. The sun was setting in the beautiful pavilion and Pat Travers was lit up nicely by sun and a full set of stage lights, fog and a giant video screen behind him. It turns out that all three band used the same screen. It was nice that the opening band was allowed to use the same stage setup, usually they don't get to play with the toys the headliner brings in. Pat Travers ripped through song after song and the crowd kept yelling "Snorting Whiskey", they just wanted to hear the hit songs. Looks like pat has not missed a beat for decades!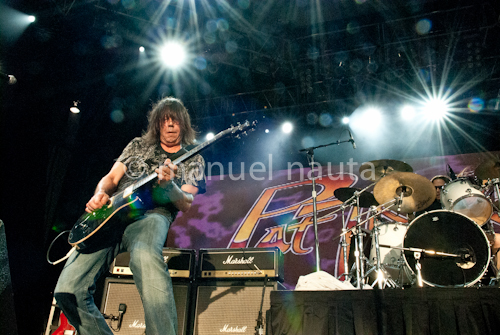 While waiting in the parking lot to the side of the pavilion to take photos of the next set, we see Tommy Shaw from Styx with his shirt off, throwing a football with his people. Not often does a star of his caliber come out of their luxury buses to just hang out before their show, not afraid of photographers or fans.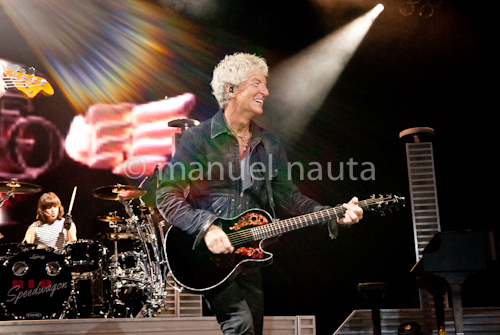 After the sun set, REO Speedwagon was up next. I must admit I was really looking forward to see and hear this REO. The lyrics and songs might be corny, but we all know them and love to secretly sing along with them. This was a high school flashback moment for me. They started of with "Don't Let Him Go" with Kevin Cronin (1972) on vocals, Neal Doughty (1966) on keyboards, Bruce Hall (1977) on bass, Dave Amato (1989) on guitar and Bryan Hitt (1989) on drums. As they played the hit songs, the album names were displayed on the screen behind, alternating with fireworks displays and a giant American Flag.
REO Speedwagon set list: Don't Let Him Go, Take It On The Run Baby, Keep Pushing, Golden Country, Can't Fight, That Ain't Love, Poor Man, Fly, Back on the Road, Roll With The Changes, Keep on Lovin' You, Ridin The Storm Out.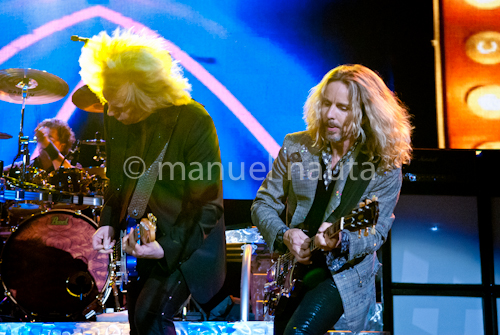 Next up was Styx with James Young (1970) on guitar, Tommy Shaw (1975) on lead vocals and guitar, Lawrence Gowan (1999) on keyboard, Ricky Phillips (2003) on bass and Todd Sucherman (1995) on drums. These guys are veterans on stage, they love to entertain their fans and they love the cameras as they give you pose after pose. Many artists could learn from these guys how they use the photographers to their benefit to get the best possible photos out in the news media. The songs, of course, were fantastic as they started with "Blue Collar Man", "Grand Illusion" and "Too Much Time" as openers. There is not much that has not already been said about Styx during the past few decades. All I can add to this is that Styx still rocks big time and go see them if you get a chance, you won't regret it.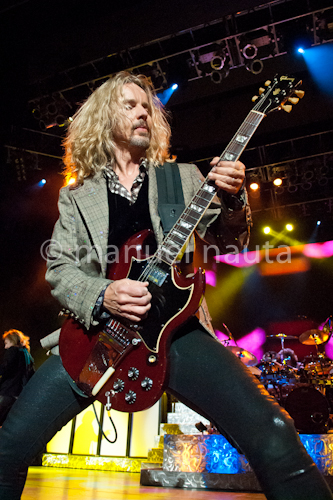 The complete set list included: Blue Collar Man, Grand Illusion, Too Much Time, Lady, Lorelei, Man in the Wilderness, Fooling Yourself, Miss America, Come Sail Away, Rocking the Paradise, Renegade.