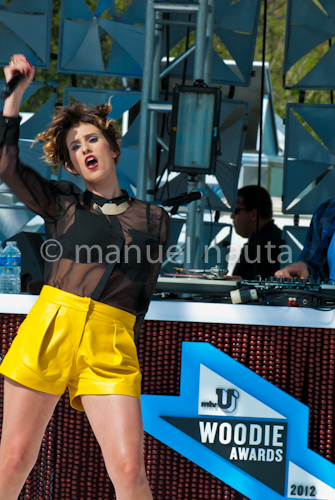 Austin, Texas – March 15, 2012: This year the mtvU Woodie Awards ditched the award show format in favor of a festival style event. Two very large stages were set up on a vacant downtown Austin lot between the Convention Center and Interstate Highway 35. The gates opened at noon and the event would go on until 10:00 pm that evening. There was plenty of free food for the fans, such as barbeque, tacos and other items. It quickly became clear that this was not the typical award show with presenters, nominee categories and artists walking on stage to accept awards and make lame speeches. The line up for the afternoon concerts was as follows:
On the Woodies stage – Ed Sheeran, A$AP Rocky, MGK, DEV, Chiddy Bang and Fun. On the Chevy stage – Kimbra, Gary Clark JR., Of Verona, Wallpaper, Imagine Dragons and Walk The Moon.
Chiddy Bang with his cool hip hop alternative fusion sounds got the crowd going wild when he asked if anyone in the audience could get him a joint. This being Austin, there were plenty of offers. He gratefully accepted one, smoked the heck out of it and handed back the little that was left. After a few stage dives, Machine Gun Kelley (MGK) stripped down to his under ware, he did keep on his socks and shoes,ran around the stage and climbed up on one of the stage props. DEV kept her cloth on, what a petty, but did her usually one finger salute to the audience. The New York indie band Fun, got all the hipsters extremely excited. It was amazing to see how feverishly they were tweeting and posting, recording and posting again while Nate Ruess belted out what now is becoming the 2012 Spring anthem "We Are Young."
As night set, the festival was coming to an end and the revamped mtvU "2.0" got under way. There was a small stage set up far away from the main stage were just a few of the many awards were actually announced and handed out. The majority of the awards were given "back stage." Jersey Shore reality show star and now DJ, Pauly D and DEV hosted the abbreviated awards. The winners this year were: Mac Miller, Woodie Of The Year. Best Coast's "Our Deal" (Extended Version), Best Video Woodie. Mac Miller, Performing Woodie. Calvin Harris, EDM Effect Woodie. Machine Gun Kelly, Breaking Woodie and the radio station WASU won College Radio Station Woodie.
Performing during the award show portion were Santigold, Mac Miller and Steve Aoki with guest appearance by Lil Jon.