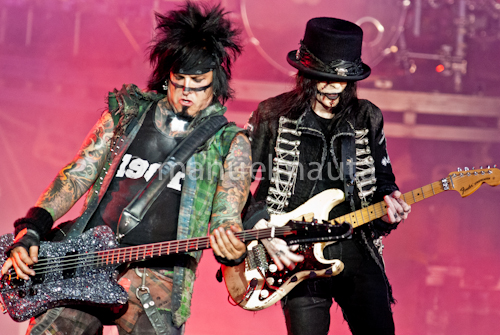 When KISS and Mötley Crüe in March announced their joint summer shows called "The Tour" they weren't bluffing saying that it will blow peoples  mind away. The joint bill meant that each band would play 90 minutes with KISS closing each night. KISS and Mötley Crüe have not shared the same stage since 1982 when the Crüe opened for KISS. Ever since then they have had great admiration for each other which was evident during the press conference back in March at L.A.'s Roosevelt Hotel.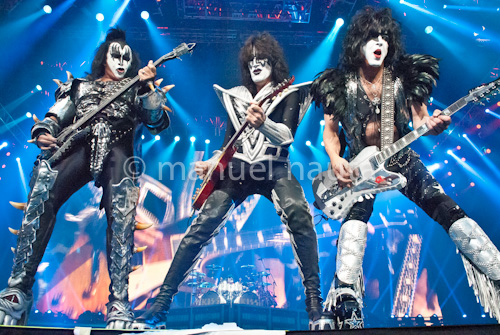 I went to both the show at the Cynthia Woods Mitchell Pavilion at The Woodlands near Houston on August 3, 2012 and the San Antonio show on August 5, 2012 and was not disappointed. The rookie band opening for KISS and Mötley Crüe was The Treatment, a five man rock band with a 80's hair-metal sound. Clad in leather, tight jeans, Union Jack t-shirt and swinging their long hair around, this new band is a refreshing alternative to today's bland hipster music. Matt Jones on vocals Ben Brookland and Tag Grey on guitar, Dhani Mansworth on drums and Swoggle on bass (http://www.facebook.com/TheTreatmentOfficial / http://www.adrenalinepr.com/).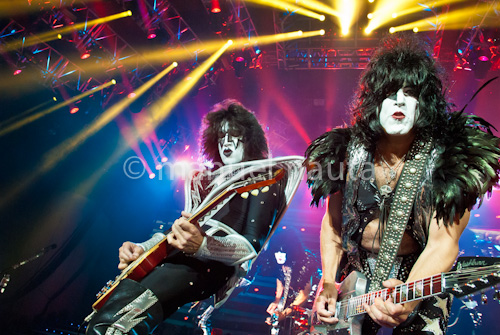 Next up was Mötley Crüe. The giant ferris wheel like structure provided for a P.T.Barnum circus atmosphere complete with voluptuous dancing backup singers wearing Stars and Stripes spandex tights. The show starts of with Vince Neil, Nikki Sixx, Mick Mars and Tommy Lee walking in a procession from the back of the venue through the audience to the front of the stage. Once on stage, all hell breaks loose with one incredible rock and roll show. The pyro was not just large burst of flames, but there were rails of pyro flames that just burned behind Mick Mars like a enourmous gas powered barbeque pit which was turned up and down as needed. The eardrum popping automatic gun fire like bangs shook up the audience not to be outdone by Tommy Lee being strapped in to his drum kit and rotating inside the giant wheel on the stage. This is a must see show, if you are not a hard rock fan already, you will become one after seeing this show.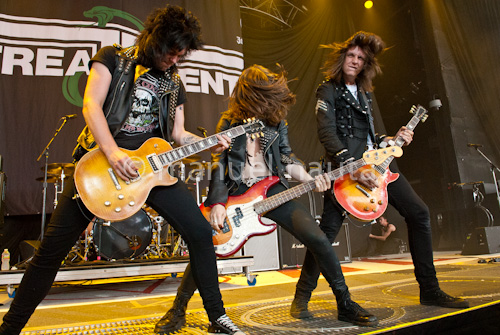 Closing the joint bill on The Tour was KISS. There is not much left to say about KISS that has not already been said during the past few decades. Paul Stanley and Gene Simmons are over the top with their energy and love for the audience. It is hard to imagine that their enthusiasm is fake or contrived. No other band or musician has their stage presence or flare for the extravagant as much as Paul Stanley and Gene Simmons. They relish in the attention they get from their audience and give back as much as they can.
(Scroll down for extensive photo gallery)
Here is the set list for the show at The Woodlands on August 3rd:
CRUE:
1.         Saints of Los Angeles
2.         Wild Side
3.         Shout at the Devil '97
4.         Same Ol' Situation (S.O.S.)
5.         Sex
6.         Don't Go Away Mad (Just Go Away)
7.         Home Sweet Home
8.         Drum Solo
9.         Guitar Solo
10.       Live Wire
11.       Primal Scream
12.       Dr. Feelgood
13.       Girls, Girls, Girls
14.       Kickstart My Heart
KISS:
1.         Detroit Rock City
2.         Shout It Out Loud
3.         I Love It Loud
4.            Firehouse  (Gene breathes fire)
5.         Love Gun  (Paul flies)
6.         War Machine
7.         Shock Me  (with Tommy and Eric jam)
8.         Hell or Hallelujah
9.         Bass Solo  (Gene spits blood and flies)
10.       God of Thunder
11.       Lick It Up
12.       Black Diamond (with short Paul guitar solo)
Encore:
13.       Rock and Roll All Nite