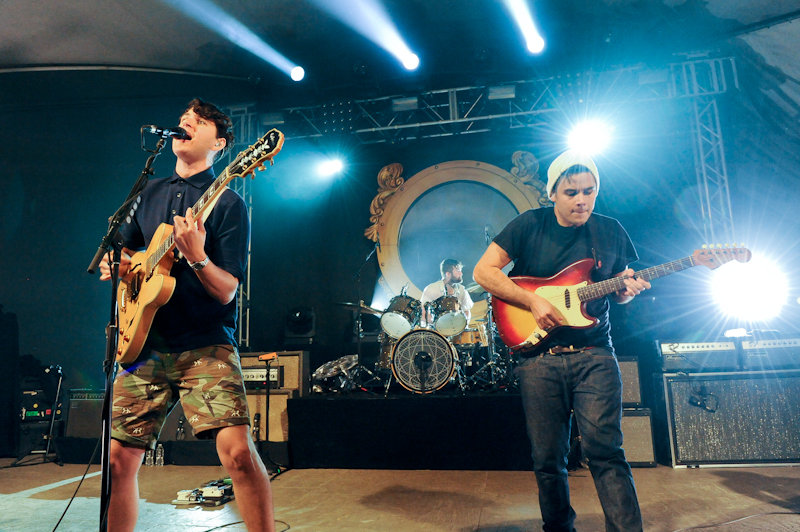 AUSTIN, TX – April 25, 2014 / Playing their second sold-out show in as many nights, the indie pop champions Vampire Weekend displayed heart, vibrato, and vigor outdoors at Stubbs on Friday, April 26th.
Be it a Spotify playlist, brick and mortar retail clothing store, or the opening scene of Will Ferrell's absurdist comedy Step Brothers, Vampire Weekend sounds the same live as they do on their studio polished records—and man, is it impressive.
In support of their third album, the 2013 Grammy Award winning Modern Vampire of the City,Vampire Weekend has cemented their stature as critic darlings, and the people's champion in the music scene (with all due respect to Arcade Fire, of course). Their first two albums were heavy on the Afro beat and other Paul Simon influences, but their latest is next level palatable radio art-rock.  Whatever style they're into at the time, their songwriting has always remained as a type of unpretentious opulence, with the aim of getting you to go for broke by spending all you got on moving.
With Austin's Fashion Week in full swing, noticeable accoutrement trends in Stubb's backyard were v-neck tees and hipster-esque no-neck top-buttoned shirts amongst males; and as for womenfolk, literary tattoos and statement neckless were a must (see also: Hannah and Marnie from HBO's GIRLS for further examples).  The must have accessories of the moment were tall boys of Modelo Especial and whiskey topped with soda-gun cola.
Across town at Emo's, fellow New Wave mega-popular synthpop band, London's Bastille, also played to a capacity crowd.  Not to sound like a xenophobe, but kudos to the paid attendees at Stubb's who chose to buy American and supported one of our finest homegrown art exports.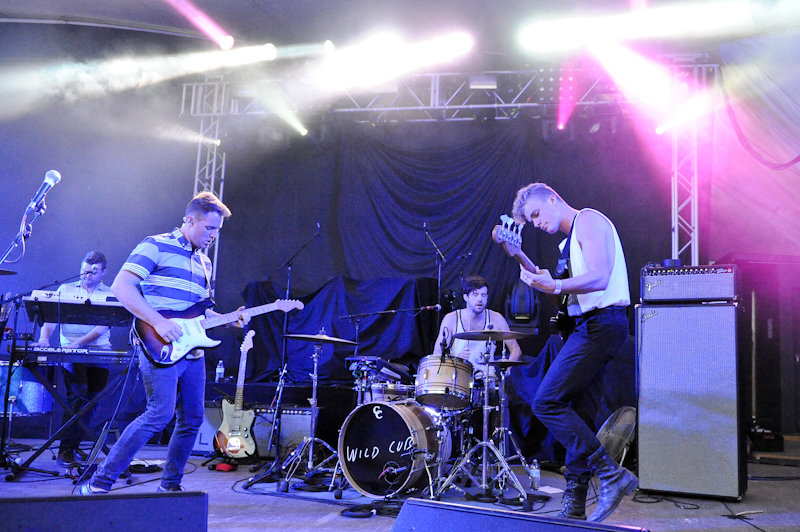 Fresh off a SXSW appearance, Wild Cub served as the opening act.  This Nashville-based quintet is in the vein of American Authors and Neon Trees, but with a sense of urgency and a more layered sound.  Stand outs from their set were: "Summer Fires/Hidden Spells," which had a "Billie Jean" meets "Livin' On A Prayer" bass line; a mid-tempo cover of Beyonce's "Crazy In Love", and "Thunder Clatter" which lead singer Keegan DeWitt thanked 101X for being one of the first radio stations to give it some spins.  The group returns to Austin July 25th at The Parish, and should have no problem playing the role of headliner from here on out.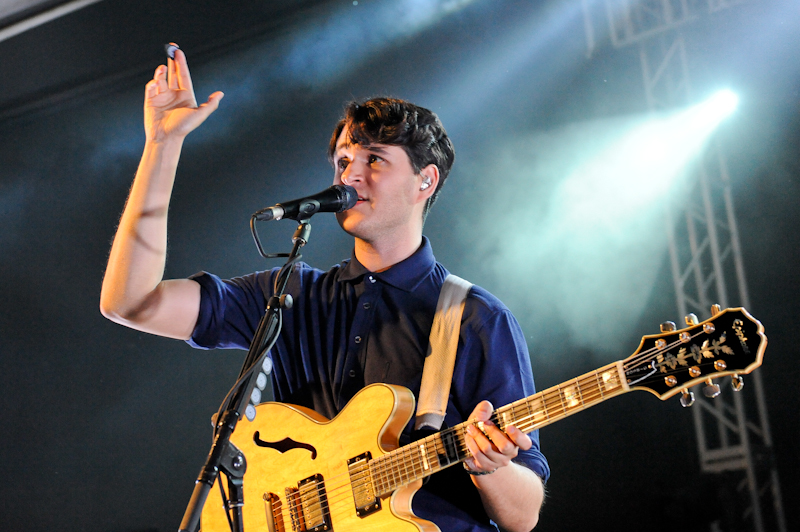 Trotting to a bar of an indie hip-hop cut, Vampire Weekend's four-piece outfit wasted no time by opening their set with the lead single off the aforementioned Modern Vampire of the City, "Diane Young".  Frontman Ezra Koenig's voice was put through some pitch bending effects as the surf-rock, EDM amalgamate beat blistered the speakers.  During the chorus, an Elvis impersonator convention spontaneously burst out as Koenig and the crowd sung "baby, baby, baby, baby" complete with drawl.
The blithe and jaunty "White Sky" featured a backing track, but that was forgiven because Koenig's yodeling was at crisp and brilliant levels.  The New Wave number met waves of adulation.  The always funny and meta Peter Gabriel hat tip in "Cape Cod Kwassa Kwass" had a twenty-something couple standing next to me in line for a brew debating whether the song was ironic or an unintentional homage to the Genesis singer.  The answer is: exactly.
In "Unbelievers," keyboardist Rostam Batmanglij, bass man Chris Baio, and percussionist Chris Tomson did all the heavy lifting.  The vibrant harmonies towards the end gilded the lily that the rhythm section planted.  During the holidays, everyone's social media feeds are a roll call of pictures featuring friends and family.  Right on cue, the song "Holiday" subconsciously triggered a wave of image capturing that swept over the Instagramers as 2,500 people took one collective selfie.  Baroque Pop, chock full of Wes Anderson symmetry and sadness, "Step" was a delicate grove that did just that—grooved. Lyrics like "Wisdom is a gift, but you'd trade it for youth" were appropriate for the few there looking to be introspective while having fun.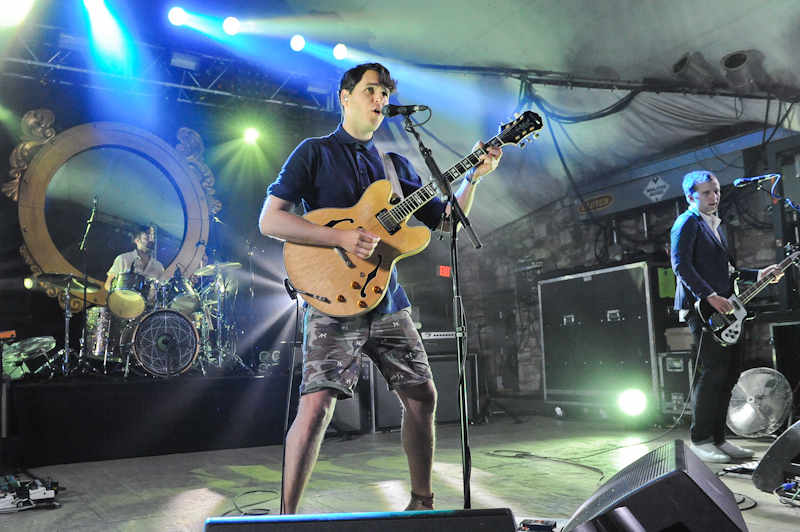 "Finger Back" was catchy if you were quick enough to catch it.  Spoken word breakdowns, keys with organ gusto, and drunk drum patterns were the most fun cuts to bob your head to. "I Stand Corrected" made the best use of dynamics during the concert.  One of the few banter breaks was used to suggest to the choir that they join in on the five note chorus of "whooooaaaa ooohhh" during "Horchata".  The clan then went straight into the R&B kissed "Everlasting Arms".  It was the one and only romantic moment of the night.  Couples' skate is now over.
"Cousins" played like a metal song without all the drop-D tuning and pain that could be healed by simply seeking out a therapist.  The simplistic ditty "California English" boasted auto-tune verses with manual lyrics.
"A-Punk" garnered the largest reaction at that point in the night.  It's the reason why there were moms from Round Rock with their tweens in tow.  It's why dads with something to prove swayed themselves cool.  It's actually the reason why we were all at Stubb's.  Without this infectious jam, we'd all be praising Imagine Dragons as the best band that gets radio play.  What I'm trying to say is, A-Punk was fun.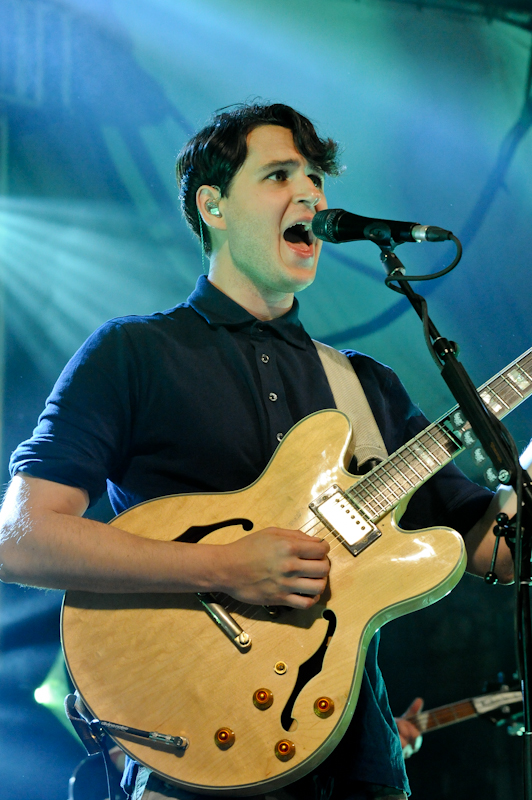 "Ya Hey" was more heartbreaking with thousands of people around me than it was in the intimate setting of my headphones and own thoughts.  It's a reflection on God and genuflects at his relationship with all of us.  Deep and cathartic. Just what this juncture needed.
Lip syncs and closed-eye blinks was a chain reaction set off by "Oxford Comma's" rap feel.  "Giving Up The Gun" was a tribal data-rock that was visceral, and the highlight of the lighting guy's night—long strokes of reds and pulsating bright whites.
"Obvious Bicycle" was a pitch perfect example of Koenig's non-nonchalant stage presence mixed with prolific musicianship, and songwriting craftsmanship.  He's a showman, but by his definition.
Enter encore.  The compelling aria "Hannah Hunt", preppy prose "One (Blake's Got A New Face)", and the apt "Walcott" closed what was an amazing night of quality tunes.
While there were no new tracks, interesting covers, nor the performance of surprise deep cuts, the concert stood out for its unrelenting display of lively indie pop perfection in a genre that idles on tired.  Lyrics on a Friday night are usually not dissected until late night last call, but at a show like this, one can't help but raise a glass to the messages and guzzle down the overall sheer enjoyment of Vampire Weekend.  Until they're beat, VW is the defending belt holders in today's music milieu.  You've got a long way to go, Bastille, this is (A)'merica.
Review by Donny Rodriguez