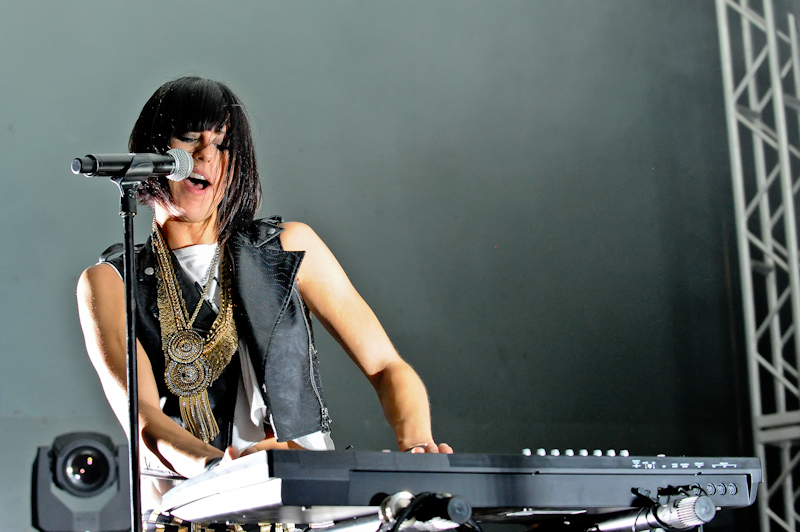 AUSTIN, TX – April 22, 2014 / Though they wouldn't admit it, even the most jaded Eastside Austin hipster could be observed enjoying themselves during Phantogram's sold out show at Stubb's last night.  New York-based duo, Sarah Barthel and Josh Carter's sound reads like the "miscellaneous" section of a record store.  Their songs fall in between the genres of trip hop, electro-rock, dream-pop, post-chillwave/glo-fi, EDM, shoegaze, indie rock-informed hip hop, alternative, and psych/synth-pop to name a few.
With Summer's impending reign of heat headed to Central Texas, no one could have asked for a better night with the temps in the high 70's, and a breeze airier than Barthel's vocals.  Rarely does an act return so soon to Austin after just playing SXSW (see SXSW mtvU review) , but this former-"buzz band"-turned-major-label-recording-artist has a new album to pimp, Reprise Records's Voices.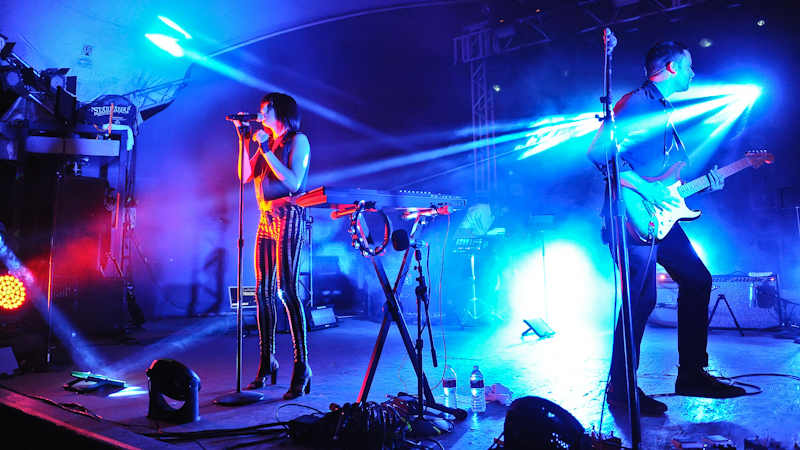 The crowd was a mix of avid Instagramers, and those who pay for the commercial-free version of Spotify–ostensibly millennials.  The women wore varying lengths of dresses with wedges or heels which made for a cumbersome time traversing the hilly gravel knoll that is Stubb's backyard.  The gentlemen of the night opted for a less dress-to-impress look by rocking busy graphic tee's, shorts that will be worn until November and low-top fashion sneakers.  Brooklyn Lagers, and Mexican Cerveza with limes in tow, completed everyone's outfit and really pulled the room together.
A tick past 9 pm and the duo–accompanied by keyboardist Nick Shelestak and drummer Chris Carhart– were hailed as they marched under the bandshell.  The atmospheric and aptly titled "Intro" kicked things off.  As pre-programmed bright white lights oscillated and pulsed, the illuminous Barthel blinded the audience with her boomerang page-boy haircut, fit frame, and fusion-fueled stage presence.  Barthel's high octave, upper register singing with the gutter riffs from Carter's jolted legato guitar play set the bar higher than the sparse substances abusers adrift in the sea of onlookers.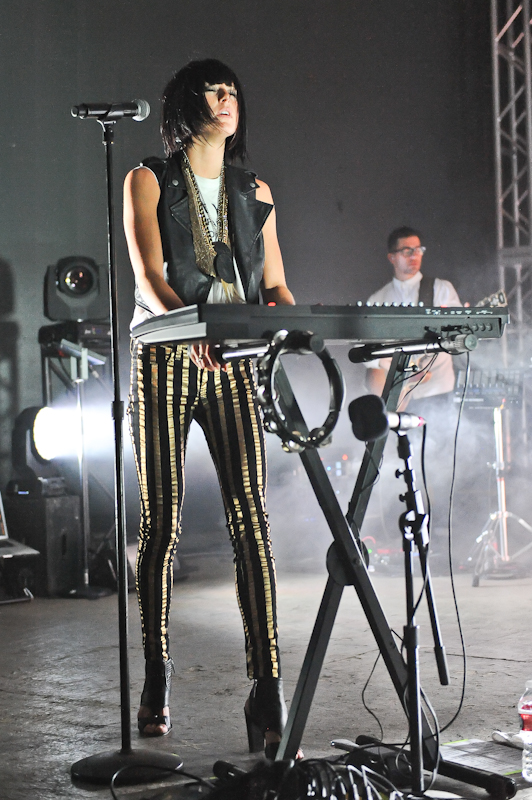 For " Nothing But Trouble", Ms Barthel sidestepped her keyboard duties and fronted the band with charisma and the body language of someone who's speaking in tongues.  When the duo harmonized, waves of adulation hit the shores of Red River and 8th Street.  The Carter-led "Running From The Cops"–a cut off their first album, 2010's Eyelid Movies— seemed like a misdemeanor compared to the armed and dangerous compositions on their major label debut, the aforementioned Voices.
The first of the few brief banter breaks featured F-bombs, and love for Austin.  "As Far As I Can See", the glitchy and glitzy mid-tempo grove boasted some now ironic lyrics when taken out of context such as "As far as I can see/nobody loves me/as far as I can see/nobody's listening".
"Turning Into Stone" was the first epic number thus far.  The dreamy-pop song starts out with some unsuspecting vocals from Carter, then some digital transitions, and verse/chorus dynamics until the outro.  The two sing over each other lines of pessimism and optimism.  As they raised their voices, there's never a fear of them missing a single note. It was a showstopping performance.
A sing-a-long broke out when "Don't Move" was introduced.  Though it was heavily synthesized, the instrumentation came alive.  Barthel served a core-cardio instructor going through a circuit of straight up-and-down jumping, claps, and arm juts.
"The Day You Died" showcased cutting words and a hypnotic hook lined with licks and Moog riffs.  As the stars above were well lit, catharsis was in our midsts. The electro-ballad "Bill Murray" is a song about loneliness, with Barthel perviously going on record saying that the hymnal is an interpretation of Bill Murray's scenes of sadness in films like "Lost In Translation" and "The Life Aquatic".  Introspection, longing, and hugging took over the crowd who at this point did nothing else but dancing in place.  I implore to listen to the track if you're dealing with some emotional constipation.
The self-awareness movement continued on with "I Don't Blame You".  Armed with a guitar, Barthel played as Carter crooned.  It's clear they're growing as songwriters and performers.  Phantogram, unlike the other hip electronic duo's of their time, took two steps forward, as their contemporaries just added more dub-steps.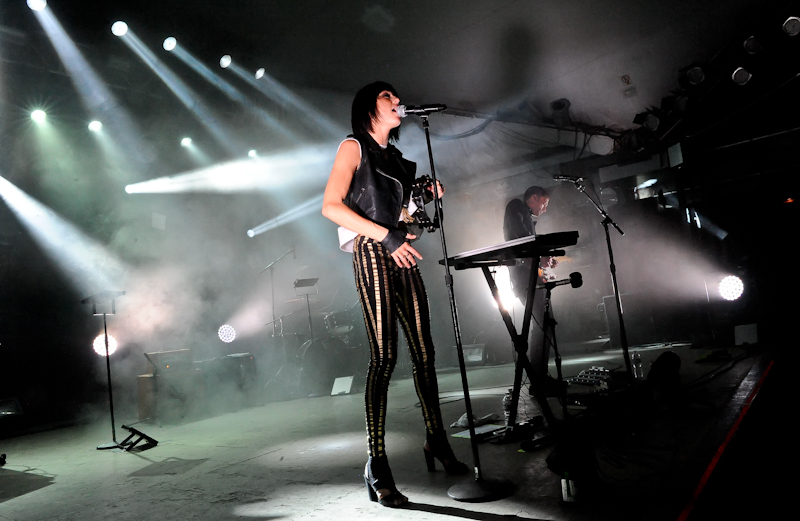 Sexy and sugary, "Fall In Love" had the buzzed bunch jiving and lip-syncing on a school night.  Next was the nocturne "Howling At The Moon"–a data rock aria written about Texas as Barthel proclaimed.  Cue obligatory cheer for mentioning the state we're all currently in.  "When I'm Small" received the loudest reaction of the set.  The jam felt like an experiment of sonic chemistry with the catalyst of melody being inescapable.
For the encore, the band came out plugged the SXSW Cares donation table, mentioned they'll be back in Austin this October for the ACL Music Fest, then played crowd favorites "Mouthful Of Diamonds", and "Celebrating Nothing".  The latter piece was a demonstration their signature grandiose simplicity.  All in all, 14 songs were played over 75 minutes.
To the non-discerning ear, Phantogram's setlist would have had a homogeneous flavor to it.  With the release of their latest LP, and a planned album collaboration with Big Boi from Outkast, it isn't clear if Phantogram is planning on exploring new arenas with their music or if they're content with being niche hit makers.  Either way, Phantogram has a strong fan base, and a creative ceiling that's as of now, undetectable to the naked eye.
Review by Donny Rodriguez