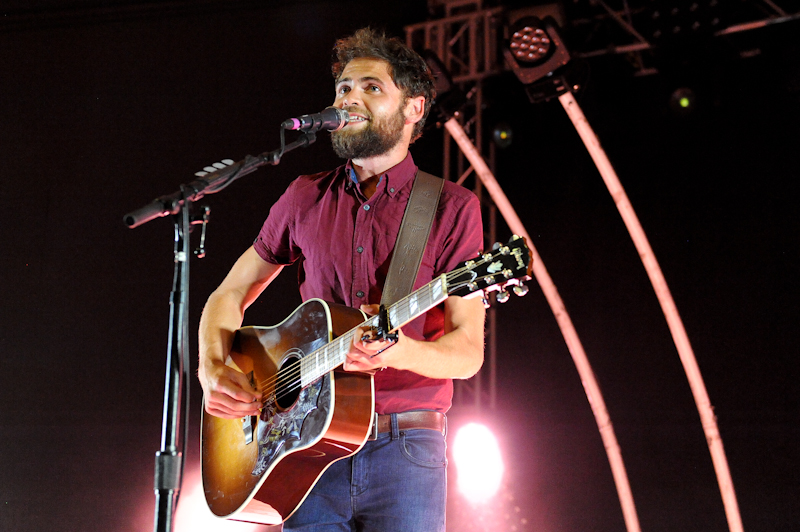 AUSTIN, TX – August 30, 2014. England's Passenger rode into Austin and went head-on with the Longhorn's kick off, Labor Day's wedding filled travel schedule, and late August temps. Nary an aforementioned roadblock could slow down the sell out crowd with Passenger taking the wheel Saturday night at Stubb's.
The crowd ranged from tweens to late-thirties, but twentysomethings ruled the gravely knoll. The female persuasion in attendance were wearing dashing dresses from Anthropologie, or cut-off and tank combos from H&M. The fellas wore what they always wear to concerts–nothing memorable. What made its way into both genders' wardrobes was the occasional burnt orange top with cattle silhouettes branded on them.
Even by sundown, it was still a steamy 90 degrees, so most opted for clear liquors topped with effervescent soda water, and tall boys of cider and beer you'd squeeze a lime into. Promptly at 8, out walked Americana-archetype, the Aussie troubadour, Stu Larsen.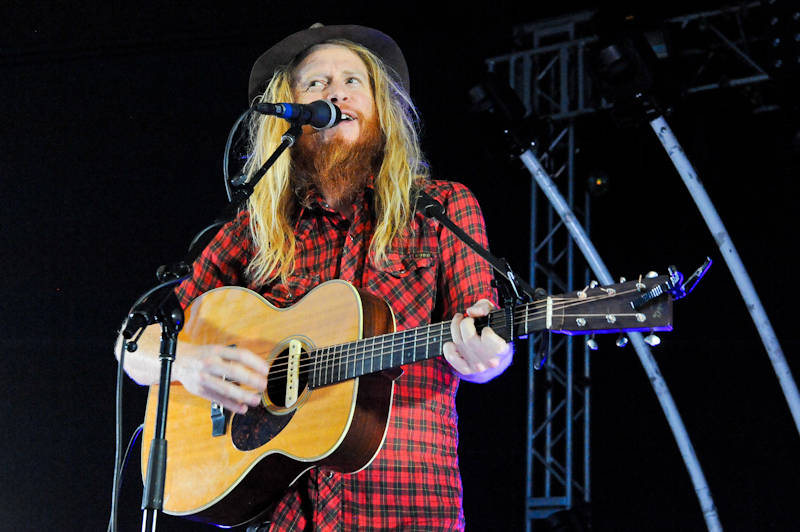 With a wordless hook, one-octave jumping falsetto, and guitar body percussion, Larsen opened with the gadabout-themed "San Francisco." He then went on to tell how he initially wrote "Thirteen Sad Farewells" for a friend to use for her album, but instead opted to keep it for himself.
Larsen then covered Coldplay's "Fix You." To most, this song is a "break in case of emergency" emotional-diuretic, but he played it as if it was an important part of daily consumption. A few differing vocal arrangements stifled a sing-along, but during the outro, he let the choir do the singing and it was goosebumps inducing. Larsen closed with the up-tempo ballad-for-the-boxcars-tinged "This Train."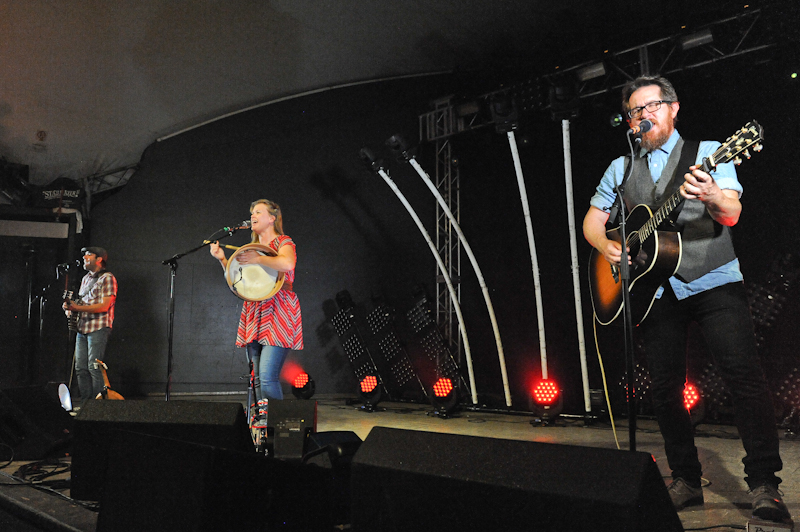 Canadian folk triad The Once wasted no time endearing themselves to the folk-friendly crowd by doing an a cappella version of the Leonard Cohen tune "Coming Back To You." The group is lead by vocalist Geraldine Hollett and the banjo-and-guitar string section played by Phil Churchill and Andrew Dale. In "The Town Where You Lived," the harmonies paired nicely with the tongue-and-cheek pessimism (or optimism, depending on your mood).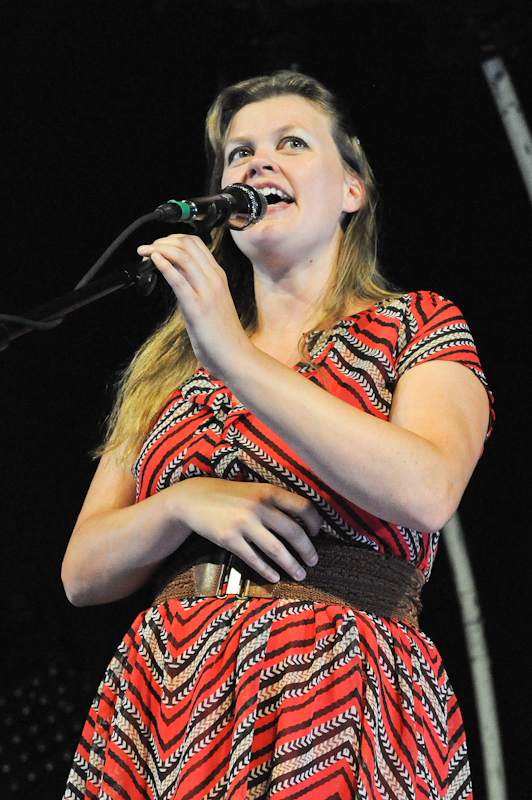 After the pathos-rich longing tale of "All The Hours," the group went into an anathematic take on "Can't Help Falling In Love With You." It was undoubtedly the apex of their set, but their final few weren't chopped liver either. "Around Again" is about a girl with a guitar set in the pub-per capita capital of the world, George St. in St. John's Newfoundland, CA. It very well could have been transposed to take place on 6th Street. "We're All Running" was tender but bombastic, and displayed some prolific call and response moments like their countrymen, The Barenaked Ladies, did in their heyday.
As he stumbled onto the stage haphazardly like it was his first open mic, out came the unassuming Mike Rosenberg, or Passenger–as his fawning fanatics would call him. Opening with his pre-fame cut "Fairytales and Firesides," Passenger showcased what he'd be doing all night in one song. The tune started out with delicately plucked chords under his cub-like timbre, but transformed quickly into frenzied strums that were muted by his majestic lion's roar–all the while staying consistently passionate.
After an anecdote about how the only other time he played Austin was in the Stubb's indoor venue back in '08, Passenger picked a charming melody that was the intro to "Life's For The Living." The post-coming-of-age tale resonated with the onlookers and a bass drum loop made it a full-body experience.
"The Wrong Direction" was a rapid talk-sing ditty accompanied by finger snaps, an excerpt of Haddaway's "What Is Love," and mouth trombone–to which he immediately apologized for.
During "Riding To New York", the balladeer shared a cosmic connection account of when he was struggling to quit smoking, he met a man with lung cancer who was living out his dying wish to travel the country. Inspired, Passenger crafted that composition instead of smoking that day.
Passenger then went on to comment how energy dropping that last song was. If you close your eyes when he's chatting in jest, Passenger non-singing voice reminds of comedian Ricky Gervais' cadence, and his joke-telling rhythm.
Sarcastically, he offered to bring the mood up by playing the Simon and Garfunkel standard "The Sound Of Silence." The classic was reimagined with a sense of urgency and an instrumental bridge that was the rockiest high water mark of the night.
Full dance and singing participation was insisted upon by the melodist while plodding through the modern day social interaction landscape in "I Hate." The song played out like a self-deprecating sonic listicle. Checklisting all the things that he hates with BuzzFeed precision, wordless chorus and eagle eye observations made lines like–"I hate queuing up for festival toilet, especially when you have to take a shit"– into something magical.
"Patient Love" saw flames throwing caution to the (lack of) wind, as they lay hot, sweaty-faced smoochies on each other, which was a sweet sight to see. After he pulled the leg of a few by saying he wrote the next track, the Brit played a verse and chorus of the Avicii smash "Wake Me Up."
The group of teenage girls behind me–who wore make-up that only teenage girls who want to look older apply– finally stopped gabbing and pulled out their iPhones to take selfies and record "Let Her Go." You almost couldn't hear the singer singing into the amplification system, as the whole place repeated the words back to him.
His funniest joke of the night came right after his career-making track when he said, "Well that's my only hit, so I'm going to play it five more times for you." The perseverance ode "27" struck a nerve with all struggling artists in attendance. It was a hopeful and inspiring message, even to this writer who sings for his supper by covering performers who sing for their suffer.
Larsen reemerged to join his best friend for "Hearts On Fire." The harmonies were haunting and reminded me of Bon Iver vocal arrangements. The title track of his latest offering was "Whispers." It displayed the depths that his songwriting has taken him. Passenger has been stamping checks by slinging witty self-aware phrase-turning narratives, and tenor vocal heights. In this number, he subdued everything, and in his subtly, you could truly see his sincerity.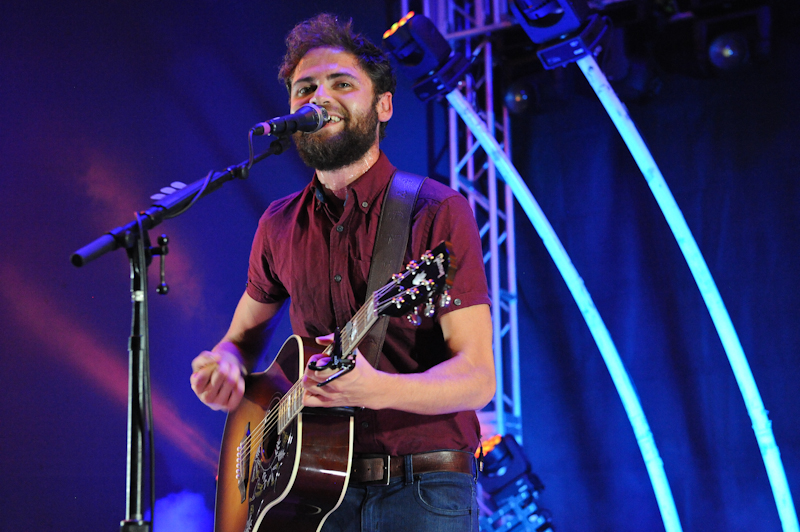 A "happening" happened during "Scare Away The Dark." The on-stage director asked for appeasing viewers to put away the phones and be in this moment. It worked, as the song spoke volumes as the voice for disenfranchised millennials. An earnest bow and a "Thanks" had many heading for Red River St., but Passenger quickly came out for two more.
Welcoming the night's entire bill back on the stage, the supergroup played John Prine's "Angel From Montgomery." Hollett's solo and Larsen's harmonic garnered the biggest reactions. "Holes" closed out the set, which was tactfully placed as it's the hookiest of all his toe-tappers.
Folk music is what you turn to when you need to turn the mundane off. Concerts of this kind aren't supposed to be fun, they're supposed to be full of introspection, tearful recollection, and poignancy. Passenger provided all that, but more importantly, let everyone know that no matter how quirky or emotional you are, you're not alone. Passenger is no longer hitching a ride through his creative life, he's in the driver's seat.
Extra concert photos on our Facebook Page https://www.facebook.com/texasrockreport
Review by Donny Rodriguez