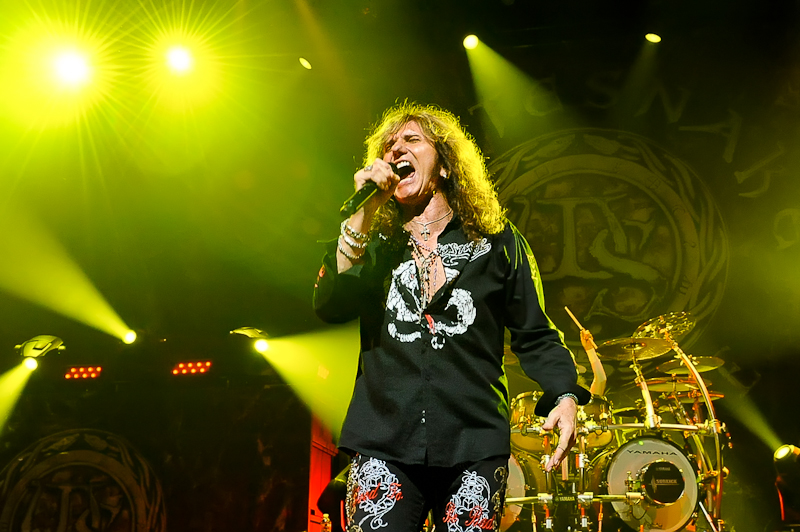 AUSTIN, TX – August 9, 2015 The hair-flying spectacle and skin-tight jeans might make one fear that classic rock icons Whitesnake would only bring a nostalgic jukebox of a concert, but true WS fans know that these six riotous rock stars would never let that happen. For their 44th stop on their nationwide Purple Tour, Whitesnake concocted a goosebump-inducing show at Austin's ACL Live at The Moody Theater and proved that, even after 37 years, their band is still relevant to the millennial age.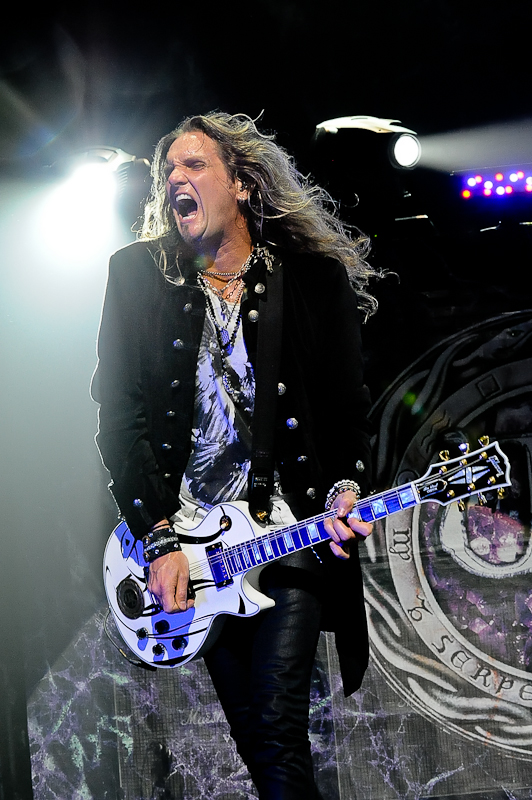 Whitesnake has had its share of musician shuffling, but the band's current members feature lead vocalist David Coverdale, percussionist Tommy Aldridge, bassist Michael Devin, keyboardist Michele Luppi, and guitarists Joel Hoekstra and Reb Beach. Their latest release, "The Purple Album," is homage to Coverdale's roots with Deep Purple, a band he lovingly joked was hot before the entire audience was even born.
As the ticket holders moseyed in from their pedicabs and parallel parking spots, the baby boomers stifled back yawns and groggily stretched exhausted limbs. Lamentations of the upcoming workweek buzzed through the air. Some patrons sulked in it while others drowned the dread with cold, fizzy beer.
All workforce woes soon melted away once the drums started pulsing. The house music hummed The Who's "My Generation," but it was Aldridge's animalistic bass pedal that spiked decibels and piqued everyone's eardrums. At first unsure if this booming belonged to a sound check, the audience's confusion cleared when the lights cascaded on to the stage and Coverdale strutted to the microphone.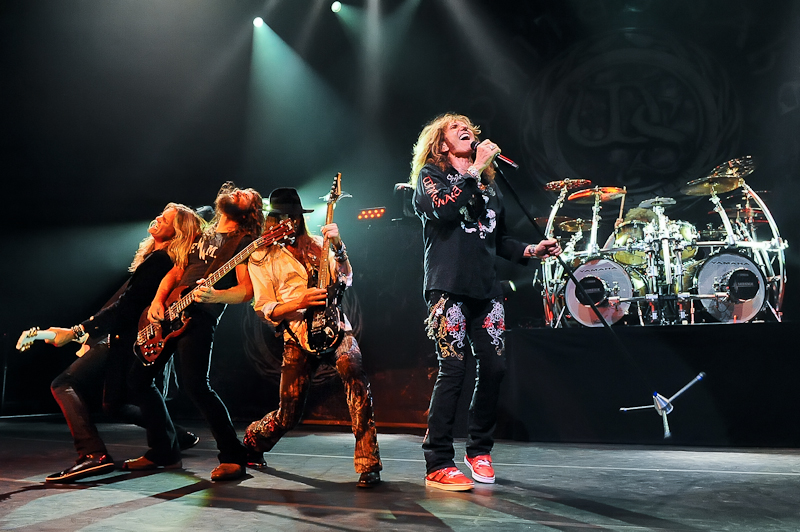 "Burn," the first track on The Purple Album, sounds grungier and rougher than the Whitesnake singles from their 1980s hay day. This seven-minute celebration of wailing guitars and heart-pumping rhythm shocked the crowd out of their lethargic conundrum and catapulted them into a evening full of boiling rock and roll.
The six-piece powerhouse threw it back to 1984 with "Slide It In" and "Love Ain't No Stranger." Coverdale didn't just energize the mass sea of dancers as he flipped and twirled his mic stand. He shot winks, finger guns, and sly smirks to the individuals who danced like they'd lost their sense of time and place.
After "Gypsy", Coverdale perched at the edge of the stage and looked over the dancers in shock. "How old are you?" he mused, pointing out a woman in the front row. His feigned shock sent giggles and snickers rippling through the Moody Theater. He joked that she could not possibly be old enough to know their music as well as she did, but Coverdale basked in that ego boost and blazed on with "You Keep on Movin'."
Taking a break from their adrenaline-inducing foot pedals, Hoekstra delicately plucked acoustic chords for the opening of "Forevermore." Classic rock ballads can often sound like the soundtrack to a campy TV drama, but Whitesnake's moving ballad leaves out the unnecessary images of diffusing incense and cigarette burns and relies on simple sincerity. Lighters and cellphones swayed and illuminated the salty tears collecting at the corners of eyelids.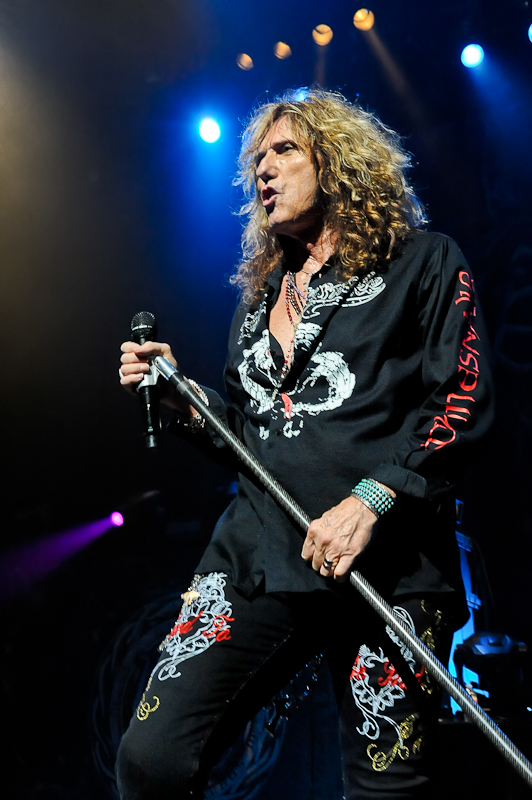 Grand maestro Coverdale ushered in the parade of guitar solos with Beach hitting the spotlight first. His furrowed intensity beamed through the back of the mezzanine with each dizzying, dexterous lick. Hoekstra struck his power pose and flung his long blonde hair over his head, hitting everyone with a twinge of jealousy. After his fingers finished their final roaring dance across the neck, he broadcasted his wide smile to the listeners' cheers.
Following another new track, "Mistreated," Aldridge gloried in the bright lights for his drum solo. Soon deciding that sticks weren't enough to convey his passion, he flung the two pieces of wood to the back of the theater and slapped his hands across his instrument for a visceral explosion.
It's no shock that after 37+ years of blasting music to thousands of people, Coverdale would start to feel its exhausting toll. "Is This Love" didn't sound as velvety and smooth as does on the 1987 recording, but his current gravelly timbre gave this anthem a new edge that was equally as riveting.
What Coverdale lacks in vocal stamina, he makes up for in magnetic presence. The long awaited "Here I go Again" brought a wave of power and inspiration. Hardened screams replaced floating high notes, giving this familiar fist-pumper an edgier sound. Beach, Devin, Hoekstra, and Luppi's harmonies filled in the falsetto gaps that the song needed and left no one disappointed.
Whitesnake landed their rollercoaster of non-stop rock with "Still of the Night," and even the exhausted retirees and 9-to-5-ers whipped out their best air guitars.
The way Whitesnake adapts to the changing music scene and continually plays to their strengths make them a band not easily forgotten. By continually pumping out songs that thrill audiences across the world, Whitesnake proves that classic rock is alive and well and meant to be heard by everyone.
See the full photo gallery at our Facebook page:
https://www.facebook.com/texasrockreport