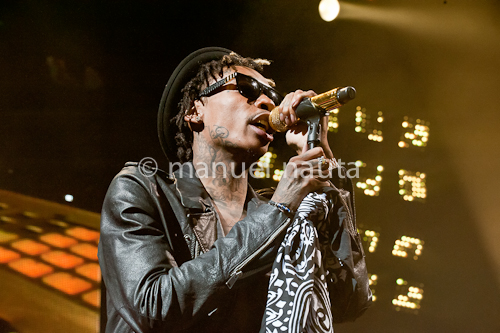 The Woodlands, Texas – June 27, 2013. Wiz Khalifa Under The Influence tour with Trinidad Jame$, B.o.B. and A$AP Rocky came to the Cynthia Woods Mitchell Pavilion. Joey BadAss was the first on stage to open for the tour. The sun was still up, and people were coming into the pavilion, getting their seats, drinks and "smokes" to experience the Under The Influence Tour. Joey Badass, born in New York from a Jamaican family quickly became noticed in the rap world after posting his freestyling video on YouTube. Eventually, Mac Miller contacted Joey for a collaboration and he subsequently was the tour opener for Mac Miller.
Next up was Trinidad James, also spelled Jame$, who I last saw at the MTV Woodie Awards during SXSW in Austin, Texas. Then he invited all the fans on stage and gave a hell of a performance. The setting this night was a bit more formal, with a photo pit and security guards between the stage and the audience preventing any chance of fans coming on stage. Trinidad rode on to the stage on a BMX bike wearing a Texas flag cooking apron, black sun glasses, black coat, white sneakers and blue jeans. The Trinidad Jame$ cooking show was in full swing … LOL.
Following Trinidad was Bobby Ray Simmons, Jr. known by his stage name B.o.B. from Decatur, Georgia. His set list included Epic, Strange Clouds, Ray Bandz, Still In This Bitch and Headband among others.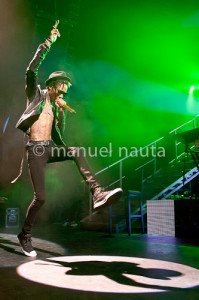 A$SAP Rocky was pumped up as he greeted the crowd claiming Houston as his second home town. Showing off his gold bling in his mouth and Marijuana leave socks he gave the audience all he got. A$ASP has risen very quickly in the rap community, he put out his debut mixtape Live, Love, ASAP only in 2011! He now has a large following and opening for one of the biggest acts in the business.
Wiz Khalifa to me is the Mick Jagger of rap. He is beyond skinny, has great dance moves on stage and gives a non stop energy filled show. O yes, and he loves his weed! Hard to believe that he started out in 2006 playing small clubs and now fills up arenas as headliner in 2013. He gave a perfect show as he moved from side to side of the stage playing and dancing around the microphone stand like Fred Astaire. At times the white stage light would throw a perfect circle around Wiz with a beautiful shadow outline of him, it was picture perfect. The gold microphone in his hands shimmered and sparkled in the light. The sweet smelling smoke rising up from the audience, mingled with the stage smoke and light show provided a fantastic atmosphere to a great show.