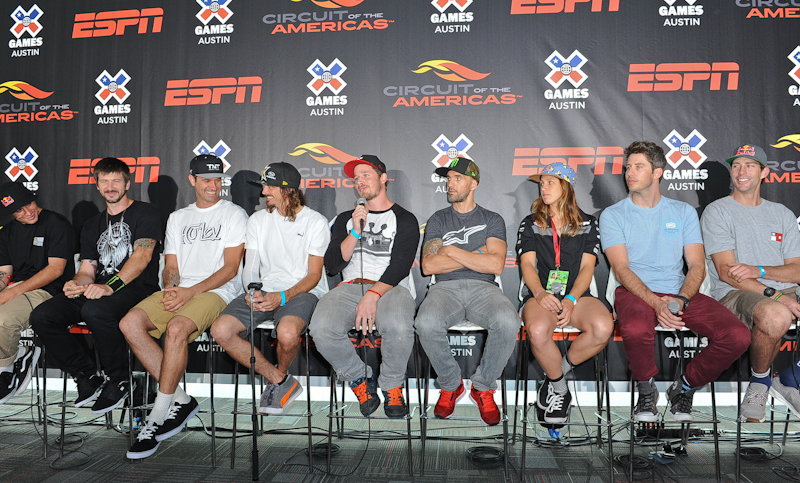 AUSTIN, TX – June 4-8, 2014: The city of Austin (or Del Valle, according to my iPhone weather app) can add the 2014 X Games to its dense resume in its application for World Class City status. But unlike other music and media festivals here in town—which basically serve as a stage for the substance abuse Olympics—the main attraction at the Circuit of the Americas was the action sports. However, music fans weren't left at the top of a vert ramp without a board. Ever the kind host, sports conglomerate ESPN brought a stacked lineup of Punk, EDM, Rap, and Alternative Rock acts to play during and after their sporting events.
Prior to the games themselves, a press conference was held that featured the star power of Tarah Gieger, Travis Pastrana, and auto-racing stud and runner-up to The Bachelorette season 8, Arie Luyendyk Jr. On Thursday, downtown on a half-pipe in front of the Capital Building, the "Tony Hawk" of skateboarding—Tony Hawk—skated with a few of his friends.
Cut to Friday, as with any festival, my hearing and vision couldn't be in more than one hot, crowed place at a time. A lot of tough choices had to be made as scheduling conflicts were aplenty during the daytime as the sun was up and busy roasting the sprawling 3.4 mile track at Circuit Of The Americas. Opting to melt in place somehow made for a better decision than moving muscles towards the mirages of shade in certain instances.
The attire for the 3-day spectacle was minimalist in coverage and maximalist in graphic design. Ladies went for (and achieved) that So-Cal look of high-waisted, pocket-length cut-off denim shorts with tan-line inducing tops. The male persuasion wore logo-rich flat-brimmed hats, tees and/or tanks, with baggy shorts. With all due respect, these non-conformists did dress in a uniformed way with one another, but I won't hold it against them because they were all a genuinely accepting bunch.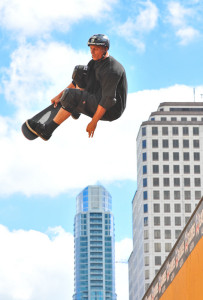 As I'd come to find out, action sports makes team sports seem tame. Half of the Moto X, Skateboarding, and BMX videos on YouTube are of successful heel clicks, 540's, and Superman's—while the other 50 percent are of tricks gone criminally awry with the sentence of bone-bruising instantly served. As culture shocking as most of the aerial competition plays out to a newbie like myself, this culture of cool cats and laid back betty's helped me "chill," as they'd put it.
With the scenery set, let's enjoy ourselves shall we?  First band on my must-see bill was Austin-based, Leopold and his Fiction. LAHF played on the 98.9 KUTX stage, which was an Airstream trailer that was home to all local acts at the X Games. Props to the radio station on letting all of our visitors know that Austin is still the live music capital of the world.
The three-piece Leopold and his Fiction is led by lead guitarist and vocalist Daniel James. Remember his and their name. James has Freddie Mercury's moxie with vocal moments akin to Robert Plant, and whittles the guitar like Jack White on Adderall. The group is garage-rock revival that's actually welcomed inside because of their aurally pleasing sentiments and melodic manners. A cover of The Shirelles "Will You Still Love Me Tomorrow," from the baseline groovy "Ain't No Surprise" to the raw but composed "I'm Caving In," shows their range and potential.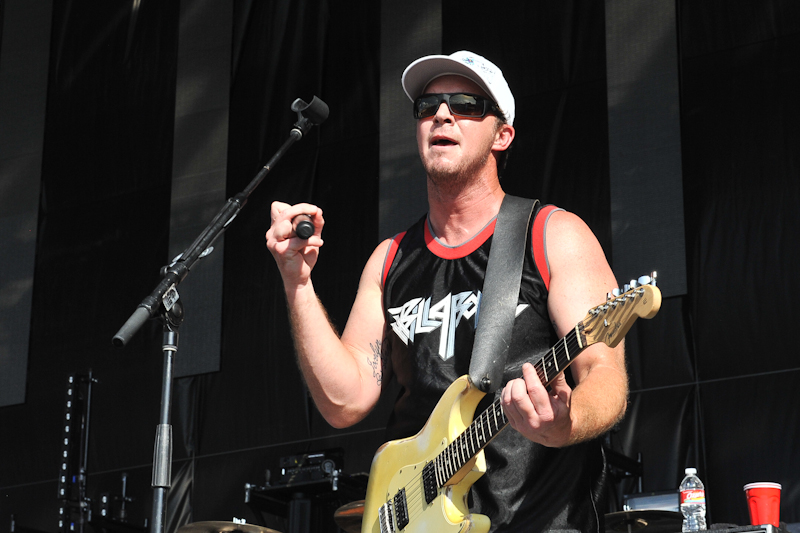 I made my way past dozens of vendors, demos, and free samples to get to the main stage—the Austin360 amphitheater—for Slightly Stoopid's set. Here's a band with so much Reggae-Ska-Rock cred that Sublime and Skunk Records founder Bradley Nowell signed the group straight out of high school. They've perfected their sound since then. An eight man outfit with a horn section, keys, and bongos coalesced into "A Wicked Rebel," a meta-music-appreciation anthem. "Baby I Like It" saw guitar and lyrical flow battle for supremacy. Their mash-up homage of "Leaving On A Jet Plane" elicited the largest reaction from the crowed and had everyone voting "yes" for the legalization of marijuana in Texas.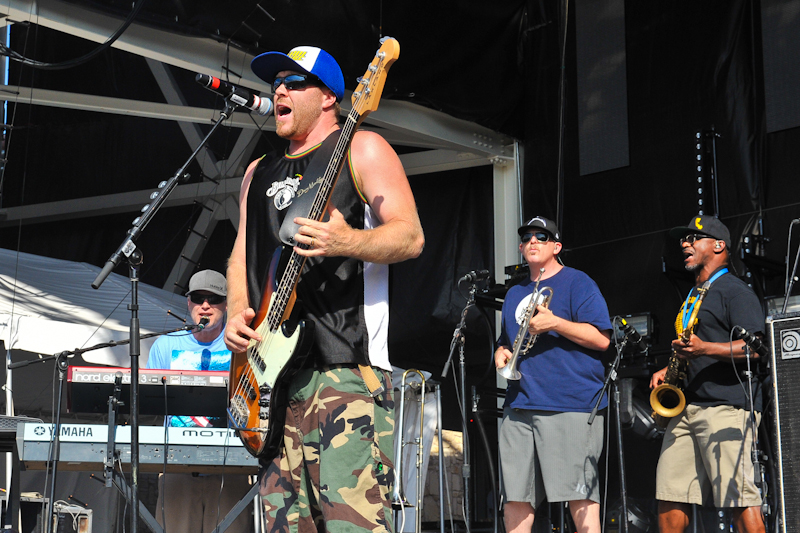 I then went to the Moto X Best Whips final. In layman's terms, it's a six-person, six-minute dirt bike (Moto X) battle royale where the competitors are judged on their airborne "whips" (a freestyle move in which the rider turns the bike parallel to the ground). The spectators served as judges and our rulings were made via Twitter hashtags. After a few "turndowns," a tearful Tom Parsons won gold after just being cleared to participate an hour prior since he was nursing a broken leg. Like I said, team sports equals tame.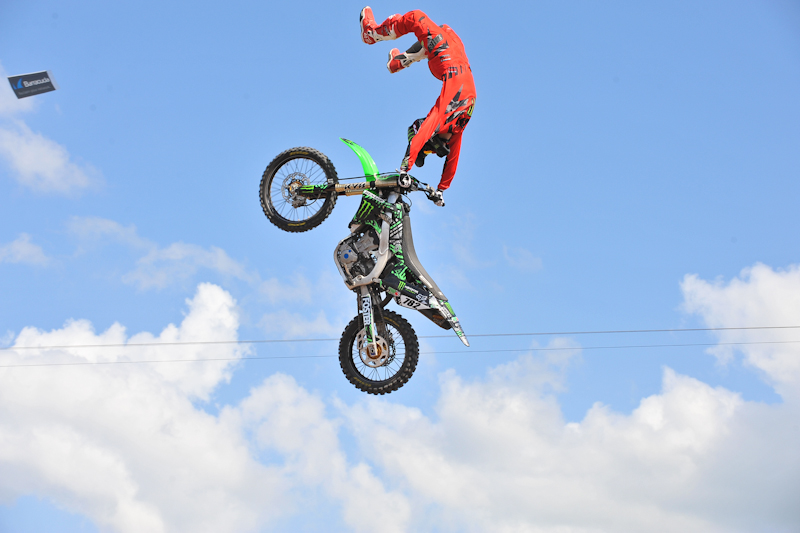 Fresh off the road with Wolfmother, and ahead of a Bonnaroo slot, was Austin's guitar and drum duo Black Pistol Fire. This buzz band swarms your senses with their max-energy, lo-fi blues rock, and stings the skins of your ear-drums with barbed riffs—however, once these worker bees call it a day, you're left with sweet musical honey. "Crows Feet" had drummer Eric Owen as animated as Animal from the Muppets, and in "Hipster Shakes," guitarist/singer Kevin McKeown knocked out the prison gangbanger with the face tattoo just so we knew he wasn't afraid of shit.
Inside a carpeted conference-room with a bar, fog machines and air conditioning blasting, the musty smell of teenage EDM fans filled the VIP only EDM Lounge. Although I didn't see her, I got the sense that these club kids were partying with Molly at 8pm. Luminox and Santa Barbra combo CandyLand continuously manipulated BPMs, bounced bubble noises, and of course, dropped the bass.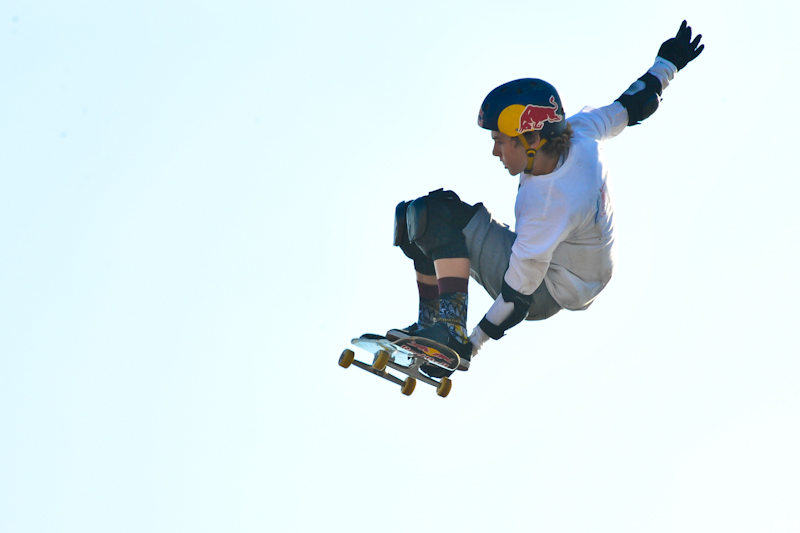 The skateboard Big Air Final had commenced with 14-year old, wunderkind Tom Schaar becoming the second-youngest Gold Medalist in X Games history (13-year old Ryan Sheckler in '03 being the youngest.)  If you're like me and bummed out by what you've accomplished juxtaposed to Schaar, let me iodize this open-wound pity party and mention that this isn't even the most impressive thing Schaar has done. He's also the first human in our galaxy record to nail a 1080. This kid might make it, I tell ya.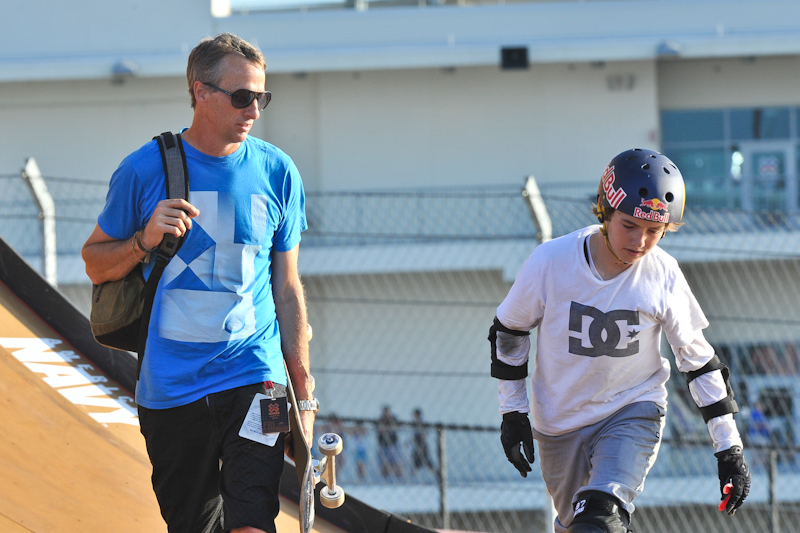 The final act I saw on Friday was music producer Dillon Francis, who manned a Mac book pro and 1's-and-2's 360 stage. Faders and cosmic kazoo sound FX's not merely enough, Lil Jon remixes had the onlookers "Turn Down For What."
In what would be ultimately 160,000 people to pass through the front gates, the most concentrated amount were here on this 93 degree day, with winds that caused delays and some scary moments on the tracks. I'd hate to blame Hurricane Kanye West for this, but I'm sure he already took the credit for it.
In the Moto X style and speed competition, Lance Coury missed a landing and hit the ground hard, then had to be taken out via stretcher. This was a reminder of how tough these athletes really are. Coury gave the audience a thumbs up and a standing ovation ensued.
For Austin's indie-electric rock act The Black and White Years, their time has come. No one on the local scene does polished soulful, introspective, dance-pop quite like this lot—everyone needs to treat their Austin shows from here on out as a send-off gig. They turned the sole-melting pavement into a day-drunk dance floor with cuts like the controlled experiment "To Modern Science" and the samari-synth "Up".  Their solar power stage presence recharged onlookers' batteries. Soundcloud, nay, purchase "Embraces" on iTunes if you want to move to complex but easy listening tunes while feeling those un-suppressable kind of emotions.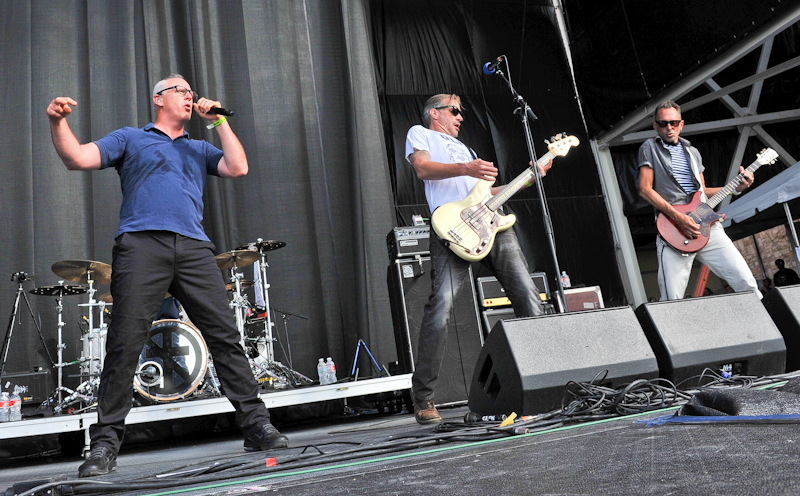 Growing up, I was never able to give Bad Religion a chance because, frankly, that's not what my friends were into. I came into Bad Religion after most of my rebellious days were as distant of a memory as standardized testing. Looking at the band with a nuanced lens, appreciating their monumental lyrics and elaborate song structure might not seem punk rock. But saying anything is "punk rock" isn't really punk rock, now is it? Tangent aside, where were we, ah yes, "Fuck You." The band opened with said expletive, which was off their 2013 release "True North," and it was two minutes of fist offerings and neck stressing genuflecting.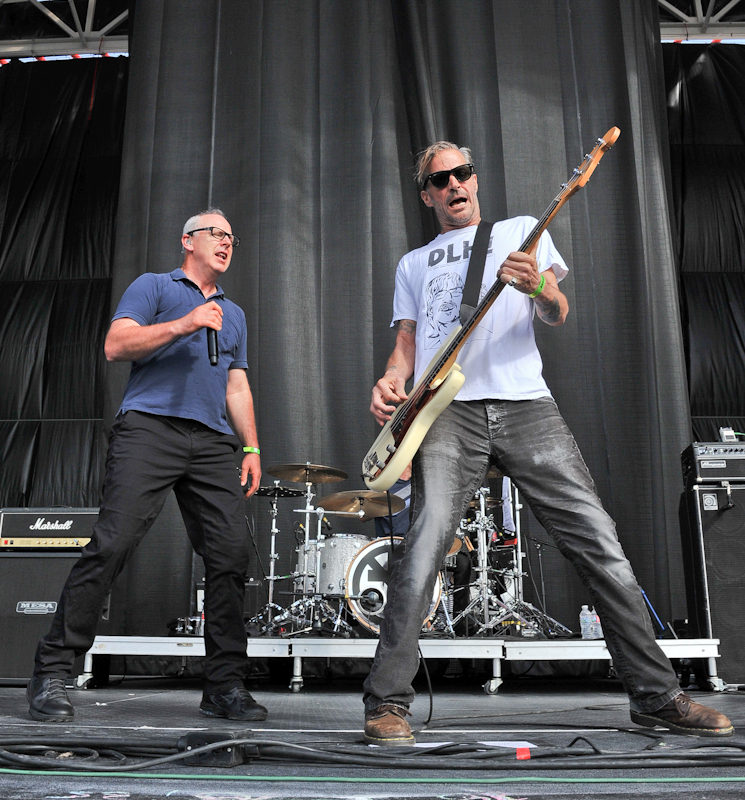 "Dharma and the Bomb" co-signed the first mosh pit of the fest. Well-aged harmonies dominated "Stranger Than Fiction." "No Control" was an anthem that bridged the age gap amongst fans. What felt like 49 songs after only 16 minutes (7 to be exact), lead singer Greg Graffin had his navy blue polo submerged in sweat, changing the hue into the darkest of indigo, then he went on to quip, "What a beautiful Spring Texas day." "21st Century (Digital Boy)," the mid-tempo "Infected," and "American Jesus" all split the Best in Show ribbon. The crowd was then swept out of the amphitheater in preparation for tonight's main event.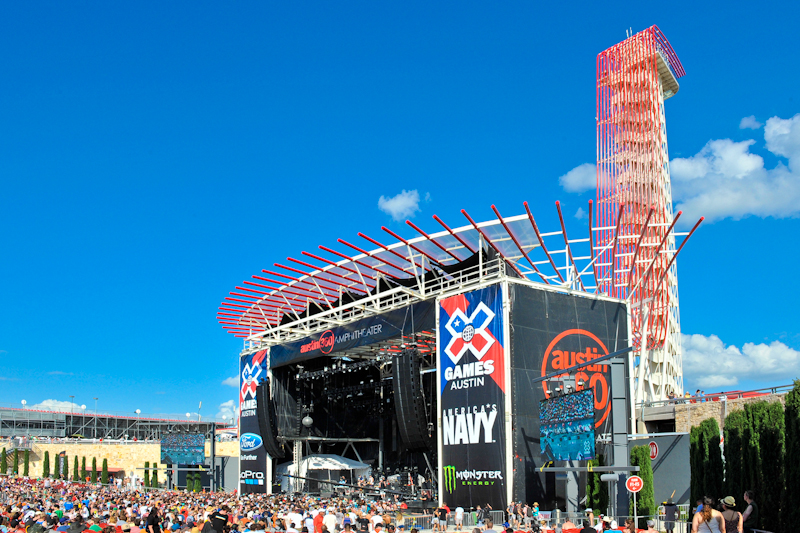 Enter "waiting in a two hour line-apalooza 2014." Media badges, VIP's, possibly even a Kardashian or two, had to stand in queue in hopes to secure a spot for Mac Miller and the aforementioned Yeezus. First come first serve was the mantra of the General Admission sections that evening, but it makes sense when the biggest rapper on the planet plays at one of the biggest gigs on said terra firma.
Check back at the Texas Rock Report for the forthcoming Part 2
Review by Donny Rodriguez