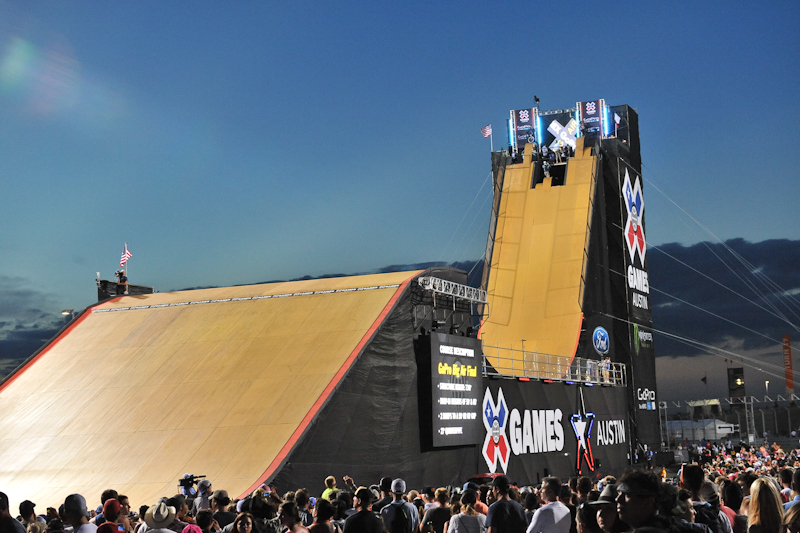 The next 24 hours had many scribbling off a couple of names from their concert bucket lists, and perhaps chiseling the faces of Wayne Coyne and Kanye West into personal Mount Rushmore's of "best live performances" witnessed.
Instructions on the invitation for Saturday night's soiree were simple: BYOGP (translation: bring your GoPro Camera), smoke 'em if you got 'em, and leave your inhibitions in the parking lot. It's not often—literally, if ever—where you witness a grand sporting event and a concert that requires more police enforcement than 6th street on a 3-day weekend.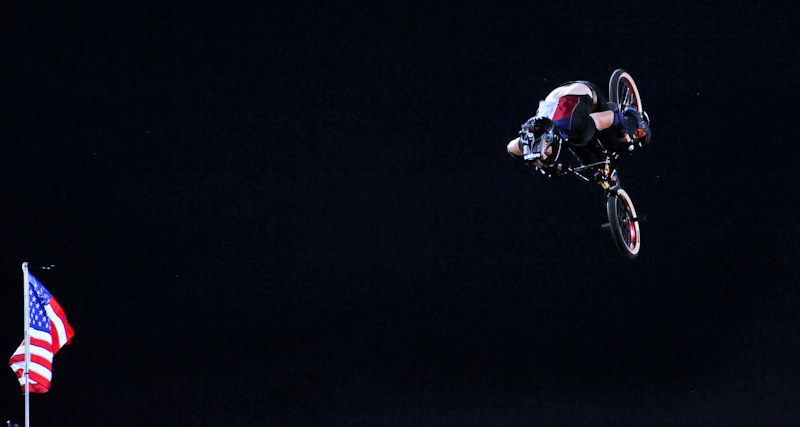 The music at the Austin360 stage was set to restart at 10pm. Time was killed by checking out the monitors and watching the thrilling BMX Big Air Final. Tyler, Texas' and people's champion Morgan Wade, dazzled but fell a few points short to Colton Satterfield who impressed with a no handed, 720 maneuver over the gap, into a triple tail whip up the quarter pipe.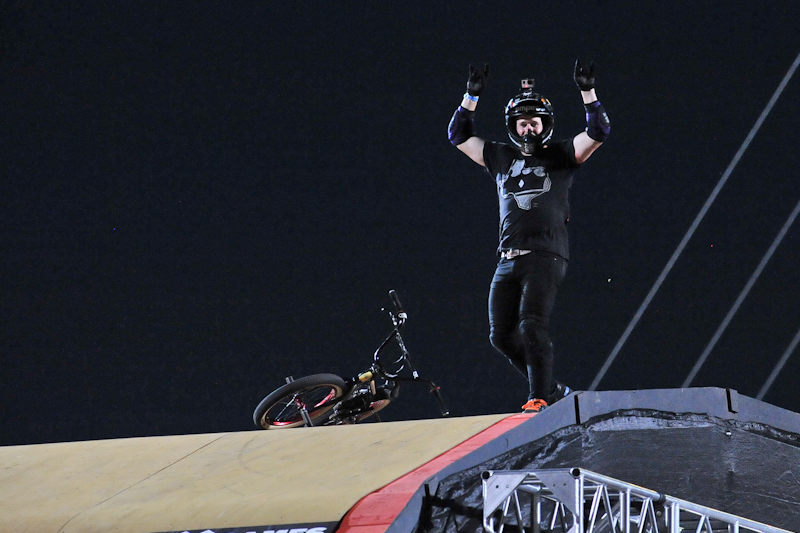 Allow me to introduce you to 22-year old indie-rap phenom Mac Miller. Miller is not your average, shot-to-fame-hella-young hip-hop star—though he's just as honest as the status quo—the multi-instrumentalist speaks to an enfranchised group of suburban white kids, but still maintains credibility in the rap game. I first made my acquaintance with the unique musician when I came across a video link where he covers songs by singer-songwriter, nee-The-Next-Dylan, Bright Eyes. The sophomoric MC wore his heart on his tattooed sleeve and went viral as he strummed an electric guitar to the emo prose "First Day Of My Life." Miller is different.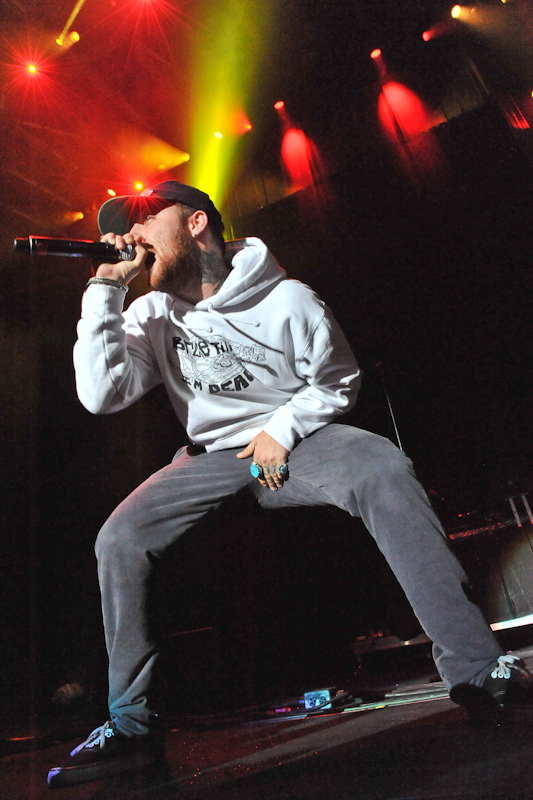 Draped in a seasonably inappropriate hoodie, Miller shot out on stage like a beer that's been primed for shotgunning. Over a Friday the 13th haunting beat, the chorus of "Loud" was word-painted by the choir. The Diplo produced "Goosebumpz" ticked like a playing card hitting Satterfield's spokes. In between songs Miller seemed eager to talk, but never really said anything.
The slowed pitch, hard bouncing anthem "Red Dot Music" consumed Miller's faithful. "Bird Call" sported a suggestive Mila Kunis lyric and lewd flow. Later, sentimental numbers like "Diablo" showed his thematic and emotional range. "Insomniak" and "Best Day Ever" had vastly different tones, but assumed the same result of adulation. Miller's biggest hit, "Donald Trump", closed out his energetic and proficient set.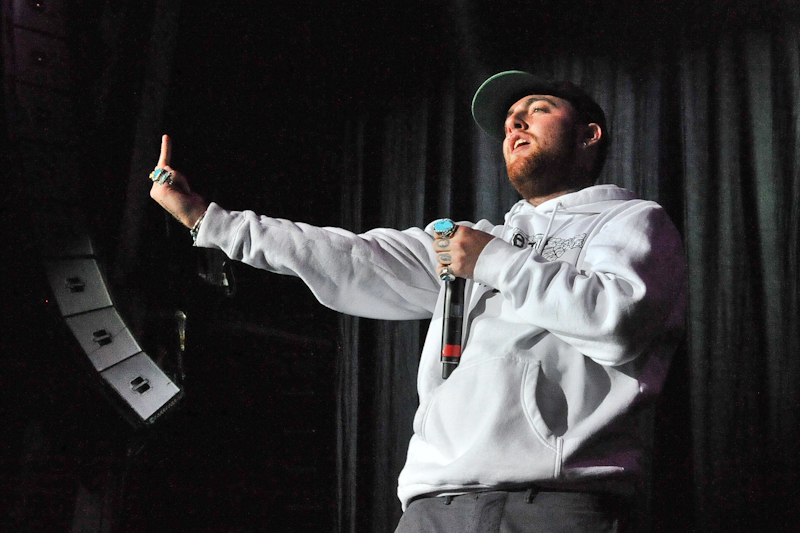 Let's jump ahead to Sunday; we'll get to the divisive Kanye at the end of this piece. As the cliché goes: save the West for last. By my count, I saw three tees with the words Sunday Funday on the front, and probably heard the phrase more than I heard the commentators say "gnarly" on national TV.
Closing out the 20th year of the X Games was the Skatepark Final. Tucked in the grandstands of Circuit Of The Americas was a makeshift course that mirrored less of a street and more of a spectacular board battlefield. Nineteen-year old Nyjah Huston added his fifth X Games gold medal in the last three years to his gaudy Wikipedia page.
The Battle of the Bands came down to the perpetually touring, hard-rock—bordering on nu-metal—act Super Bob vs Austin's Indie Rock quartet Vinyl Dharma. The two groups couldn't be any different from each other. Super Bob's showmanship is exactly what wins these type of competitions. They're a ball of nuclear fusion and make for a great cellphone pic. "Push," "Freak," and a LMAFO cover of "Sexy And I Know It" best displayed their drop D tuning mechanics and rap-speak vocal delivery that most resembles Korn verses—or any part of a Limp Bizkit ditty.
Vinyl Dharma shined with the assured and melodic "To and From." The wordless harmonies were pitch perfect. "Heal" and "Sleep Under Cover" happened to be built on a bedrock of bass lines, had the framework of dance riffs, and was insulated by long distant vocal runs. Fans voted Super Bob the winner, which then walked away with $25k. VD took home $10k, but with their songwriting chops, creative sound, and poetic lyrics, a second place finish in a battle of noise vs notes will be just be another check cashed in the course of many more big paydays to come.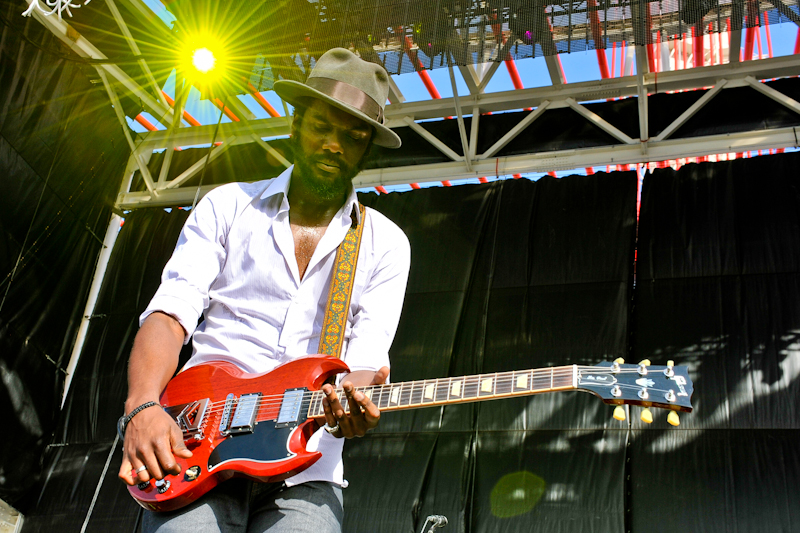 Hometown Hero Gary Clark Jr. combated the oppressive sun with some aggressive rock and blues. No feat is too big for Clark to conquer. He was up against a one-third full venue, but wasn't inconvenienced in the least as he filled the empty spaces with his bombastic sound and echoing slide guitar. "Next Door Neighbor Blues" instantly eviscerated any indifference from those unfamiliar with the scale slaying, grizzled-lyranx snake charmer that is Clark.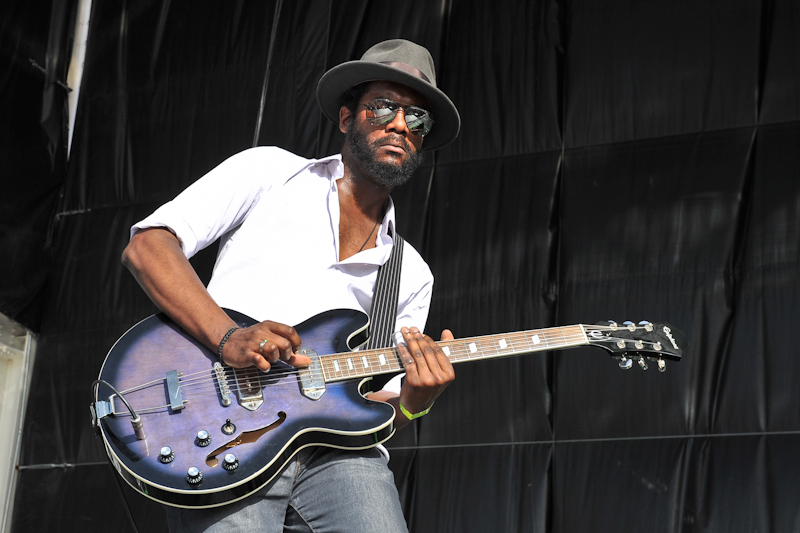 The non-nonchalant Clark then performed a high-octane version "Ain't Messin 'Round" with claps and screams bolstering the orchestration. Guitar ring outs and falsetto flexing dressed "Please Come Home" in its Sunday best. "Blak and Blu" seamlessly fed into the radio battle tested and inescapable "Bright Lights." The venue sung along, and the lyrics of "You're going to know my name by the end of the night" was probably written with no intention of being ironic, but the standing ovation throughout did just that.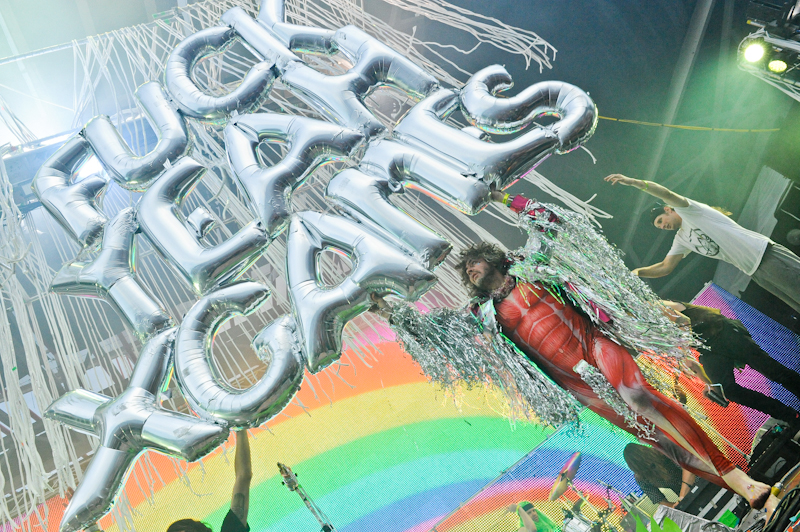 While the roadies prepped the instruments and amps prior to their set—wearing a flesh-tight spandex suit with a muscle design—The Flaming Lips conductor, Wayne Coyne, ordered the symphony seated in the lawn section to come up to the nearly empty seats so that they "could make this more fun."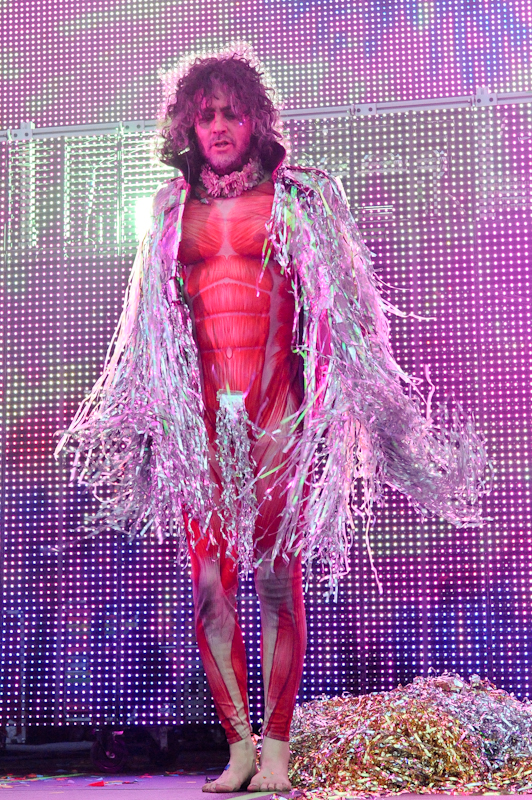 Anyone who's seen the The Flaming Lips live makes the familiar joke: "The show was epic, but I should have dropped some acid before hand!" The only hallucinating I indulged in ahead of the first note was to the $9.50 price tag for my Dos XX's, so perhaps my unclouded judgement soddened the experience.
Then there is Coyne, who at this point is now wearing a tinsel laced fallic piece dangling from where God intended, with a two-person rainbow costume and a hopping mushroom. I knew I should have dropped some acid beforehand. The quaint "Abandon Hospital Ship" harbored feelings of joy and hope before firing confetti cannons. "She Don't Use Jelly" was the score to smartphone short films. The mid-tempo aria "Yoshimi Battles The Pink Robots, Pt 1" saw moms sway with their young sons, dads hold their tuckered out daughters, and couples creating ergonomic shapes with one another.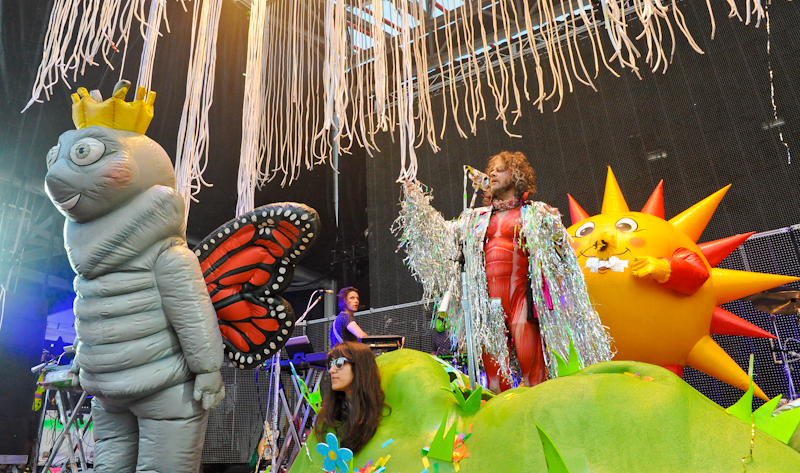 The show was one third Blue Man Group, one third of prop-comic Carrot-Top's act (but actually funny), and one third pop-performance art. "Watching The Planets" and "Feeling Yourself Disintegrate" got dark, cosmic, and progy while still grounded in the bands twisted reality.
As it is when you listen to it in intimate moments, or mundane one's in your life, "Do You Realize" was simultaneously heart melting, heart breaking, and heart healing. A cover of "Lucy In The Sky With Diamonds" tipped it's cap, and took a bow to the satisfied crowd and stars.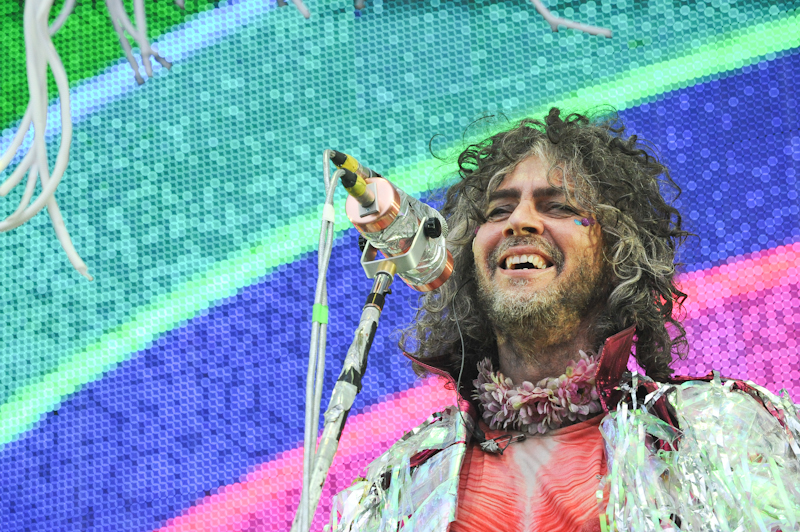 Back to Saturday night. Set-pieces like moon boulders, a DJ, an instrumentalist, a 30-plus foot high video screen, reclusive spotlights and ceaseless fog machines feng shui'ed the backdrop as Kanye West emerged around 11:30 pm. The industrial busted speaker sound that West perfected on "Yeezus" was re-created on guitar for "Black Skinhead." The lick jolted the over 15,000 onlookers as West performed in a disco ball studded, luchador mask. Each line was acted out like rabid interpretive dance.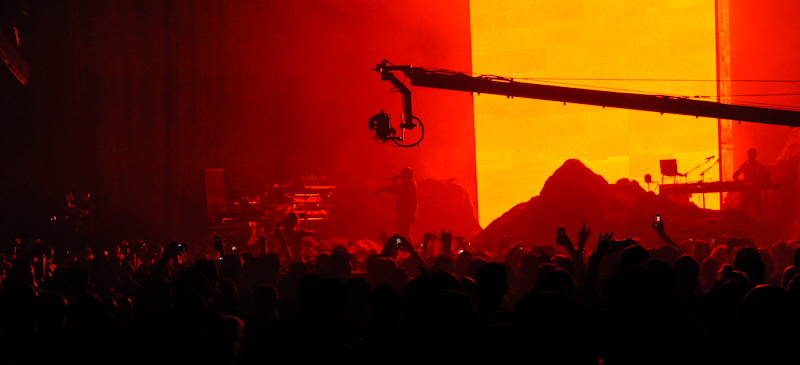 The contentious cuts "I Don't Like," "Mercy," and "Cold" were like warning shots. A murders row of hits proceeded. "Can't Tell Me Nothing" rapped over soulful samples was once West's moneymaker, but now it's a merely nostalgic singalong. "Jesus Walks" was the proto-aggressive West joint that still holds up today. "Power" and "Stronger" were the most recognizable and even embraced by die-hards.
Mask off, and finally breaking the fourth wall by addressing the crowd, West sang the auto-tune ballad version of "Runaway" that even a pessimistic could applaud. B-sides "Touchy The Sky" and "Homecoming" lightened the heaviness of West's persona. Blatantly fun, "Gold Digger" commissioned bodies to careen into each other.
The last number of the night was "Bound 2." The live adaptation ended up being as just grandiose as its music video.
The sentiment of "I respect his music, but can't stand him as a person" was just as prominent as GoPro cameras were at this fest. I kept hearing "Fuck Kanye" throughout the whole event. Whether or not you want your rockstars to move freely in a stratosphere that is incomprehensible to you or I, is your choice. But perhaps in the social media age, we're crafting Kanye's extracurricular activities into a modern day tale of "Much ado about nothing." The future will focus on his musical accomplishments, while we all engage in a discourse of the innocuous chatter he shared in interviews or on live TV.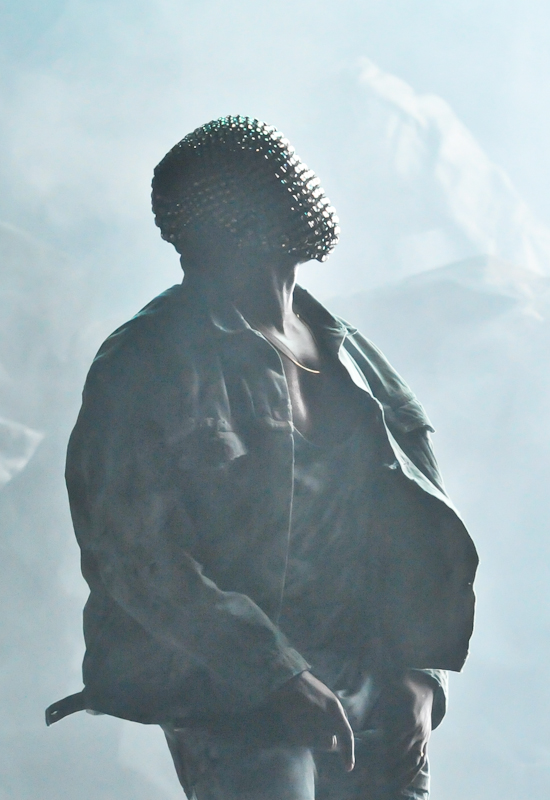 A festival shouldn't be defined by it's headliner. In the case of the uber-successful X Games Austin, it wasn't, but the main attraction did embody the spirt of the entire Monster Energy Drink fueled circus: a celebration of undeniable artistry, a cultural insurrection, and a flat out f'ing good time.
Review by Donny Rodriguez